On 8 December 2021, three novices made their first Professions as FMAs at the St John Bosco Parish Engadine, Sydney. Here is what Sr Julie had to say afterwards!
I am from Solomon Islands, where Iwas born into a family of four children; I am the eldest of my three younger brothers. My parents are Catholic, and they raised me up in the Catholic faith.
My first FMA profession with my two dear companions, Kamila and Sialei was a great day for three of us also for all the Salesian Sisters in our SPR province, especially the Sisters in our formation community at Engadine. I felt so happy and grateful to God for accompanying me and giving me graces to help me to achieve my goal to become a newly professed FMA.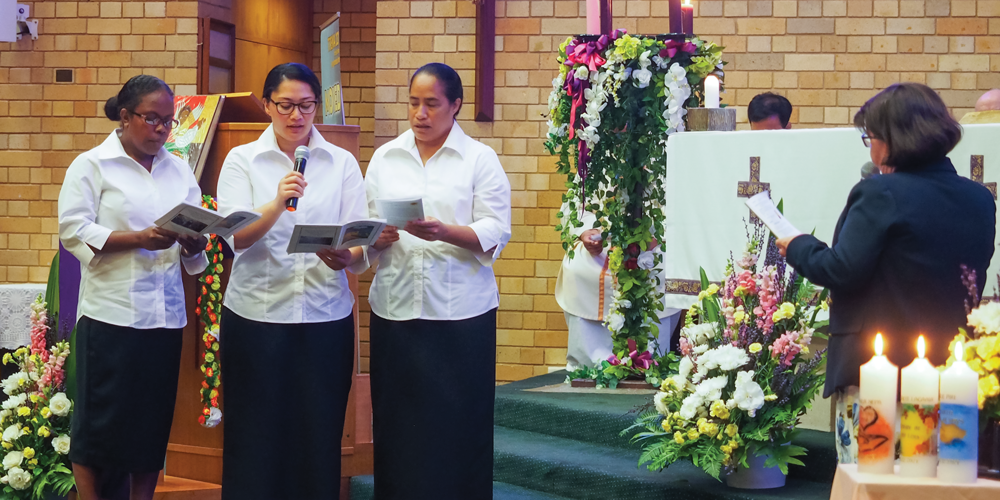 Sr Julie(left) makes her vows accompanied by Sr Sialei and Sr Kamila.
Now as a Salesian Sister, my goal is to work with the young people, by helping and sharing the Family Spirit of Don Bosco And Maria Mazzarello. I also inspired by the Salesian Charism and the Gospel values and being with the young people is the strength and the joy for me to continue with my vocation as a Salesian Sister. I want to give my life to God for the good of the poor young people in my beloved Solomon Islands in the footsteps of Maria Mazzarello and Don Bosco. My hope and prayer to God is that I will continue my journey and work as a FMA to serve the young and not so young, together with my Sisters in the community, to be the sign of God's love for the young people, especially the most in need, and to help them grow in the love of God and our Mother Mary.
Republished from the Australian Salesian Bulletin - Autumn 2022


Read or Download the Salesian Bulletin
Subscribe for FREE to the Salesian Bulletin