Let me share a truth that is deeply engraved in my heart. I have said it more than once: in a world like ours, which is very complex and beset by so many dark powers and realities, we must make known the good that is done. Don Bosco did this daily, and I shall do so here.
I write to you with my heart greatly impressed by a testimony that was directly addressed to me. It reassured me of something that made me very glad despite these tough times we find ourselves in; the human heart is capable of very great and beautiful things.
A letter arrived for me, from a young entrepreneur who decided to tutor a Senegalese child. Her intent in her tutorship was to help him as he makes his way, grows, learns, and prepares himself for life. I was strongly impressed by her because she is a living proof of the Gospel come alive, without "artificial sweetness", and her witness proves to me that even today we can all live like this.
This message bore the testimony of a young woman who has lived for years in a Salesian environment and which has left its mark on her life for the better.
Dear Don Angel: Ever since I found the way to write to you, I have greatly desired to share some things with you. Here, where I live, the Salesians are tremendous: they protect us in grief, shelter the lonely, always find time to listen, and exhort us to believe, to trust, and to hope when hope is impossible.They soothe our souls in bitter moments and celebrate our joys as if they were their own. Trust me, Father, I'm not making up stories. My whole life has been "lit up" by the Salesian charism!
Here, in the House of San José, I work in the school and participate in the parish activities.Our director, a Salesian priest, knows each student by name and knows how to accompany each in painful moments. Many of our children are marked by stories of painful and difficult realities: one has leukemia, some are orphans, others live in the midst of domestic violence and many other misfortunes. Our director knows each of their troubles and embraces them with his heart and his words.
Another Salesian brings the Church alive at each Mass. Another priest, although very elderly now, still mingles among the children, entertaining them with stories of "the old days". On Saturday, I travelled over 900 miles just to see another who now resides in the Zatti retirement home. I went to have lunch with him, just to remind him how much he is loved, to give back a little for all his labours for us. Moved deeply by this, he told me that everything in his life had been worth it. So many lives put at the service of others!
"Salesian" is synonymous with "living for others." This is how we know our Salesians here. Thus, they are. Thus, they live. "We are in the world for others," they repeat to us, paraphrasing Don Bosco. Yes! That is why there is something special in the air, something invisible in the atmosphere of our school playgrounds. It all has to do with joy, with hope, and with holiness. I pray for you and in you for every Salesian who makes us feel that Don Bosco is alive, that he always was and that he continues to be."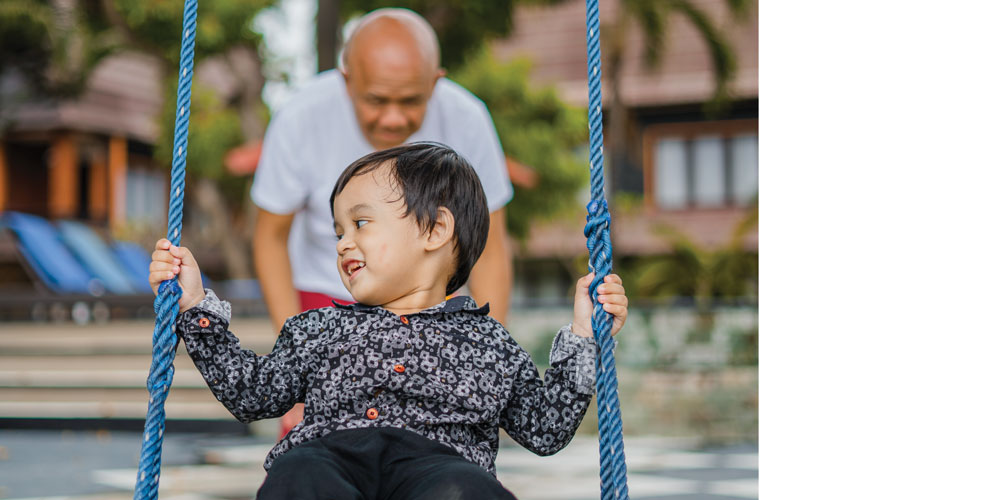 The love and care of a Salesian is akin to that of a grandparent
There you have this precious testimony full of zest and life. There may be people who think I am making "publicity" when they read this. You know, my friends, that I am not. Why should I keep silent about life-giving news that tells the truth of those who experience deep in their hearts what they have written to us? In all simplicity, I am saying that the boys at Valdocco knew this same reality because Don Bosco was alive among them. How happy it makes me to know that many of our Houses around the world today have that same "Valdocco flavour"!
I wish you all well! May your hearts also swell and be open to Hope.


This article originally appeared in the Winter 2021 edition of the Salesian Bulletin, which is Available now!