On 14 January 2022, Fr Peter Rankin left this world for the next, leaving behind an incredible legacy of loving kindness. Battling bone cancer at just 63 years old, Peter passed away at his sister Mary's house, surrounded by family who had been caring for him. "God's ways are not our ways" he reminded those gathered, ministering right until the very end, ensuring that any feelings of anger or bitterness at the circumstances were dispelled.
Peter was born at Warragul Hospital on14 September 1958 and grew up on farm located in the foothills of Mt Baw Baw. The 10th of 12 children, family life was always full of fun, as lifelong relationships were built, and valuable lessons were learnt.
Peter's young life was not without itstroubles; a period of being bullied in grade 6, difficulties in year 10 with classes and the untimely death of his brother. In a true testament to Peter's character, he did not cling on to these with resentment but rather allowed them to help shape the man he would be; a champion of the bullied, a patient teacher, a beacon comfort and reassurance.
As a teen, Peter moved to Salesian College Sunbury at the beginning of Year 11, where he relished the fresh start. These two happy years of fruitful education and community spirit planted the seeds of his Salesianity, which grew for the rest of his life. In 1979 he made his first profession and was ordained a priest 10 years later.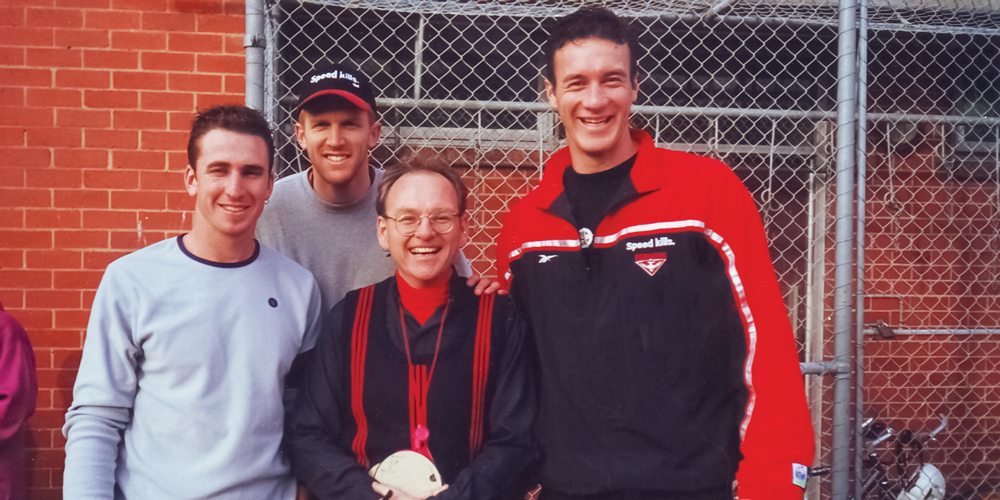 Peter surrounded by a few Essendon FC legends at the youth centre in Brunswick. Peter was an Essendon fanatic with a passion for AFL, able to recall almost any stat from any game
Peter's warmth and humility saw him fit in and excel in whatever capacity he was assigned, and he was assigned almost every role imaginable! Rector, Parish Priest, Director of Youth Centre; whatever it was, Peter approached every task with the same concern and compassion for young people, and quickly became a popular figure in any community he was part of.
"We have been overwhelmed as a family to learn of your great love and admiration for our brother" so spoke Mary during her eulogy. "Peter didn't just have us a family – his family now extends from Engadine to Melbourne, to Glenorchy and beyond!" Peter doubted his own abilities, particularly his leadership capabilities, but parishioners past and present speak so highly of the direction he took the parish.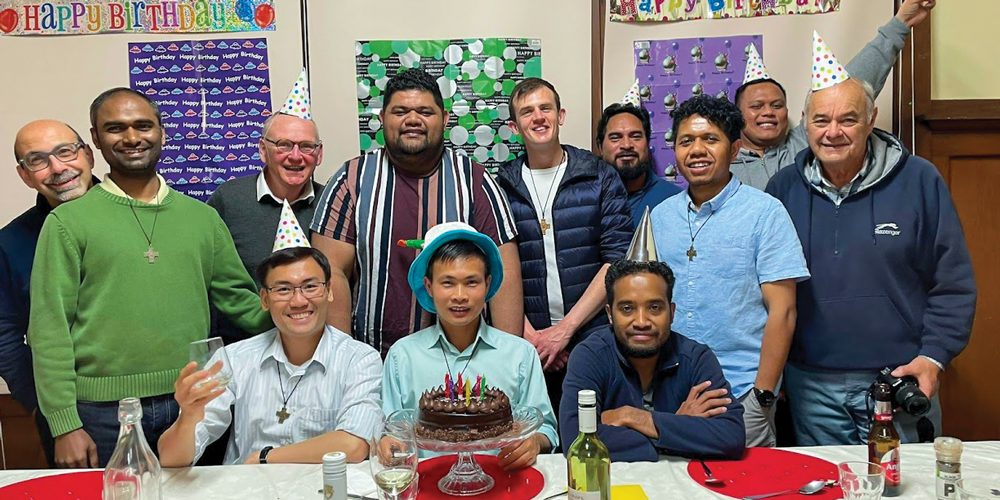 Peter joins in birthdaycelebrations with his community in Clifton Hill, a house of formation for young brothers, most of whom were from other countries. Peter spared no effort in making them feel at home, loved and accompanied as they navigated their vocation. He also ensured that they left the house as proud Essendon Bomber fans!!!
During a touching tribute to his dear departed friend, Fr Chris Ford extolled his great ability to embrace the shadow aspects of his personality. Struggles with depression, anxiety and lack of confidence were met with an understanding of strengths and limitations; Peter had the courage and humility to seek the help of others. He had a natural affinity for people, drawing in collaborators, building a community of ministry and service, offering thepeople around him the chance to contribute, to shine, to grow.
We can see then, that it was providential when Jack and Peg named their seventh son 'Peter', for it is reminiscent of another great man of the Church. "You are Peter, and on this rock I will build my church" Jesus said, recognizing the great faith of his apostle. Faith is our ability to perceive God's power and love even during our toughest trials and tribulations.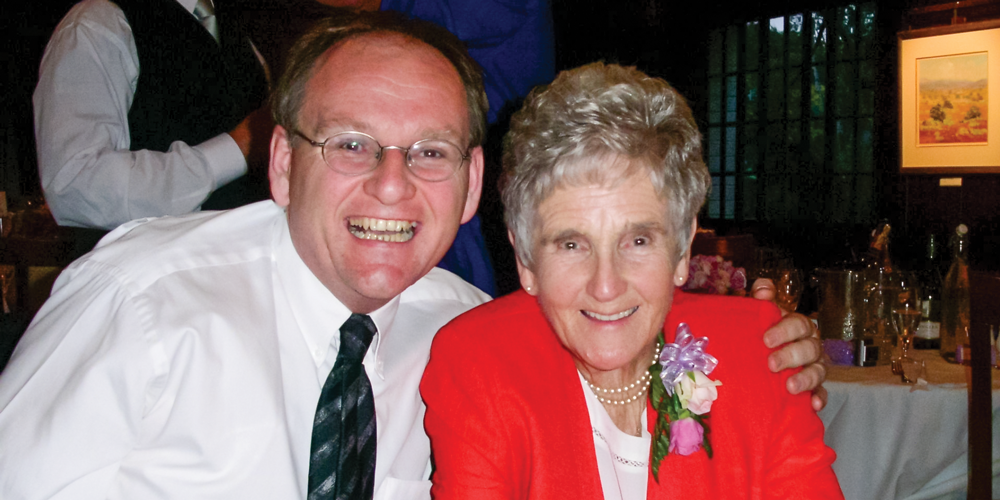 Peter had an especially close relationship with his mother, who was a great cornerstone throughout his entire life.
Peter had a talent for turning the tough moments of his life into growth moments for his communities. Those who were lucky enough to be accompanied by Peter during his ministry remember well the stories of these times, for they are much better off having been in his Bosco-inspired presence.
'A quiet word in the ear' was Don Bosco's preferred method for approaching people when they needed care; Peter turned this into an art form, especially when working with the sick, the young or the otherwise vulnerable. He had a friendly smile for all, and knew everyone by name. His ability to truly listen made him much loved; his talent for offering advice, condolences or reassurance made him special.
We give thanks for the gift of Peter, and for all that he gifted to us. His warm smile and sincere care for every detail about every individual will be sorely missed; however we find comfort in knowing that he has entered his eternal reward for a life extremely well lived!
Republished from the Australian Salesian Bulletin - Autumn 2022


Read or Download the Salesian Bulletin
Subscribe for FREE to the Salesian Bulletin