Gabriela is the new assistant manager at Don Bosco Camp. As a past leader, it was with joy and anticipation that she returned to the camp, where her meaningful impact on campers and leaders is treasured by all!
To most people, summer signifies warmth, school holidays and long days with even longer nights. For us at Don Bosco Camp it means we are about to be greeted by campers and leaders who are excited to explore, create and escape the humdrum reality of daily life and indulge in the magic of Don Bosco Camp!
At Don Bosco Camp we were well aware that many young friendships had been patiently waiting to be reunited on camp, and we were extremely eager to welcome old and new faces. This effect had no doubt been amplified by the ongoing interruptions caused by the pandemic, so we knew that an extra special summer of camps was in order!
We kicked things off with our first Junior Camp that saw a smaller, more personal number of campers than usual come through the gate … but they more than made up for those who could not attend, roaring with the same excitement of many! Everyone was given the chance to experience the world's fastest growing sport of stand up paddle boarding at the beach, participate in camp classics onsite and battle to see who would win the bragging rights in the gaga pit!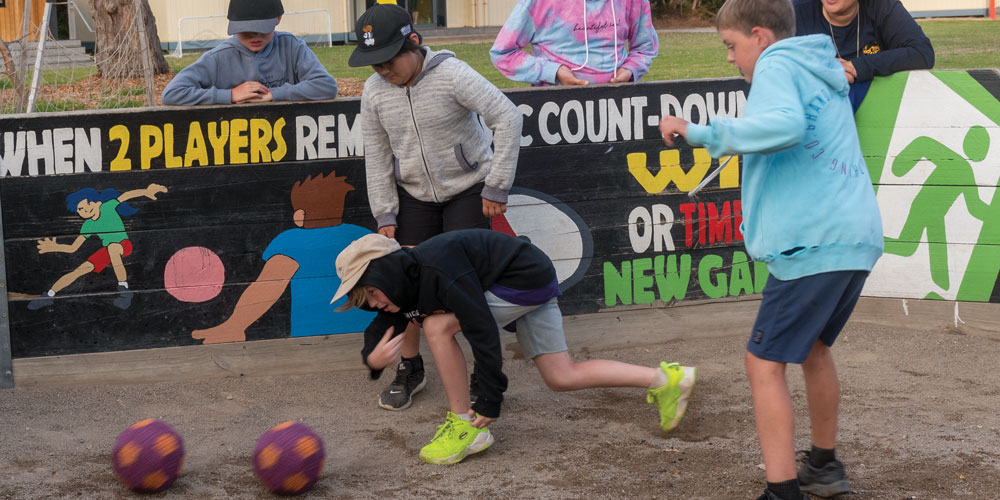 Nothing says "Junior Camp" more than GaGa Ball!
Ivan was our camp coordinator and was supported by an incredible team of leaders brimming with enthusiasm and willingness to learn; many were first time leaders. They were continuously called upon to step up and demonstrated the great value they are to the community, campers, and each other. As a result of the smaller numbers than usual on camp, closer relationships flourished between leaders and campers, and laughter filled the day and night all week long. Before we knew it, we were saying goodbye to our new friends, with promises of reuniting soon!
We took a deep breath, and with barely a couple of days' rest, we began welcoming our senior campers! Aged between 12 to 16 years, we greeted a group of young people who looked just as anxious as one would feel on the first day at a new school - jitters and all! Thankfully, the young people were instantly greeted by our incredible leaders in an upbeat environment, and all those negative feelings dissipated quickly.
The camp began with activities and games to help introduce one another and remind everyone the feeling of friendship, unity and love that the Don Bosco Camp brings to all those who visit. Aware of how many opportunities, events and occasions had been cancelled, we created a place where campers had a chance to simply enjoy themselves. As the sun turned up the heat, we drenched each other in water and found glee in slip 'n' slides and obstacle courses!
One of the great things about summer camps is that each one is unique, and this one was no exception with its individual challenges and triumphs. Unforeseen circumstances saw a smaller number of volunteers able to join us, and a late change in camp coordinator. Knowing the experience level of the leaders and their devoted love for creating everlasting moments, Emma Rigo bravely accepted the role of camp coordinator, and the result was incredible to witness and special to be a part of!
We were extremely lucky to have been joined by members of the Engadine (NSW) community this summer. Rhys Stanley was an amazing asset on Senior Camp, and Edward Noack positively impacted all those around him on Junior Camp 2. His compassion, vibrant and happy attitude were contagious, and we thank him for sharing it with us and the campers. We salute their dedication to all things Salesian which allowed them to brave the uncertainty of travelling interstate, not knowing whether border rules would change and they'd be left stranded away from home!
Rhys introduced us to a whole new way to play dodgeball!!
Our last camp for the summer was Junior Camp 2 and the early forecast indicated it would be our biggest of the lot! A plethora of campers and leaders scrambled through the front gate on Monday morning, many of whom immediately set about searching for their best friends, eager to be reminded of the happiness they shared during the creation of unique memories made here in the past. Excited chatter, continuous laughter and infectious giggles quickly filled the grounds and showed us just how beautiful childhood is!
One night saw our camp invaded by alien intruders who transformed our camp to a mysterious futuristic model of outer space. The only way to escape was to work collaboratively to overcome obstacles and be rewarded with vital spaceship parts, so we could build a rocket and voyage back to Safety Beach!
We saw new games introduced and traditional activities were revamped, courtesy of our talented and creative group of leaders who joined us for our final camp of the summer. Led by Trisha Daniells as camp coordinator, our leaders inspired each other and showed continuous emotional support as they faced new challenges they never thought they would have to encounter.
The amount of work that goes into preparing, organising, and managing these camps is a substantial effort done by the exceptional staff at Don Bosco Camp. They work tirelessly to establish a special camp experience where each camper can enjoy the innocence of childhood, irrespective of where they have come from or what issues may be occurring elsewhere.
Congratulations to all involved, on a successful summer where everyone felt nurtured, safe, and loved!
Republished from the Australian Salesian Bulletin - Autumn 2022


Read or Download the Salesian Bulletin
Subscribe for FREE to the Salesian Bulletin