Get to have a deep knowledge of being a human person and accept it as a good thing
Be patient with everyone, especially with yourself; be not upset that you have faults; have always the courage to make yourself get rid of them.
I am happy if you start every day again. There is no better way to perfect your own spiritual life than to start over and over again and never think that you have done enough."
To be good with yourself means first of all one thing: accept yourself as you are. I manage to change only what I have accepted. First, I must therefore reconcile myself with my life story, my character, my strong and my weak points. And above all I must reconcile myself with my body, just as it is.
Keep yourself under control, so that you become united and strong
Our enemies can present us every invitation and excuse they like, they can plant themselves on the door of our heart and try to get inside us, they can make all the promises they want; as long as we have decided to refuse them, it is impossible that we offend God."
Our life is all we have and all of it is our own. We cannot be puppets in someone else's hands. Everyone's life is good just for oneself and cannot be repeated. Because it is the only life we can dispose of, it follows that it is too precious to allow others to rubbish it for their own profit.
Deal with everything in a balanced and patient way
In your relations with others you need a cup of knowledge, a barrel full of prudence and a sea of patience." Patience is not the virtue of passive waiting or immobility. Instead, it lives precisely in the heart of the one who wants to build up something that will be coherent and strong in time.
It is the virtue of parents, of educators, of all those who have someone they love, someone for whom they want to invest their own life and share with that person a project and an ideal. Patience is the virtue of the carpenter. It shows its traces in daily gestures of listening, acceptance, solidarity, dialogue, tenderness; but also, in situations of lack of understanding, disagreement or suffering. Patience also means to know how to start again.
It is necessary that your words come out of your heart rather than out of your mouth
You can talk nicely, but your heart talks to a heart and your tongue only speaks to one's ears. A missionary sister was carefully helping to clean the repugnant sores of a leper. She did her work with a smile and all the while talking with him, as if it was the most natural thing in the world.
After a while she asked the sick person: "Do you believe in God?" The poor man looked at her for quite a while and then replied: "Yes, now I believe in God". A true and gentle human behaviour does not need words.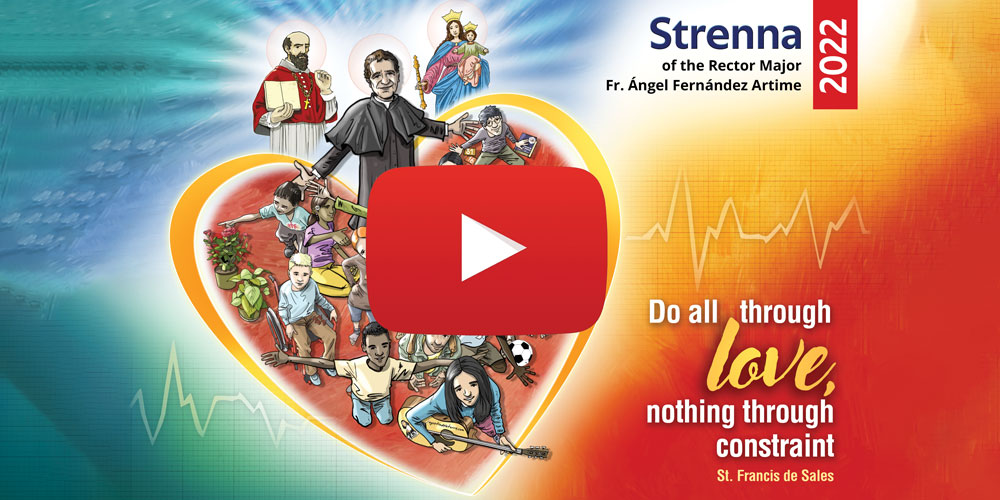 The focus for the 2022 Strenna is the life and times of Saint Francis de Sales
Let love and compassion be the law of your relationships with others
Force yourself to acquire the sweetness of heart towards your neighbour; consider them as the work of God. In the end, compassion is a new and non-competitive way of being with others; it opens our eyes towards each other.
Allow yourself to renounce the wish to be important or different; do away with trying to have a special niche in your lives. Instead, make your special interest to be like others and to live that way with others, so then you will be able to see one another as having so many things to give to one another.
When we envelop ourselves in having a same woundedness, we discover it pleases God's goodness. And those whom the Lord helps we too must give our gentle help, with great respect for their spiritual illness.
Discover the joy of the spiritual dimension of our life
If possible, we must avoid making our choice of God annoying. For some to get up in the morning is a problem; for others it is a moment of joy. The difference is in having a good motive to accept the new day.
It is important to perceive the joy of little things, the beauty of the here and now –like a cup of coffee, the greeting by a neighbour, the marvellous smell of a flower, a sincere prayer to God, washing ourselves or smiling at ourselves in the bathroom mirror. A true act of love and appreciation for the work that fills your day and for the people with you is essential. These are gifts God has sown along your way.
Always report everything to God
Do like the children who with one hand grab the hand of their father and with the other hand pick up what they find along the road. With one hand you gather and serve yourself with the good things of this world, and your other hand anchors you to the Father of heaven.
Ensure that you are continually turning towards Him, to see if your occupations and your business are agreeable to Him. Make sure that you do not let go of His hand and His protection, thinking that in that way you can gather and accumulate more.
Republished from the Australian Salesian Bulletin - Autumn 2022


Read or Download the Salesian Bulletin
Subscribe for FREE to the Salesian Bulletin