We are extremely pleased and greatful to report that with your generous support Salesian Missions Australia has raised over $208,000 for the ongoing relief effort for Ukraine.
Meanwhile Don Bosco's Salesians throughout Poland have become particulary active in aiding victims of the war; they share a sizable border with Ukraine.
The on-going challenge is to prepare housing for refugees who are mostly women and children. They have housed over 1100 refugees in Salesian works throughout Poland, however this number is dynamic and changes daily.
Community members working with the Salesians have also opened their doors to provide safe housing for Ukraine families. It is estimated it will cost just over 500,000 euros ($746,000 AUD) a month to continue to provide assistance.
Despite the complications of war, Salesians have managed to send dozens of humanitarian convoys to Ukraine, containing medical supplies, food, blankets, power generators and personal hygiene items. Community members also make their cars available to perform this important work.
Churches have been converted into storage facilities where volunteers from Ukraine and Poland participate in the sorting and packaging of donations, as well as providing assistance at reception points throughout cities and at the border of Ukraine.
Over 75,000 Ukrainian children have already started their education in Polish schools, some of them attended Salesian Schools in Ukraine.
In addition, the Youth Centres are open and offering special programs such as Polish language courses, medical and legal assistance, psychological support and facilitate the search for places for refugees to live and work.
Education is Stronger than Bombs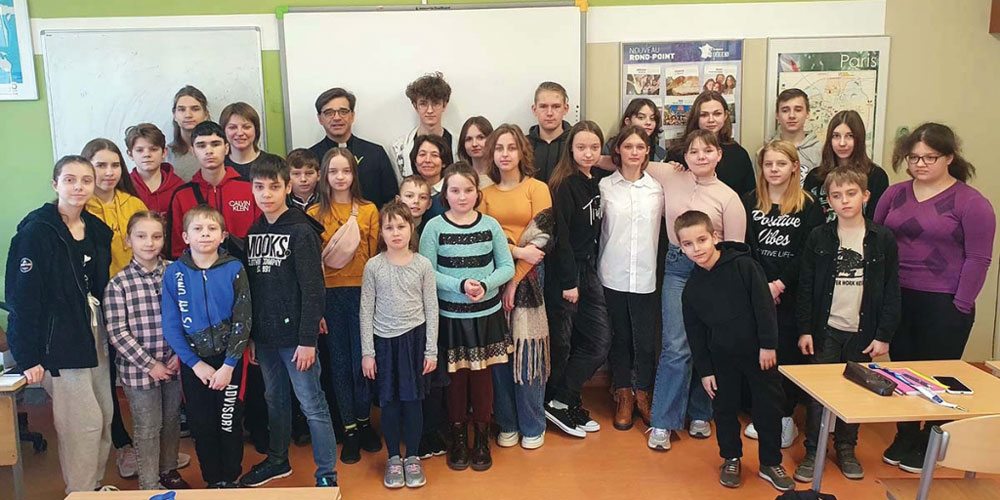 Yarina is 16 years old and left Lviv with her mother the day the war started. She admits that she likes biology, although she is still not sure what she will study when the war is over. She has seven hours of class a day and it's time to check her mobile phone to see her 30 classmates: "Some are in Italy, others in France and Spain, but most of us are in Poland".
Yarina's classmates are waiting for Physical Education class to come so they can use this time to chat with their friends about what they are experiencing in different places.
"We know that the war will end one day, and we hope it will be very soon. We all want to go back to Ukraine and be in our united families again. At the moment we are beating Russia in this aspect too, because they can't destroy our culture and our desire to learn, even if they bomb our schools".
"The best thing we can do to keep our minds off the war is to keep busy," says Yarina's mother.
"I have started looking for a job in Warsaw and my daughter has online classes and connects daily with her school in Ukraine to try to keep everything as normal as possible."
A Desperate Call Answered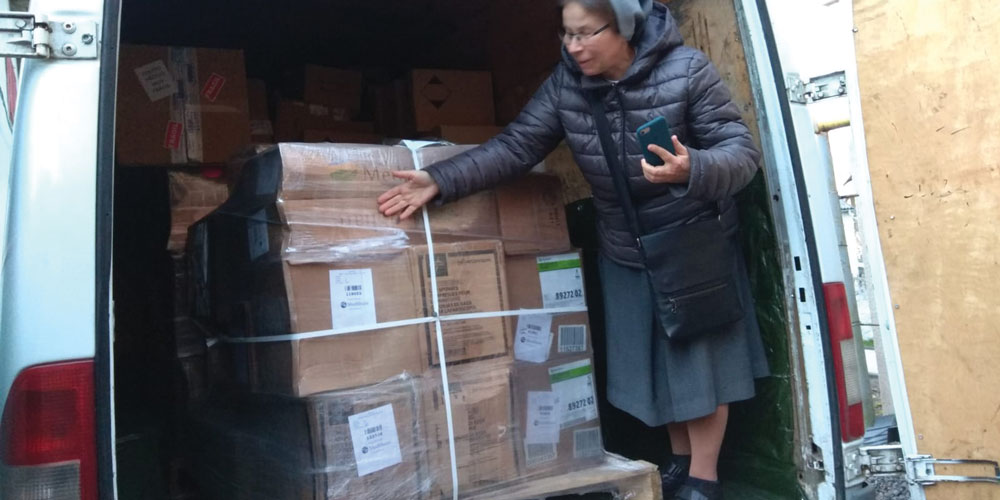 Fr. Josef Nuckowski, a Salesian from the city of Birbrko, Ukraine, sent out an appeal for an ambulance for the local hospital. His appeal was heard by some donors on the other side of the world, who lept at the chance to provide funds for such a worthy cause!
After some time searching for suitable vehicles and a reasonable price, two ambulances were sourced from Serbia. At the same time, three pallets full of vital medical supplies and gear arrived in Serbia, funded by the collections of many donors.
They were loaded into the back of the ambulance for delivery – all of these made possible only through a wave of kindness that wrapped around the world!
Free Polish Classes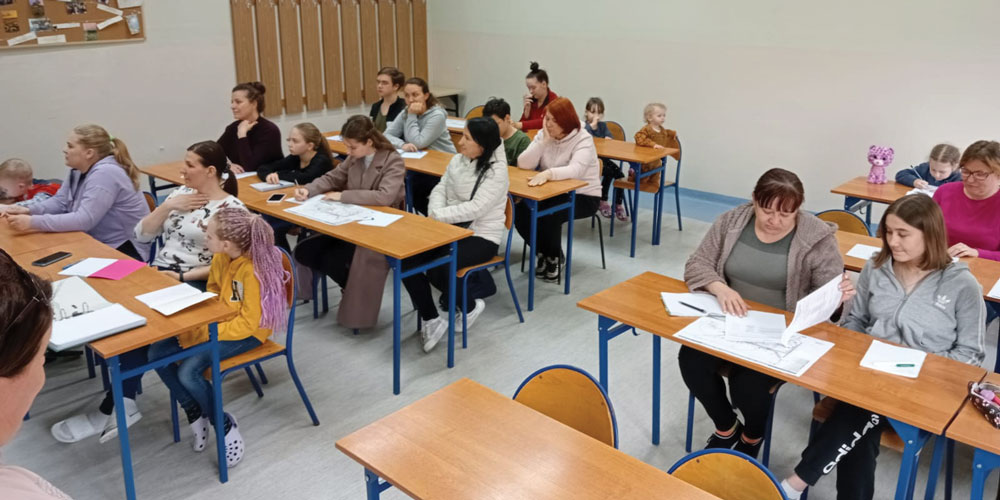 40 Mothers and their children have found refuge at the Salesian school in Oswiecim, Poland. They are learning Polish together, in the hopes that they will be able to find work, integrate into mainstream schools and restart their lives.
Fleeing to Lviv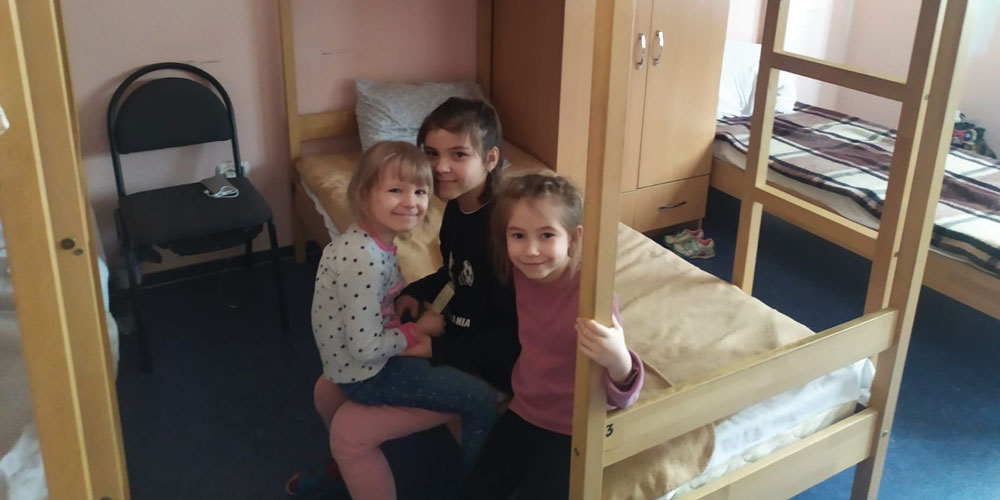 Lviv is a city in Western Ukraine, somewhat removed from the direct violence, situated 80km from the border with Poland. Many people flee from the worst hit areas of the conflict to this city and Salesian centres have tried to welcome as many as possible.
Four families, totalling 48 people arrived at the St. Phillip Rinaldi centre, having escaped their home in Lysychansk 40 days earlier. After their miraculous escape from their city they spent 40 days without a wash as they only had a little water to cook food and sip on, as they sought somewhere safe to stay. Sleeping conditions were particulary tough.
So many people have now fled to Lviv that the local government is setting up container-homes for ten thousand families. Some of these will be placed in Salesian Centres. These container-towns will provide each family with a little 'home' in a modified container. They include proper bedrooms, a toilet and shared mobile kitchens across multiple containers. The Salesians are eager to welcome these families as new parishioners and students!


To find out more about the incredible life-saving work carried out by Salesian Missions, read on here.


This story originally appeared in the Winter 2022 edition of the Salesian Bulletin, which is available here!