Aboriginal and Torres Strait Islander readers are advised that this story contains images of a person who has passed on.
Thousands of guests came together to farewell Deacon Boniface Perdjert, 82, in Wadeye, about 400 kilometres south-west of Darwin last Friday. He was a revered Aboriginal elder, Australia's first permanent Indigenous Catholic deacon and a calming force in a remote community that was prone to clan related tension and violence.
Deacon Perdjert was remembered in a full day of ceremony that included a procession from Wadeye's morgue to the basketball court, where he was ordained as deacon in 1974. A Catholic service followed, where those present heard of the boy who learned Latin from a young age yet also grew up to love hunting and living off the land. He was a married deacon and loving father, who was blessed with 3 daughters, 11 grandchildren and 13 great-grandchildren
He was a well-loved community leader, who met three popes in his time; he met Paul VI in relation to the reforms of Vatican II, he assisted Pope John Paul II during the landmark celebration of the Eucharist in Alice Springs in 1986, was amongst the group of predominatly young people that welcomed Pope Benedict to Australia in 2008 for World Youth Day and was present in Rome in 2010 for the canonisation of St Mary Mackillop.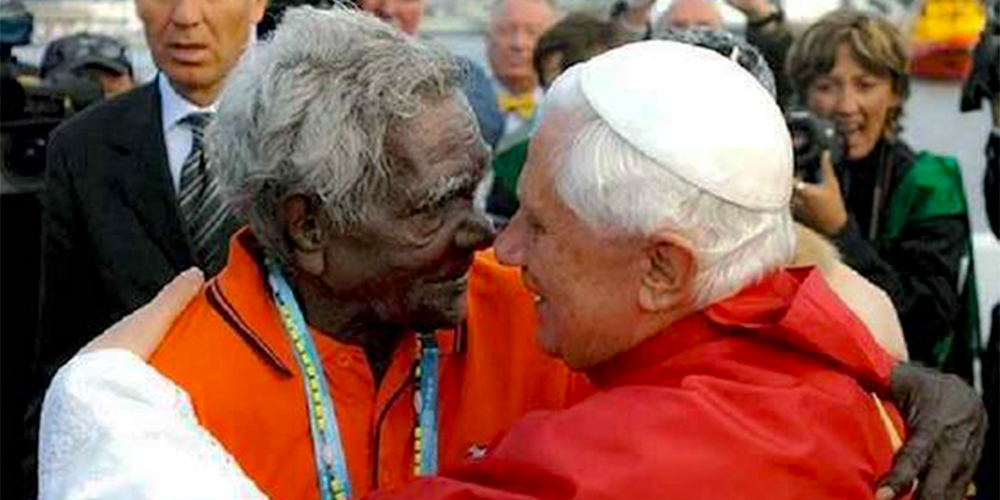 Deacon Boniface was on hand to welcome Pope Benedict in Sydney for WYD08
Wadeye is the Northern Territory's largest indigenous community, where 20 different clans live together from sever different languages groups. It is a former mission, and during the wet season, roads are frequently cut off, isolating the community. By forcing the different clans to live together in a sedintary place, settlers caused untold long-term suffering, that has often errupted into family disputes, violence and riots. Deacon Perdjert was a renowned peacemaker - he would not get involved the conflict personally, but the mere mention of his name was enough to simmer tensions, such was the respect he held amongst the community.
Tobias Nganbe, a Rak Kirnmu man who also lives at Wadeye spoke of when he lived in a domitory in the 1960s under the care of Deacon Perdjert's leadership. "From us, we thank you for looking after and taking care of us during those early days... today we are sad but importantly, we celebrate his life, a gift he has shared with all of us".
Fr Frank Brennan SJ was present for the six hour-tributes, where he affectionately remembered the trip "Bonnie" made in 1985 to Brisbane, to be present for for his ordination as a priest. He paid tribute to the passing of a pioner, who had played key roles in virtually every major event in the Australian Church in recent times.
Deacon Perdjert's totem is the tek, the red-tailed black cockatoo and in tribute to this, most of the thousands of guests attended the ceremony adorned in red and black. The red and black of the Essendon Bombers was also present - this was the deacon's other great love! During the Euology, spoken in Murrinhpatha and English, the audience were told how the Perdjert family had recieved one last goodbye from the deacon - a lone red-tailed black cocaktoo had flown over their house, heading south.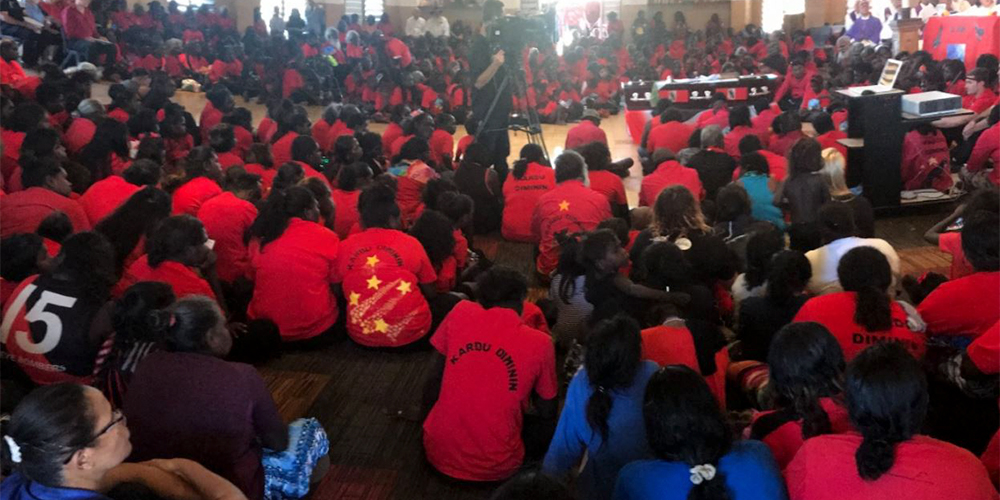 It was a veritable sea of red and black that came to farewell Deacon Boniface
In a statement relased by the Australian Catholic Bishops Conference, Bishop Columba Macbeth-Green (Bishop's Chairman for Relations with Aboriginal and Torres Strait Islanders) paid tribute to the man, saying that "Deacon Boniface was a profoundly respected elder within the Aboriginal community, wellknown for his deep spirituality and his service to his Indigenous brothers and sisters".
---


Republished from Cathnews Australia
Read the full story here

---