On Sunday 1st of September, Pope Francis announced that a meeting would take place on the 5th of October this year to confirm the nomination of 13 new Cardinals. According to the Pope, these new Cardinals express the missionary vocation of the Church as it strives to announce the merciful love of God to every person on earth.
Amongst those to be installed as cardinals is the Salesian Archbishop of Rabat, Morocco, Cristóbal López Romero. Morocco is a Muslim-majority nation where it is illegal to proselytise (that is, the active attempt to convert people by persuasion or arguments). As such, Muslim-Christian relations are vital part of his role as Archbishop.
When it comes to interreligious dialogue, Archbishop Cristóbal has said that tolerance is actually worth very little - what is far more worthwhile is "friendship, mutual knowledge, mutual enrichment: to build together universal fraternity starting with ourselves an understanding shaped by a life of servitude in wide variety of places and people!"
Morocco is also a nation that sees a massive amount of migration every year and by the archbishop's own description, the archdiocese is a vibrant, young one that sees more young than old pass through its doors. Archbishop Cristóbal firmly believes that the correct attitude of countries receiving such large-scale migration is "accepting, protecting, promoting, integrating."
He continued on to say "We must open our hearts. It is necessary that the doors are opened after having opened our hearts. And we need to change the laws of international trade, the economic system, so that everyone can stay in their own country and not be forced to leave their country because of war or for economic reasons.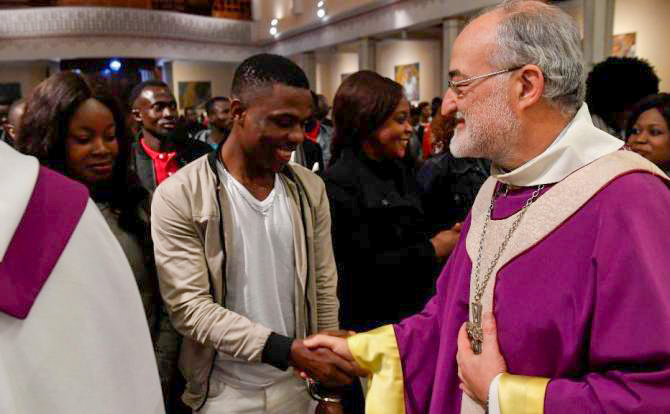 Archbishop Cristóbal greets a young parishoner in Rabat, Morocco.
It is clear that the Salesian Archbishop has been able to bring his understanding of Don Bosco's charism to his work and will continue to do so as cardinal; after all, there is no doubt that this understanding has been shaped by a lifelong dedication to Don Bosco's ideals!
Originally from Spain, he joined the Salesians in 1964 and studied Philosophy and Theology in the Salesian Seminary in Barcelona. He professed first vows as a Salesian in 1968, followed by solemn profession in 1974, after which he was ordained a priest in 1979.
In 1982 he obtained a licentiate in Information Sciences in the School of Journalism from the Autonomous University of Barcelona. He has not looked back ever since, as enthusiasm for the Salesian charism has taken him to a wide variety of works in numerous, unique locations.
His first works as a priest were in the area of pastoral ministry to the marginalized of Barcelona (1979-1984) after which he accepted the challenging of continuing his vocation overseas when he moved to work in youth ministry at the Salesian College in Asunción, the capital of Paraguay.
He then stayed in Paraguay for an extended amount of time, picking up extra responsibilities along the way such as provincial delegate for pastoral vocation work in Asunción (1986-1992), director of the Salesian Bulletin of Asunción (1991-1992) and in 1994 he was made provincial, a role he occupied until the year 2000.
In 2003 Fr Cristóbal was once again travelling to a foreign new land, when he became the head of pastoral parish and school ministry in the professional formation centre Kénitra, Morocco. He remained there until 2011 when he was once again on his way back to South America to serve as the provincial of the Bolivian province.
In 2014 Fr Cristóbal finally had the chance to return and minister to his native Spain, albeit in a very different to how he first started - his return was to serve as provincial of the Spanish province; provincial three times in three different countries!
It was on 29 December 2017, Pope Francis nominated him Archbishop of Rabat, Morocco, where he has faithfully served ever since, bringing the teachings of Don Bosco to his everyday ministry to the very diverse congregation.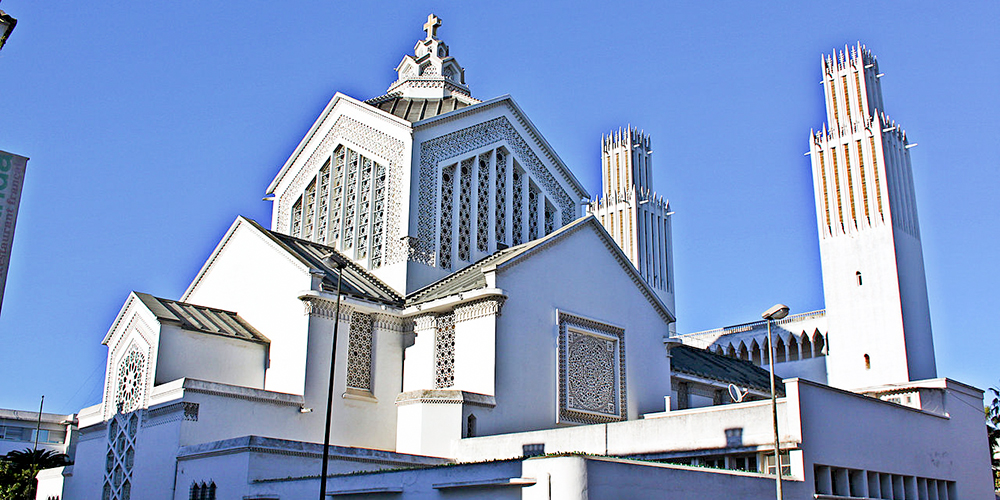 The impressive St Peter's Cathedral in Rabat is a legacy of Morocco's French colonial past but also a symbol of a hope and joy for its parishoners, many of whom have strong Sub-Saharan ties.


Full story here
Republished from Vatican News

---