The Australasian Catholic Press Association held its annual conference in Bathurst from the 10th to the 12th of September where it celebrated the launch of "What's the Story", Volume 1 of its new history book.
The book is the fruition of 10-year research project carried out by Fr Frank Freeman, editor of the Salesian Bulletin and life member of the ACPA. By conducting interviews, seeking input from well-known personalities, tracking down secondary sources from member publications, archdiocese records, public libraries, universities and so on, he has been able to re-tell the story of the ACPA, weaving a narrative that tells of the highs and lows of its 65 year history.
The reception for the book has been extremely positive, with a lot of readers appreciating the book being written in a narritive style, rather than just being a fact and figures styled report of dates and events. Past president Elizabeth Rennick commented on how she could not put it down, and how enjoyable it was to "catch up" with past colleagues and friends, as she read about the story of other icons of the ACPA.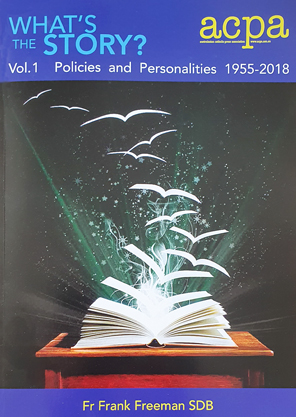 The front cover of "What's the Story"
It was discovered with great disappointment that during the 1990s, the ACPA's archives had gone missing at some point in the preceding years. The procedure had been for the filing cabinet that contained the archives to follow the sitting president around the country, however for whatever reason, its location was lost. Efforts were put into rediscover what had become of the archive, but to no avail.
So, Fr Frank was handed this mammoth task of finding and digging up whatever pertinent information could be found, to fill in the gaps of the great organization's history. He was given the task as he is now an elder statesman of the association, playing key roles in bringing it back from the brink of extinction and guiding it to where it stands today, as a flourishing organization and the forefront of Catholic media.
The Salesian Bulletin is a proud member of the Association, deeply valuing the connections it has been able to develop to other organizations and publications working in Catholic media around Australasia. The ACPA is a powerful tool for enabling all those working within Catholic media to be united as they work towards their common goal; telling the story of Jesus and his Church to the modern world.
The ACPA currently has 138 members, which is made up of 73 member publications and 64 associate members. It has been at the forefront of Catholic press in Australia since 1955, including Editors, Journalists and Graphic designers from a wide range of Catholic publications across Australasia.
Copies of the book have been made available to all member publications, as well as to the bishop's offices and diocesan archives of member publications.
For more details, about the ACPA, follow this link.