At 11:02 on the morning of 9 August 1945, an atomic bomb exploded in Nagasaki, Japan. One-third of the city was destroyed and around 150,000 people were killed or injured. Many more died later from the effects of radioactive poisoning.
Today, a commemorative monument to peace marks the spot where the bomb fell.
Yesterday, Pope Francis visited the Peace Memorial in Nagasaki on a cold and wet day, as if the weather itself chose to mourn the desipicable disaster alongside the pope.
He placed flowers at the foot of the monument, and noted how "This place makes us deeply aware of the pain and horror that we human beings are capable of inflicting upon one another."
Pope Francis said he had come to pay homage to the victims and to acknowledge the strength and dignity of the survivors. "We continue even today to hear the cries of those who are no longer", said the Pope.
"They came from different places, had different names, and some spoke different languages. Yet all were united in the same fate, in a terrifying hour that left its mark forever not only on the history of this country, but on the face of humanity."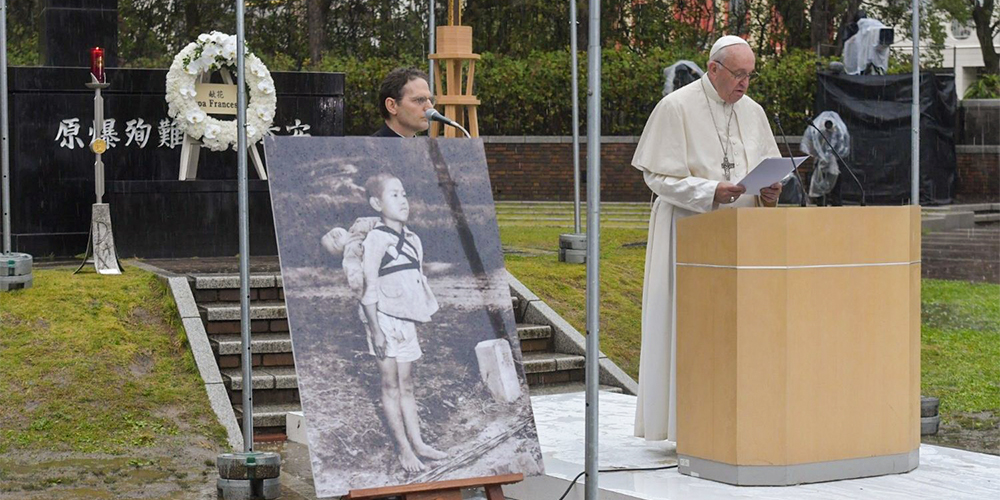 Pope Francis addressses the crowd as a display of just one of the many victims is shown.
The Pope came to Nagasaki and to to this place of memory and hope for the future, as "a pilgrim of peace", bringing with him the cry of the poor, as it is they who are always the most helpless victims of hatred and conflict.
Pope Francis said he wanted to be "the voice of the voiceless, who witness with concern and anguish the growing tensions of our own time: the unacceptable inequalities and injustices that threaten human coexistence, the grave inability to care for our common home, and the constant outbreak of armed conflict, as if these could guarantee a future of peace."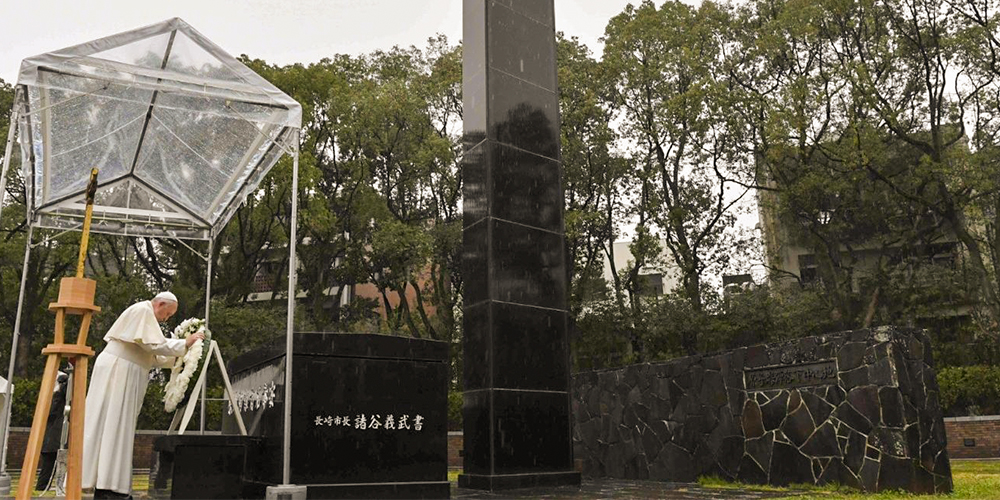 Pope Francis places the ceremonial wreath of rememberence
"One of the deepest longings of the human heart is for security, peace and stability", continued the Pope. "The possession of nuclear and other weapons of mass destruction is not the answer to this desire."
Peace and international stability, said the Pope, "can be achieved only on the basis of a global ethic of solidarity and cooperation in the service of a future shaped by interdependence and shared responsibility in the whole human family of today and tomorrow."
Pope Francis added that "the arms race wastes precious resources that could be better used to benefit the integral development of peoples and to protect the natural environment.
In a world where millions of children and families live in inhumane conditions, the money that is squandered and the fortunes made through the manufacture, upgrading, maintenance and sale of ever more destructive weapons, are an affront crying out to heaven", he said.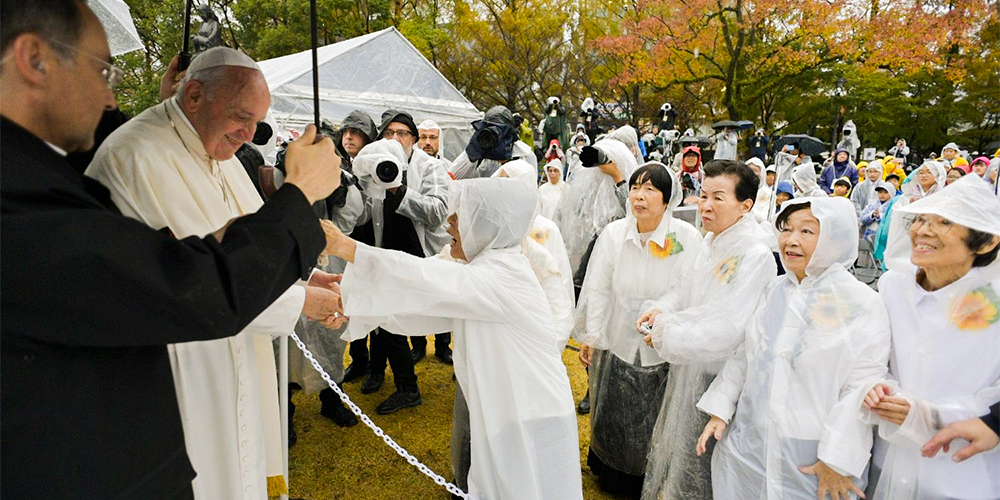 Pope Francis greets members of the audience in person.


This story orignially appeared in the Vatican News


---