"To make new friends and to have fun, you have to do it together".
These were Pope Francis' words of wisdom to the young people who were participating on the "Estate Ragazzi in Vaticano", A Salesian led Summer Kids Camp in Vatican City. The Pope surprised them during breakfast, shared a meal with them and answered some of their questions.
"I froze because it was a surprise and I had never seen him before. I liked him a lot. I was very happy and I said 'hello,'" said Zoe, aged 10.
During the visit Francis sat among the children and encouraged them to make new friends. "People who only know how to have fun by themselves are selfish," said the Pope, "you have to be together, with friends, to have a good time."
Pope Francis wanted the summer camp to take place to aid parents who work for the Vatican and would otherwise be unable to find something for their children to do during the summer break, due to the effects of the ongoing pandemic. It took up most of the month of July, making the most of the Vatican Gardens, the Heliport and the Paul VI Hall. About 100 children aged between 5-14 are involved, in compliance with strict anti-Covid protocols.
The Center is animated by the Salesians, working in tandem with a private association, "Tutto in una festa". It is modelled on the Oratory model of Don Bosco and days at camp are marked by swimming in the pool, sports, inflatable slides, ping-pong challenges as well as guided visits to the Vatican Gardens.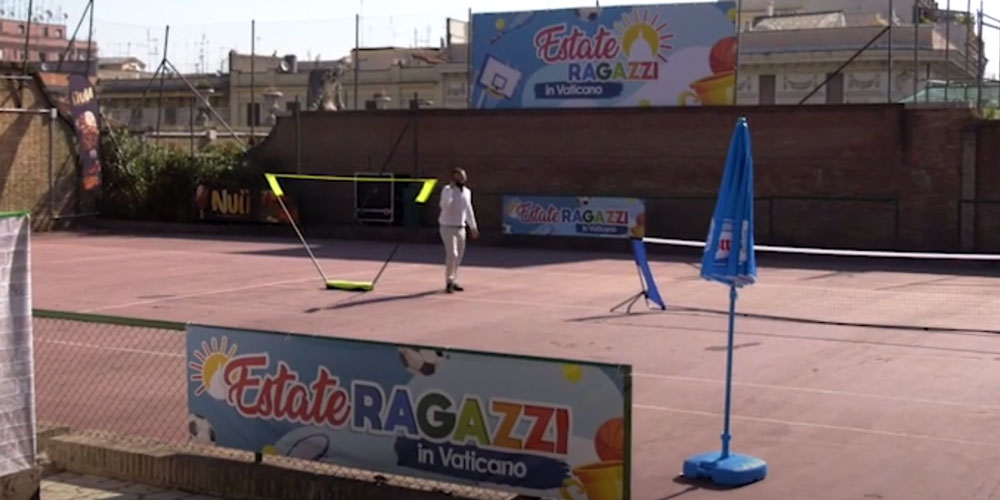 Tennis was just one of the many popular sports during the summer camp!
Fr Franco Fontana SDB, is the coordinator of Estate Regazzi and was just as shocked as the young people to see the pope. "I wasn't here but I was notified of the Pope's arrival and so I went back. He strolled between tables, first chatting with the little ones, then the kids of elementary and middle school. He was interested in what they do, how they spend the day, asked them if they were happy"
After going through the breakfast tables, the Pope visited the spaces for games and the classrooms and talked with participants. Afterwards, the whole group went down to Paul VI Hall, the same as every other morning – keeping the usual schedule, as the Pope requested."
Then, the young people were giving the chance to ask Francis some questions, which he answered simply and warmly. Finally, gave a general greeting and warmly thanked the 22 animators of the camp.
Pope Francis then took a picture with everyone and returned to Santa Marta the way he had come; alone on foot.
It was "the familiarity, simplicity and fatherhood" that most impressed Fr Franco about the surprise visit. He joined them at their level, because "he wanted to live this moment with them."