There are many reflections I would like to share with you. I pause on some that I am strongly convinced of and that I am sure you will certainly receive with an open heart. We are all called by vocation to be "good Christians" and "honest citizens" in the style of Salesian Spirituality, ready to witness in whatever environment we are, a faith lived together that has community and social repercussions.
For us today, as it was for Don Bosco, being "good Christians" and "honest citizens" means living in the faith. Faith is the most precious gift that we can share in any state of life, age, vocation, and even religion.
Living the harmony between faith and life is the heart of the charism of Don Bosco that numerous young people experienced at Valdocco, walking in joy towards the goal of holiness . This is still possible in all of our environments today, if we believe in it!
I am struck by how Fr Ángel stresses the importance of returning to our 'first love' that gives new life, making our witness radiant and credible. The 'first love' that decentralizes us from ourselves to become a gift for others "when we recognize in others their hidden beauty, their dignity and their grandeur as images of God and children of the Father. The Holy Spirit wants to make us come out of ourselves, to embrace others with love and to seek their good." (Christus vivit, n. 164)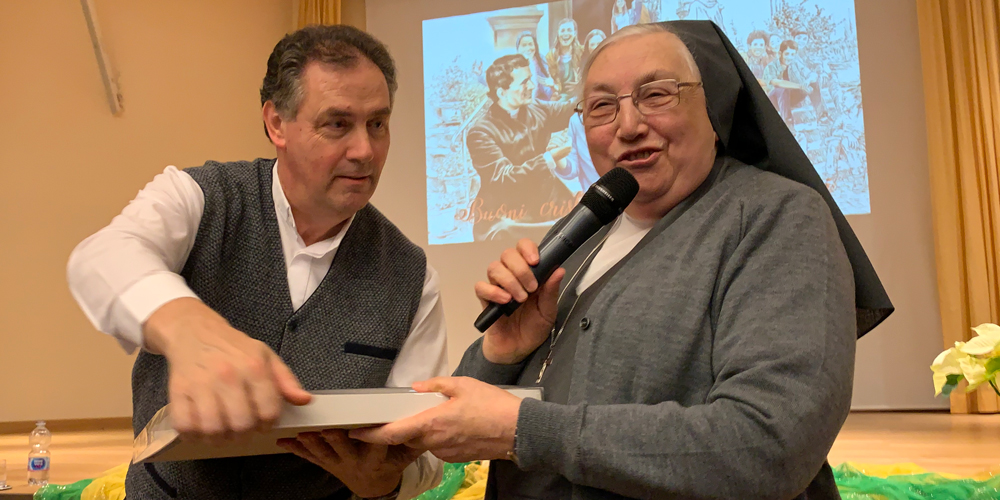 Mother-General Yvonne is pictured with Rector-Major Fr Ángel at the launch of the 2020 strenna.
Returning to this first love is an essential condition for educating the young people to active citizenship animated by Gospel values, ready to make their life a gift and service for others, to refuse every kind of corruption, to cultivate solidarity towards the poor, especially the immigrants, to defend the beauty of creation and of the 'common home' as a patrimony of humanity, to promote and defend human rights.
It is a journey that makes us attentive to the empty jars of so many young people that need to be filled with love, trust and the certainty that in everyone there is a small seed that can be made to bloom in a marvellous way into the "good Christian and honest citizen". Everyone, especially the poor, can give an innovative contribution to the building of a world that is more open to fraternity and to peace.
Therefore, let us continue our journey with responsibility and joy, entrusting ourselves to Mary Immaculate Help of Christians. She intercedes with God, so that the Father will give us His Spirit to continue to implement the teachings of the Our Father for the young today, in a society that calls to us to not remain silent or passive in the face of inequality, corruption and various forms of violence, in a world that needs God more and more.
Mother Yvonne Reungoat is the 9th successor of St Maria Mazzarello and is French, making her the first non-Italian to be elected as Superior General of the Daughters of Mary Help of Christians
---
Republished from the Australian Salesian Bulletin - Autumn 2020



Read or Download the Salesian Bulletin
Subscribe for FREE to the Salesian Bulletin
---