On 8 December 2021, three novices made their first Professions as FMAs at the St John Bosco Parish Engadine, Sydney. Here is what Sr Julie had to say afterwards!
I'm the youngest of 11 children, from a staunch Catholic family who grew up in the village of Leauva'a, Samoa.
After completing secondary education, I worked in a factory for 18 months before transferring to work in the family business which consisted of several retail shops. The Salesian Sisters in Leauva'a have a group of girls called "Children of Mary", which I have been a part of for over 20 years.
The Mass of the religious profession was streamedonline so that our families overseas could participate and pray with us and for us. This added so much to an already meaningful celebration for all present, particularly for myself as it was my first time I proclaimed my promise and commitment to God and the community publicly. I felt so happy and grateful to God for offering me thisvocation and giving me graces to accompany me as I worked towards my goal of becoming a Salesian Sister. I have no doubt that God knows what to do with my life - my part is to be faithful and authentic with my "YES" now and every day. With God's grace and love I'll strive to continue living the Salesian Spirit and to carry out our Salesianmission with and for the young./p>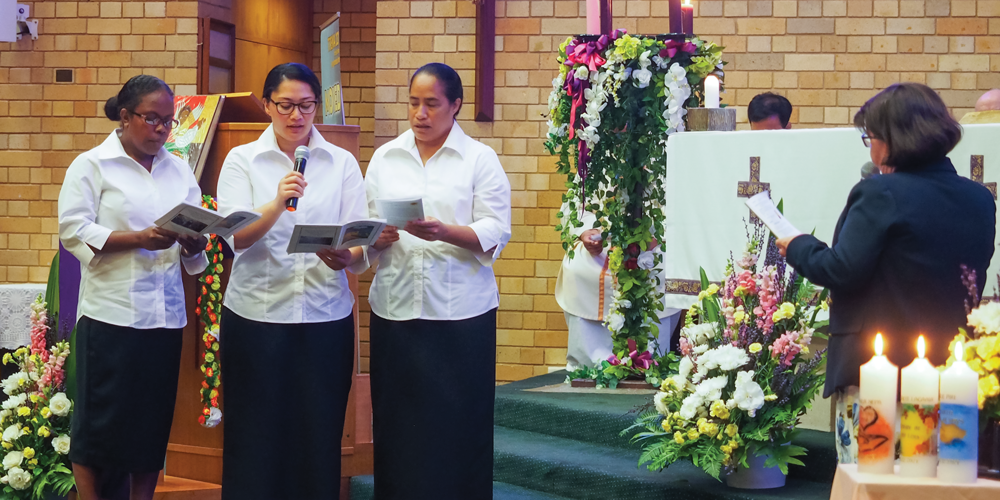 Sr Kamila (right) makes her vows accompanied by Sr Sialei and Sr Julie.
Our heartfelt gratitude to Sr Hieu, our novice Formator,and to the Engadine community, especially my two dear companions, Sialei Lagaaia and Julie Piri, and to all the Salesian Sisters in the PR Province who accompanied and journeyed with me. Special thanks to my parents, sisters,brothers and to all my relatives and friends, particularly my sister, Sr Marieta Nepa who is always encouraging me in my vocational journey.
Republished from the Australian Salesian Bulletin - Autumn 2022


Read or Download the Salesian Bulletin
Subscribe for FREE to the Salesian Bulletin