Sister Josephine Bargigli was born in Turin on 9 November 1928, the only daughter of Carlo and Livia Bargigli.
Along with her three brothers Ugo, Carlo and Renato she grew up in a hardworking Christian family with strong parish connections to the Salesian spirit and works where she developed a deep appreciation for value of hard work as she helped her parents during the difficulties and hardships of wartime. 
Sr Josephine became a postulant with the Daughters of Mary Help of Christians in Turin on 31 January 1948. After her profession Sr Josephine spent a year in Casa Madre Mazzarello, Turin, where she trained as a Kindergarten teacher.  In 1952 Sr Josephine with three other sisters left Turin for the United States to study English in preparation for the opening of the first Salesian Sisters' foundation in Australia.  
On 30 September 1954 Sr Josephine ( with Sr Cecilia Lanzo, Sr Elisa Vavassori and Sr Lina Chiandotto) set sail from the port of New York for a 49 day trip to Australia. The ship they sailed on was named the 'Pioneer Reef' which they jokingly nicknamed the Pioneer Grief as it was a cargo ship; travel prices were less expensive than a passenger ship.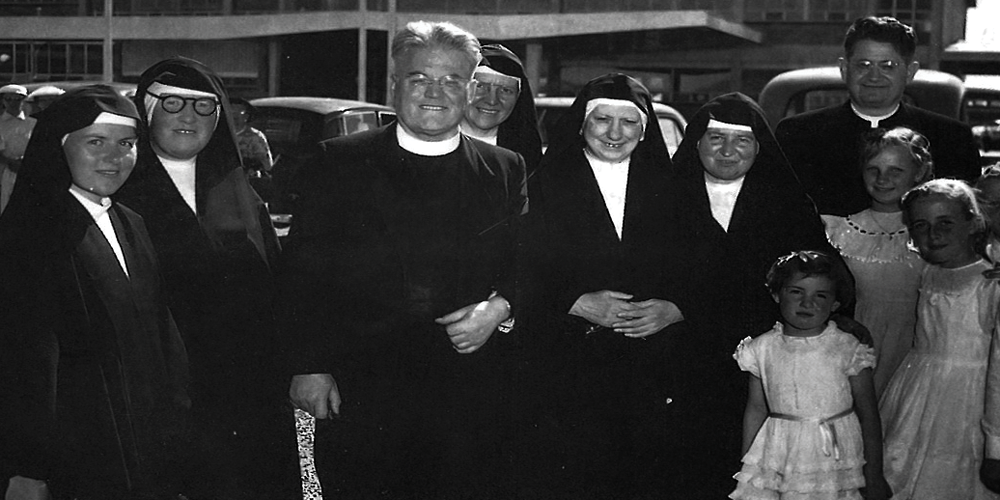 Josephine (far left) upon arrival in Adelaide in 1954
They travelled via the Panama Canal and had a day in Panama City with the FMA community. The sisters arrived in Brisbane, Australia, and after two more flights they reached their new mission in Brooklyn Park, Adelaide, on 19 November 1954.  The following February the sisters took over St John Bosco parish primary school, which soon became known for the quality of its educational curriculum due to Sr Josephine's great skill as an early childhood educator. 
Sr Josephine continued to teach at St John Bosco primary school Brooklyn Park until 1965, when she relocated to the St John Bosco primary school in Engadine. Once again, her talents shone through, as she endeared herself to students and parents alike for her innovative methods and teaching skills. Ever the obedient servant of the mission, Sr Josephine returned to Brooklyn Park in 1975, picking up where she had left off.
In 1985 Sr Josephine moved to the recently founded mission in Samoa, teaching catechists and their wives at Moamoa Theological College.  In just one short year the community became aware of her great spirit, and she was then assigned to the principalship of St Joseph primary school in the village of Leauva'a where she remained until 1990. Sr Josephine began a pre-school for the children of the trainee catechists, using her many skills, creativity and natural affinity with young people.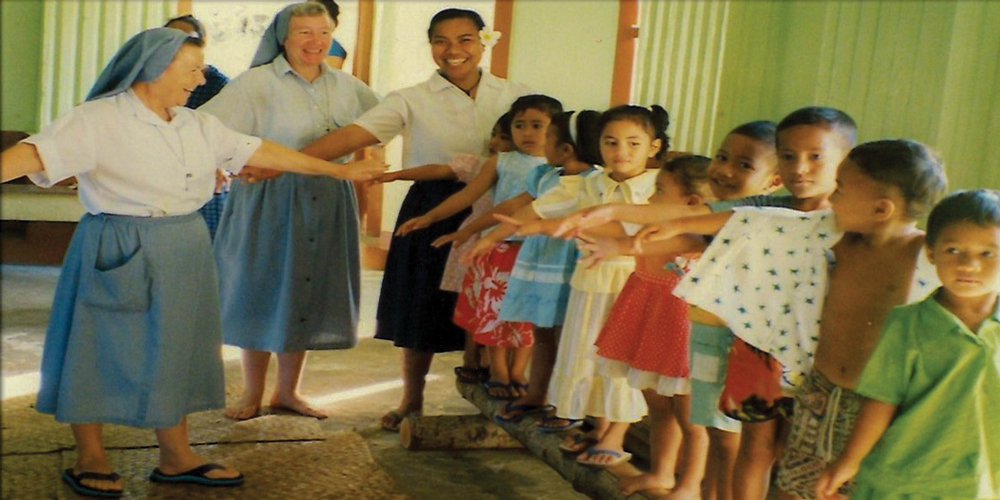 Josephine was a natural at finding smiles on the faces of young people!
During this time, Sr Josephine was also the community bursar and assistant to the boarders.  In 2010 Sr Josephine moved to Pago Pago, American Samoa, where she helped students in numeracy and literacy in the primary school.  Three years later Sr Josephine moved to the newly opened community of Malololelei to assist with the life of the Divine Mercy primary school, remaining in this mission until 2016 when her gradually failing health forced her to return to Engadine, Australia.  
After a short time in the community, she was hospitalized due to a fall.  However, she was diagnosed with an inoperable brain tumour and needed specialised care which she received in John Paul Village Nursing Home. She was regularly visited by her community members, who were ever grateful for her joyful Salesian presence, humour and gift of storytelling that gave a pioneering light and life to the FMA mission in the South Pacific Region.
       
Sr Josephine was a faith-filled woman who lived her FMA life in fidelity to her commitment.  She was a wonderful pioneering missionary who gave her all in the educational mission, living the charism of Don Bosco and Maria Mazzarello until 22 May, when the Lord finally called her home to her eternal rest.

This story originally appeared in the Winter 2023 edition of the Salesian Bulletin, available now!