On Monday 12th of August, the Scoresby sister's community was joined by the communities from Clayton and Broadmeadows to celebrate the 50th anniversary of Sr Carmel Krohn's First Profession.
It was only fitting for the celebrations to echo that of the theme from Carmel's profession; "I have carved you on the palm of my hand" and so, this quote from scripture was a key part of the celebrations.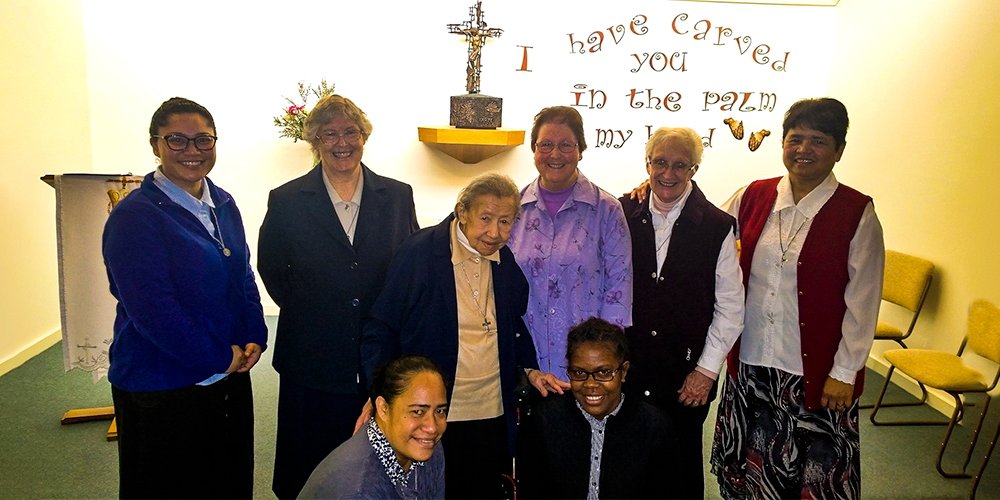 The sisters gather around Sr Carmel
Mass was held at 11am in the Scoresby chapel, celebrated by Fr Chris Ford SBD and concelebrated by Monsignor Tony Ireland, the parish priest of Doncaster where Carmel ministers and Fr. Longinus Onyechesi, administrator of the Scoresby parish. Carmel chose two verses for the mass that she felt specifically matched her life's work - 'We are only the earthenware jars that hold the treasure' (2 Cor 4:7-15) and John 'Jesus the vine, we the branches'. (15:1-8:)
In his homily, Fr Chris illuminated the Salesian aspects of these readings by talking about the way Don Bosco accompanied Mickey Magone in his transformation from a leader of a gang of young troublemakers, to a leader among his own peers. Fr. Chris spoke of Carmel's interaction amongst the young, interactions that led the young people to a better transformation of themselves. He also highlighted two aspects of our FMA Constitutions: gratitude and love which, on a day celebrating Carmel's 50th, are truly evident in her life.
Fr Chris says Mass, flanked by Fr Longinus (pictured left) and Fr Tony (pictured right).
Sr Rochelle lead the music and prepared a meaningful powepoint presentation that showcased a great selection of photos Carmel's life, as 'O Praise the Lord, My Soul' was played. After the Eucharist a festive dinner was enjoyed by all which was prepared by Sr Esperanza and the the three postulants.
Afterwards, Sr Julie Piri, our postulant from the Solomon Islands, begun the entertainment focusing on the theme of 'welcome'. Sr Kamila and Sr Sia joined her in festive dancing which was followed by a formal speech from Sr Helen that included a summary of Carmel's life from her home in Adelaide to a life of 50 years and counting of service, that featured a countless amount of interactions with young people and therefore a countless amount of transformations for the better!
Carmel, Congratulations, Thank-You and Best Wishes from all in the province!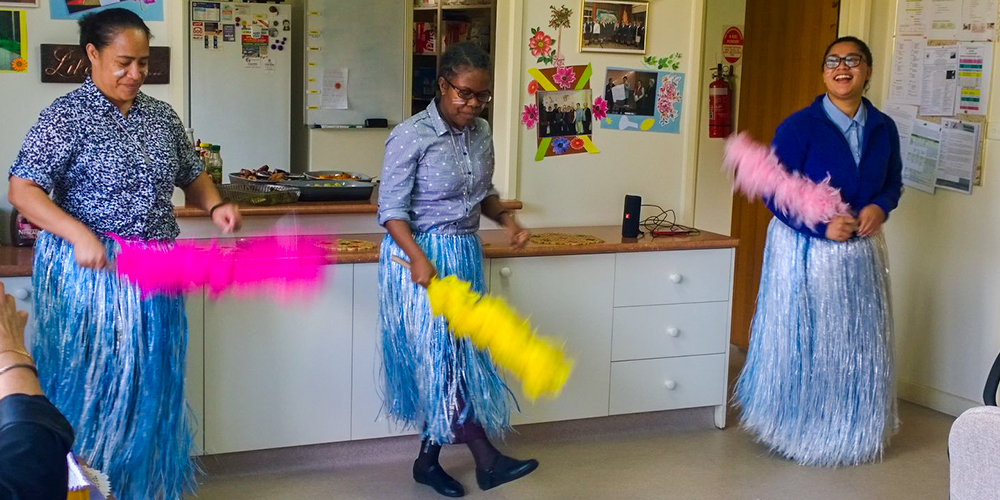 Sisters Julie, Kamila and Sia performing a welcoming dance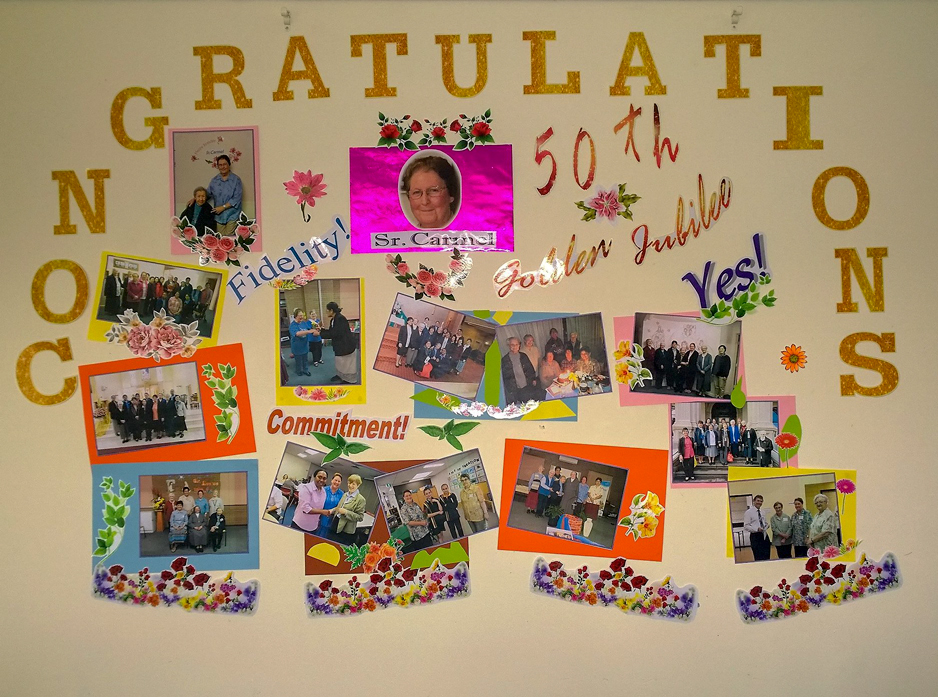 Some of the decorations dedicated to Sr Carmel