The effects of COVID – 19 can be felt all around the world, as the various countries of the world react differently in their efforts to curtail the effects of the pandemic. This global challenge has spawned countless other challenges, but for Fr Mick Court some of these challenges are to be relished!
Mick is the parish priest of the St John Bosco Parish, Engadine, located about 30km south of Sydney. Of course, nothing about the present situation is ideal, but he is doing his best to make the best of a bad hand.
"We're not closed, we're just operating differently" Mick states determinedly. This has become something of a motto for Mick, a phrase he picked up from one of the first parish council meetings in response to the global pandemic.
Originally mentioned merely as a joke, Mick jumped on it immediately: "Yes, that's exactly it I thought to myself" he explains. "When everything started happening it was like we were lost in the jungle, and this saying has now become our compass"
With a renewed verve, the entire parish team has been doing all they can to continue provide their regular services to the community, in new and inventive ways. House visits and meetings have become online video calls. Catching up with friends over some tea and biscuits has turned into an online forum. Donations to the Church and other organizations are now accepted online.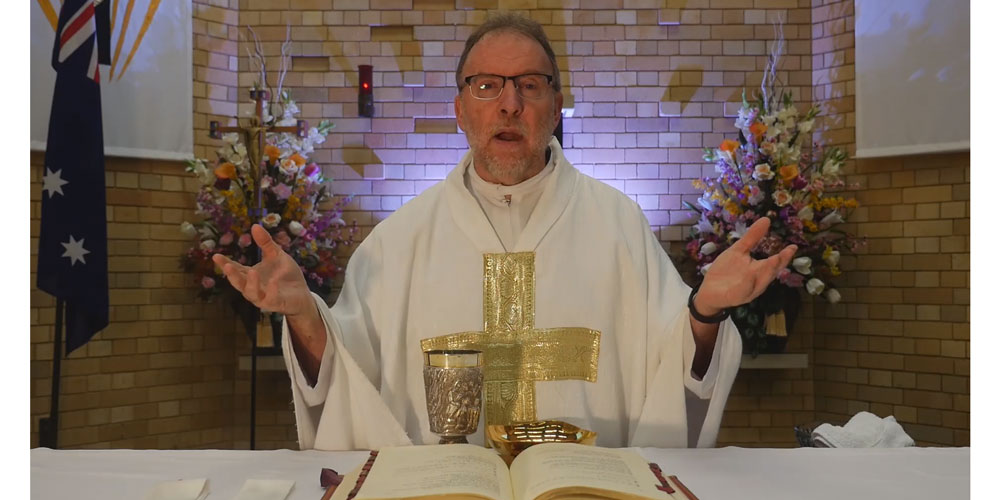 Nothing says "We're operating differently" like pre-recorded Mass!
The most obvious change is that to the Mass service itself. These changes due to social distancing restrictions came into force on the brink of Easter celebrations, which demanded a rapid solution. Have explored the options, a very deliberate choice was taken to go down the path of pre-recorded and not live streamed coverage, Mick recalls.
"Crowd-sourcing is key. Our parishioners are much more engaged in the service, because they are a part of it, and recognize each other in it." Each week, about 800 people tune in to watch the services which are posted on the parish's Facebook and YouTube pages; a testament to this crowd-sourcing wisdom.
Parishioners pre-record themselves doing a reading, reading a prayer of the faithful or performing the hymns and then send them in. These are then combined with the clips of Fr Mick, to create a full video service of each week's mass.
The Good Friday service commemorating the Stations of the Cross was exceptionally powerful, as parishioners sent in powerful testimonies that matched the themes of each station.
This has turned into an incredible exercise in community building throughout the parish. The services also acknowledge any significant birthdays or wedding anniversaries at the start of the service and over 200 photos of parishioners adorn the pews – individuals, couples and families.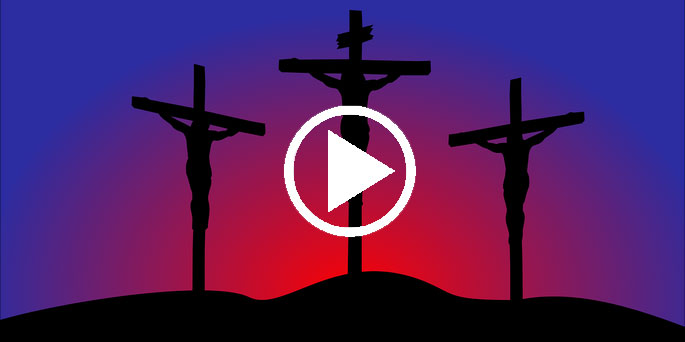 A silver lining has been formed; a greater sense of unity has grown within the parish as the regular parishioners who attend their usual mass (the parish celebrates 6 Sunday masses across 2 churches) have all come together in celebration of the Eucharist.
If it wasn't for Ed, we couldn't do any of it" Mick says, referring to Edward Noack, a junior youth minister with "Youth Matters", the parish youth outreach team. Ed has played a major role in creating a lot of the video content, enabling this great project to carry on. "He is so good at striving to do his best but is so flexible with all the different levels of experience and technical know-how"
Youth Matters have taken a lot of their services on-line as well. Led by Raquel Lisboa, the team have branched out into producing hilarious videos, hosting online Friday games nights and other such projects, ensuring that the young people of the community are not forgotten about.
Other outreach programs of the Parish carry on. They worked hard to gain council and police approval to continue the Coles Second Bite program, where unsold fresh produce is offered for free from the parish. Bakers in the area also supply bread, which is freely available to anyone who needs it.
A phone list has also been established, where parishoners could submit their phone number. Approximately once a week, they receive a call, where they discuss how they are going, if they require anything in particular and if they would like to share a prayer. This has been a vital connection for those on the list people, as Social Distancing restrictions create the potential for total isolation of individuals.
Mick is under no illusions that everything that is going on is only temporary. " I can't wait to get back to meeting with real people" he exclaims. "As good as all this technology is, it's just not the same.
Perhaps there are somethings we could keep, such as filming homilies and putting them out online, but I hope we can all come back with a new appreciation for the gift that Eucharist really is and just how important our community is. Let's not take these things for granted"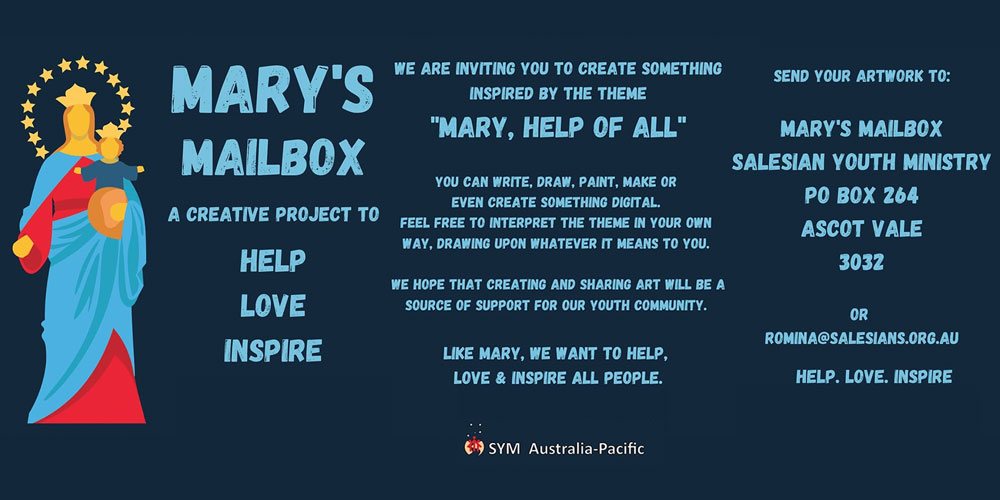 During Mary's month of May, Salesian Youth Ministry is inviting you to take part in an arts and crafts challenge dedicated to Mary!