All parishes have their own characters, activities, and special quirks that make them just a little bit different, a little bit special compared to everyone else. St John Bosco in Engadine, (about 35km south of Sydney) is no different! It is an incredibly active parish with a vibrant community, that sees a wide range of people come together to form the parish community. It has all the trappings of a normal parish, however one of its special quirks is that of the travelling Mary statues.
The statues travel from parishioner to parishioner, with each taking care of it for a week or two, before then passing it on to the next. In that time, they have the chance to pray the rosary before the statues, adding their intentions to a countless amount of intentions that the statues have seen over the past 60 or so years.
Paul, a parishioner of the St. John Bosco parish, has had a very close association with Mary, instilled in him at a very young age by his mother. Whenever there were times of sickness, or worry, Paul's mother would rally the family and they would pray to Mary. Naturally, he has been an active participant and cared for the statues numerous times. "Without Mary in my life" he says, "things would have been rather different."
The tradition started in the 1950's when Eileen and Frank O'Keefe were struggling to sell their house. Eileen suggested that they should kneel before the white marble statue and say the rosary, asking for a buyer and lo and behold, within a week, the house was sold! When the dust had settled on their move, Eileen, with the assistance of the renowned long-term servant of the John Bosco parish, Fr John Briffa, organized a rotating roster with half a dozen names on it, who would participate in the 'travelling rosary'.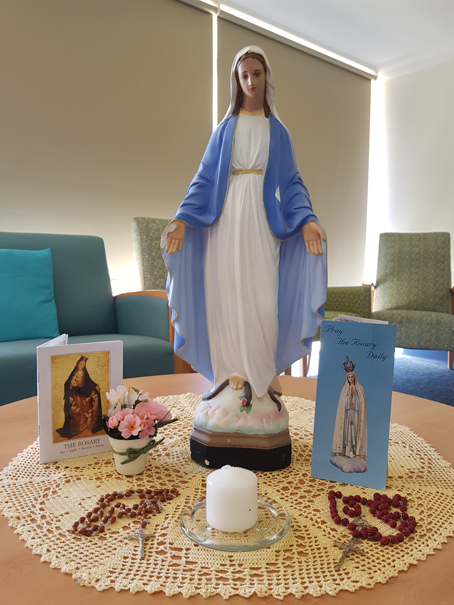 Another of the travelling Mary statues, currently set up in an aged-care facility
Over time, the roster grew to over 115 families and parishioners, who would receive the statues from a fellow parishioner, care for it for a week, and then, having received a name and a phone number, organize delivery of it to the next person on the roster. As the famous saying goes, "the family that prays together stays together" and this has become a brilliant example of a community of believers who were bound closer to one another through their faith. Those who have carried the statues know that there is something special at play behind the scenes – indeed they say, it is no coincidence that when the second statue was added to circulation (to be able to cycle through the roster faster) unexpected, increased funding for the school in the parish appeared!
Due to accidents and other such unavoidable mishaps, the statues have had to been repaired, more than once - the laws of gravity and human nature can be a unfortunate combination! Despite this, the ministry continues on to this day, now under the care of Gabrielle Kingsley. It is impossible to know how many intentions have been prayed before these statues, or how many hearts have been consoled by them, nor how much good they have brought into the world. What is known is that for over 60 years, these statues have been a simple expression of a great, common faith, binding a variety of people together in love and fellowship. It is just one of the many quirks that makes St. John Parish special to its parishoners, and its parishoners special to the parish.
With special thanks to Gabrielle Kingsley for her assitance in researching this story.