The final episode of the Mission Speaker Series will take place on Monday the 25th of November, when the microphone is handed over to Fr. Guillermo Basañes. All are heartily encouraged to particpate; light refreshments will be served at the Aikenhead Hall at St. John the Baptist Primary school in Clifton Hill, Melbourne, and proceedings will run from 7-8:30pm.
Fr. Basañes will be addressing the global effort that the Salesians are undertaking to improve the lives of millions around the world. He will also no doubt speak to his own extensive experience as a missionary.
"The theme of mobility, of immigrants, was a theme that much attracted Don Bosco and it is interesting to see how the missionary aspect for him was closely linked to migration" says Fr. Basañes.
"I think the great challenge is to be able to give an answer that has a Salesian identity in those places where young people are present, such as the large refugee camps in Africa, where it is necessary to strengthen the action with refugees from northern Kenya, Somalia"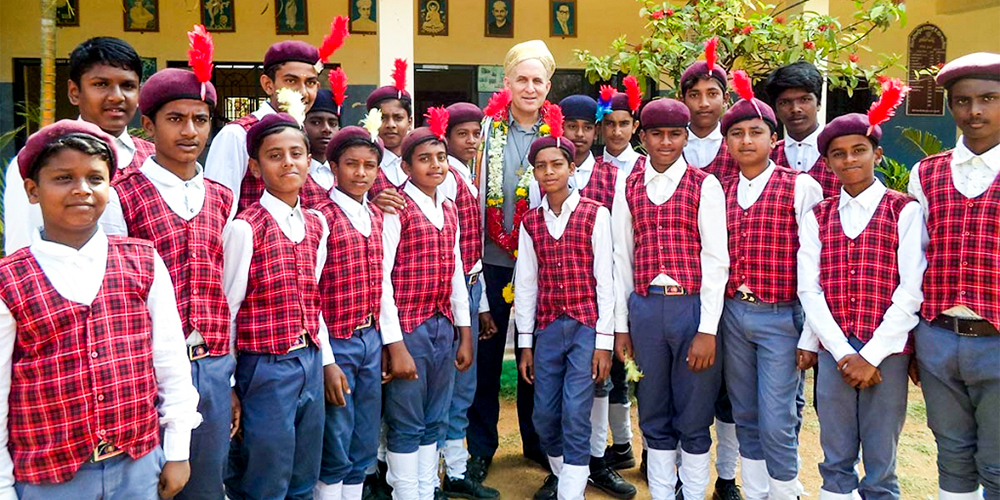 Fr Basañes (pictured centre) with students on a visit to Banglore, India
Fr Basañes is on the general council of the Salesians, as the worldwide councillor for the Missions. Originally from Argentina, his first profession was in 1986 and was a long-term missionary in Angola.
Fr Basañes is a man of many talents; he holds extra degrees in educative psychology and formative training and fluently speaks Spanish, English, Italian and Portuguese. He has held multiple important roles in his time, most notably he was the regional representative for the Africa-Madagascar province from 2008-2014.
On Sunday the 24th (the day before) Fr Basañes will say mass at 10:30am at St John the Baptist in Clifton Hill – all are welcome!