Classrooms – closed. School yards – empty. Staffrooms – quiet. Yet all about is noise and activity. The buzz of a normal school day now comes alive through a screen and set of headphones. In a time of uncertainty and change one thing remains constant – teachers will find a way to teach and students will find a way to learn. It begs a question, what is the fundamental element of our Salesian education?
Is it our building and facilities that are fundamental? It could be said in this new time that "our work is expected to correspond to the modern needs of the various peoples of the world." All around the world educators and learners have been asked to go indoors and reconnect through various digital mediums.
Our methods have changed immensely and rapidly to adapt to the pressures of a COVID-19 world. I often find myself reminiscing about a blank whiteboard open to all possibilities of learning or a projector ready to illustrate challenging concepts. They do seem like fundamental tools of education in a contemporary Australian classroom.
Is it our technology that is fundamental? Today, as we log in rather than walk in, you would not be wrong in thinking that the laptop or tablet has become the fundamental educational tool. Who needs markers and boards when we have screens, cameras and microphones?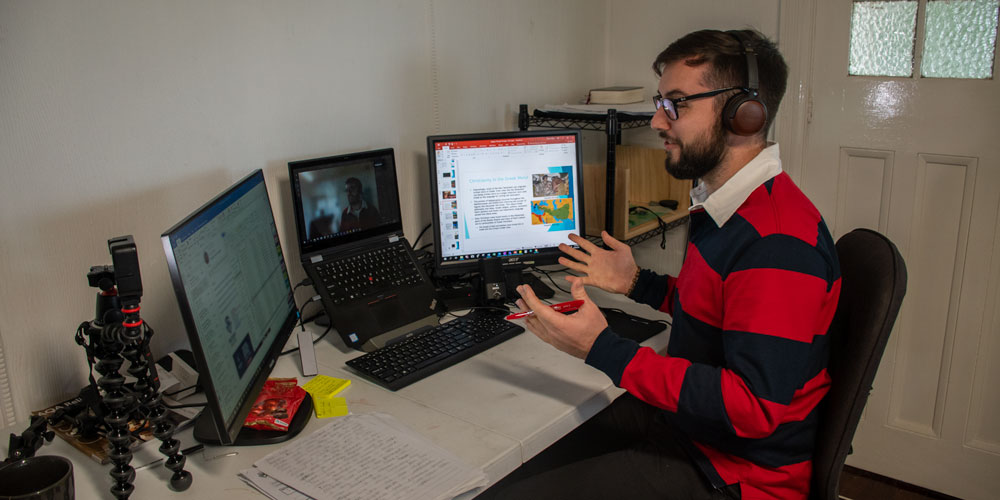 A glimpse into the teacher's desk of 2020 - laptops, microphones and just a few sneaky treats to get through the day!
With these devices I can take my students anywhere in the world! I can show them recreations of atoms to the far reaches of our Solar System. I can challenge their views of normality and morality by opening their minds to new arts, cultures and religions.
As so many of our students now sit at home trying their best to keep up with the changes and find their own way through a new digital pedagogy it is obvious that technology has become essential.
There is a lingering doubt that makes me reconsider the equity of our reliance on technology though. I think about the thousands of young people stuck indoors for whom internet, quality devices and a safe, quiet learning space have become critical.
There are too many students without these luxuries – and they are luxuries – who are now at even greater risk of falling behind their peers. Where before a good teacher could supplement their learning and help overcome challenges, today we are limited to the screens, cameras and microphones we have – or lack.
The disparate situation in the homes of our young learners screams for attention. These are the young in particular need. These are the young being quietened by their circumstances. How can a teacher login at the start of each day without wondering what our students have experienced when the cameras are blocked and the microphones are muted? This show the importance of technology; however, I would argue that there is an even more fundamental element to a Salesian education.
What is the most fundamental element of Salesian education? If it is not the tools of the trade, nor the spaces we learn and teach in, nor the teacher alone because we cannot teach an empty room or screen.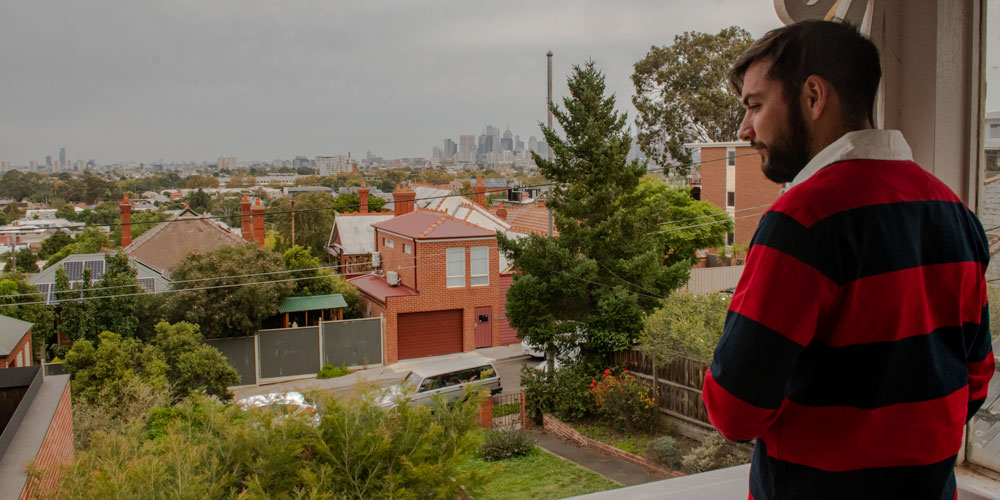 Yard duty just isn't the same without the noise and the downball - although this view isn't too shabby either!
Teachers, educators, ministers, leaders and supporters all have critical roles, but without the young we cannot be Salesian. Clearly the fundamental element of a Salesian education is the young. They are the focus, for without them our efforts, structures, meetings and pedagogies would be pointless.
Granted, the way teachers are presenting our content is changing, for renewed and refreshed pedagogy breathes life into education. There is so much energetic growth occurring in schools around the country and in my own school because of this unforeseen interruption to 2020. However, the core of our Salesian education should remain constant. The signs of the times have made this abundantly clear.
Our students and young people must find their way to the heart of our every action. The reason is simple, because at the end of this period of lockdown and isolation they will not remember our innumerable presentations, posts and pestering.
They will remember the person who asked, "how are you?" They will recall the time we changed our plans to address their needs. They will remember the friendly face who took the time to connect and share a laugh.
This is a call for renewal for our Salesian family. This period of physical and social distancing should refocus our vision and efforts. Our Salesian education and ministry should not rely on buildings, structures, documents, meetings, and schedules. They are important, but not the fundamental element! We now have a glimpse of the real needs of the young and what they have been seeking all along.
There is a cry for human connection and presence - these are the signs of our times. This is a period where "all the rest" has been taken away and all that remains are "souls" – how will we respond? For when we return to our lifestyles and roles post-COVID-19 let us make sure we can say with all honesty and joyfulness "they know they are loved."


Tristan is a teacher at Salesian College Chadstone. He recently started up a vlog detailing the e-teacher life, it can be found here.