At the end of 2019, Lynn Martin retired as Principal of Xavier College due to ill health and sadly passed away on Thursday 14th May at home surrounded by his loved ones.
This brought an end to 16 stellar years of leadership at Xavier, as well as 43 years working in Catholic Education SA. Throughout his career, Lynn taught at St Michael's College and Mercedes College as well as holding senior leadership positions at Blackfriars Priory School, Gleeson College and Nazareth College.
The past 16 years were particularly special as Lynn led the transformation of Xavier College into a true community, firmly rooted in its Catholic, Salesian traditions and charism.
Lynn exemplified many things during his tenure at Xavier College and will be remembered for many things, but perhaps most notable was his extremely strong sense and valuation of community his commitment to helping define what it means to be a member of the Xavier College Community.
Within weeks of assuming the principalship of Xavier College, Lynn was faced with a community trying to come to terms with the passing of his predecessor Fr Dennis Handley due to ill health.
For someone who was so new to the community, he showed great leadership during this time. He led with great compassion and put in extra effort to understand what each person was going through, whilst simultaneously ensuring that the College continued to operate at its best, given the circumstances.
Very few leaders are ever placed under such a high level of pressure and scrutiny as early in their tenure as Lynn was – and he handled it with aplomb. Lynn ensured that all staff (especially the senior staff that had worked with Fr Handley closely), students, parents and old scholars were supported and listened to – an incredible effort for someone who had only been at the College for a matter of weeks.
This was a true testament to his personal character and the first signs of his incredible ability to read the needs of a community and act accordingly. His would do so in a manner that was quiet, unassuming and unpretentious manner, something that the whole Xavier community would come to know and love about him as the years went on.
Through his genuine concern for Xavier college, those around him quickly saw that he was the perfect person for the school and the school was the perfect place for him.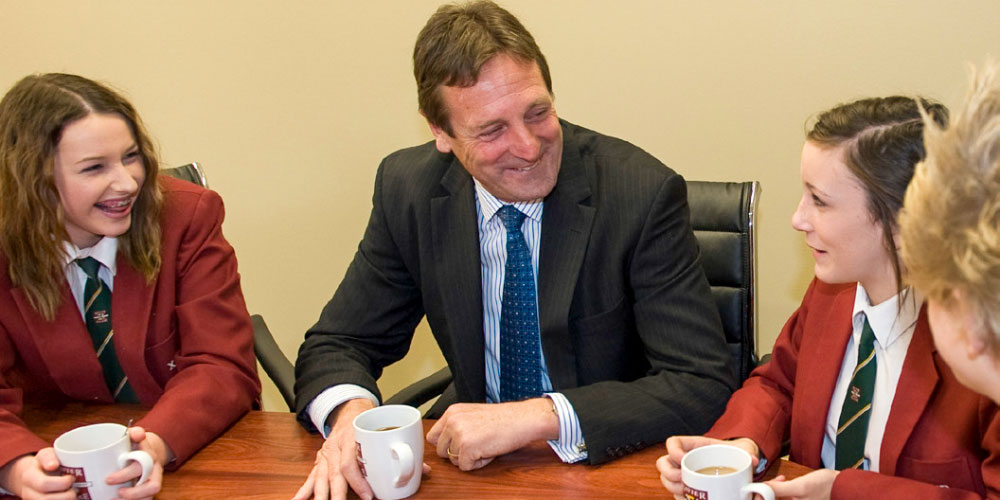 Lynn always had time for students, and ensured that he put in an extra effort in hearing their concerns and their dreams.
Lynn would always insist the leadership of the college was a team effort, and with his guidance, Xavier college grew beyond even any of the dreams of those who originally established the school.
Indeed, this team credo was so important to Lynn that whenever he was singled out for the achievements of the college, he would seem uncomfortable – endearing himself to his colleagues and community even further!
This is not to say that he did not appreciate or see the merit in acknowledgement of hard work; he just believed the results were the result of far more than one person's work. He was always very proud of the achievements of his staff and always made sure that their achievements were recognised and known.
During his time at Xavier, student enrolments increased from around 600 to just under 1,000 as Year 7 was established and the delivery of curriculum underwent a major reorganization, to create a nationally recognised Middle school structure. During his tenure there also been an increase in the numbers of students completing their South Australian Certificate of Education; an 100% completion rate is now the standard.
Lynn has also passionately overseen numerous major building projects around the college, providing vaulable services to its students, including:
2009 Science Learning Centre (BER Commonwealth grant)
2012 Trade Training Centre
2013 Xavier College Chapel (TTC Commonwealth Grant)
2015 Scope 1 – Mawson Discovery Base
2019 Scope 2 – Sir Doug Nicholls Gymnasium,
St Mary MacKillop Student Hub and Plaza and Scope 3 – Dame Roma Mitchell Staff Centre and Colonel George Gawler Auditorium.
His dreams and legacy proudly march forth into the future, with the redevelopment of the Bosco Lawn this year, as well as any future developments it undergoes. Even while dealing with his illness, he had been part of the team working on the new Xavier College – Two Wells R-6 Campus which is due to be opened in 2021.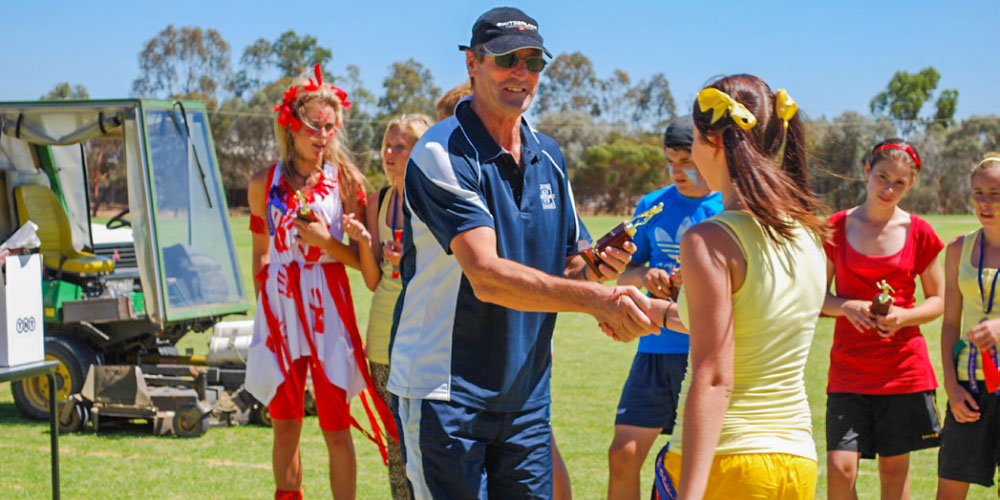 Lynn presents a student with her trophy during a school atheletics tournament
One of his most cherished achievements was the flourishing of the Salesian charism within the Xavier College Community. The seeds of the charism had been planted by his predecessor, yet it was Lynn's passion for St John Bosco's mission and the Salesian way of doing things, that would see the development of a strong House and Oratory system.
This system was aimed at supporting students in an academic sense but also provided a vital environment where the pastorals needs of students and staff were prioritized. In line with the Salesian charism, this Oratory system ensured that all members of the Xavier College community were exposed to the three pillars of Salesianity – reason, religion and loving kindness.
Just as Don Bosco had done all those years ago, Lynn was able to inspire those around him to a greater passion for the work, ensuring that Xavier community was a home that welcomes, a parish that is faith centred, a school that prepares for life, and a playground where all can enjoy their time with one another.
Lynn was such a big believer in the Salesian charter that he even embellished it with a unique twist of his own, bringing his personality and experiences to the fore. The community values of Respect, Understanding, Affection and Humour, or RUAH (a Hebrew word that that means Spirit of God) was introduced during Lynn's time as principal.
St John Bosco had a dream that all young people should be guided towards becoming "Good Christians and Honest Citizens". Lynn unashamedly made it clear to all that this was also his wish for all those that stepped through the halls of the Xavier College Community.
Lynn has been a passionate and strong advocate for every student that has entered the site at Xavier and lived and breathed the Catholic and Salesian way. His ability to build supportive and authentic relationships with people from all aspects of life and his unwavering desire for the staff to do the same with students has been a huge focus of his time at Xavier.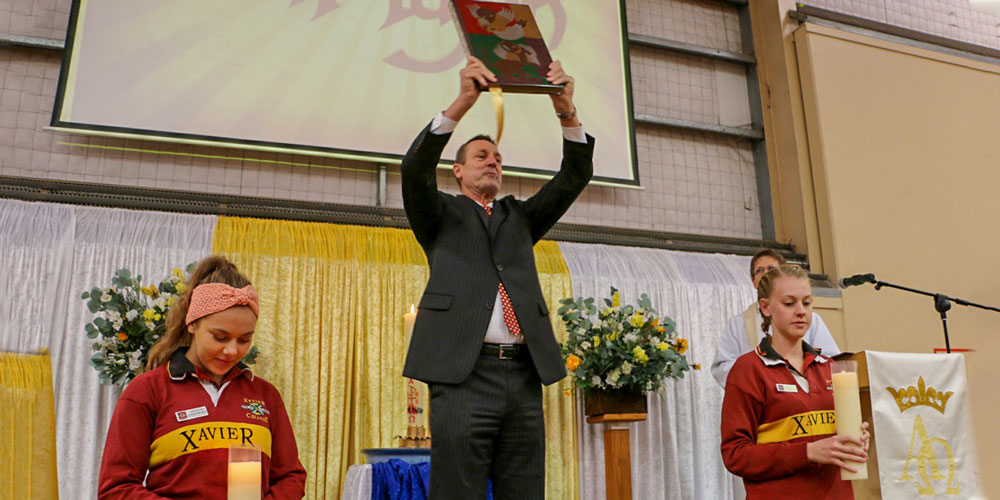 Lynn's life is a fantastic example of the Gospels truly lived. Through his passion, dedication and effort, Jesus' message has been passed onto thousands of young people.
Many past pupils have expressed their grief and shock at the passing of Lynn, a true testament to the man he was; one that left a lasting, positive influence on young people. Students leave the college feeling valued, which gifts them with the confidence to go out and excel in their chosen pursuits.
Late last year, Lynn received a gift from the Community at Xavier, a trip to a restaurant in the Barossa valley. The food and scenery were of exceptional quality, yet for Lynn, the main highlight had been learning that his exquisite meal had been prepared by two past pupils – he was ecstatic that they were succeeding in their chosen fields.
One of the recent student leaders at Xavier had this to say about him: "Mr Martin is so passionate and dedicated to supporting the education of Xavier students and creates a real sense of community between staff and students. He is one of the most inspirational people I have met."
Lynn has had a strong sense of community and has been an active and involved member of the local community during his role. He has been a charismatic leader and a "man of the people" and has been determined to see Xavier College develop into a school that truly cares for the people within it, and the community in which it lies.
Lynn has been an incredibly exceptional and inspirational leader of our community, that has inspired multiple generations. The effects of his dedication, commitment and passion for the Xavier College community will have such a profound will live on for many years to come.
Vale Lynn Martin