Even though classes are taking place from home, the grounds of Salesian College Sunbury have not been totally empty! Artists have recently completed a mural of Don Bosco, whilst construction continues on the implementation of the new college chapel and bell tower.
The Salesian College Sunbury contemporary mural depicts our founder St John Bosco surrounded by stylised images of Salesian College Sunbury students from across the years.
"This mural not only recognises our heritage as an orphanage when it began in 1927, but highlights Bosco's influence on our diverse and inclusive community", said Principal, Mr Mark Brockhus.
"It is a daily reminder about our inherent connection to our Salesian charism and reminds all of the great legacy we have had bestowed upon us by Don Bosco of reason, religion and loving. The mural highlights the special bond of family that connects us all and the strength and resistance our community have demonstrated together during the height of the coronavirus pandemic".
Melbourne Murals were commissioned to design and paint the prominent mural. Having been completed during isolation it will be presented as a gift to students and teachers on their return to school.
Art is about engaging people and activating spaces for shared usage. The new mural was painted on one of the original Salesian buildings, Fedrigotti building as a tribute to Alumni and current students.
On the 23rd of June Provincial Fr. William Matthews blessed the college's new cross and bell tower. These have been completed in the first stage of development of the college's new chapel The Cross is a visual reminder and indicates to all who enter the College, that the Catholic identity is part of the school's everyday story.
Fr Will Matthews (centre left) and Principal Mark Brockhus (centre right) pictured with college captains in front of the construction
The Cross towers are seven metres in height and serve as the entry point to the proposed new Chapel with the smaller one housing a running water feature at the top, symbolising the waters of baptism as students enter the Chapel.
The bell tower itself houses three bells that were cast in bronze and have travelled all the way from the Netherlands for their installation. Bells have a great spiritual power and have been very commonly used since the fifth Century within church liturgy.
The path leading up to this Bell tower and Cross named the Via Lucis (Way of Light) has been deliberately constructed for the College community to reflect, contemplate, pray, and centre our hearts in Jesus Christ, the Risen One.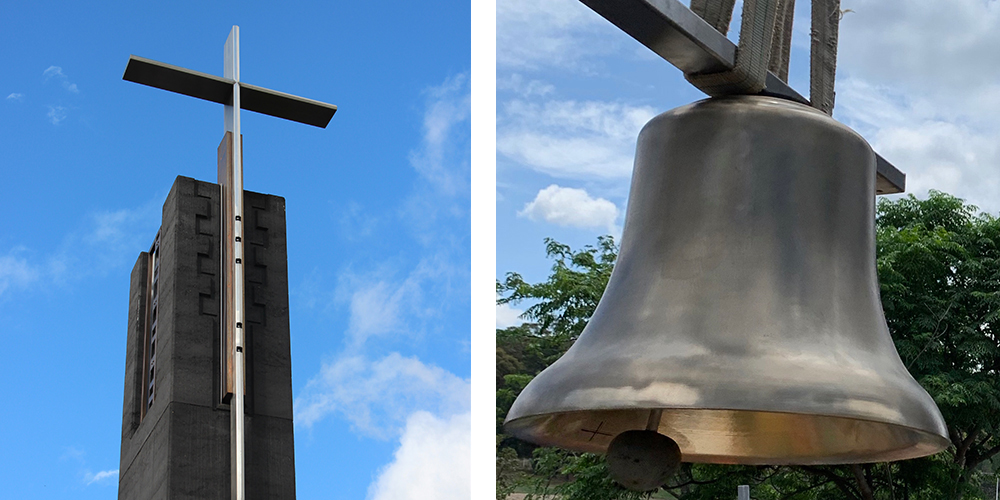 Close ups of the Bell and Cross
The pathway encourages meditation upon the Resurrection of Jesus Christ and other episodes recorded in the New Testament. Using the metaphor of a journey/pilgrimage the Via Lucis "moves from the experience of suffering, which in God's plan is part of life, to the hope of arriving at joy and peace which are essentially paschal values."