It has been a great year of firsts for the young women studying at Don Bosco Technical College in Alafua, Samoa! Currently midway through their first year of study, some of them have now also been selected to join in the prestigious Fautasi regatta, a race of traditional long boats that will mark the finale of this year's Teuila Festival.
They will be sailing on the Segavao Don Bosco IV Crew, captained by the renowned Vaimasenu'u Zita Martel. This is the first time that women have been invited to participate in the race as paddlers and it is as mentally taxing as it is physical.
"I need them to focus, getting their mind to will their body to do the work even though they are tired or fatigued because it's not a sprint, it's a marathon and it's a five mile race" explained Vaimasenu'u.
"Being out in the water is getting the technique on the oar that is the thing that is most challenging for them to synchronise their arms and body to move with the rhythm of the drum or on the whistle."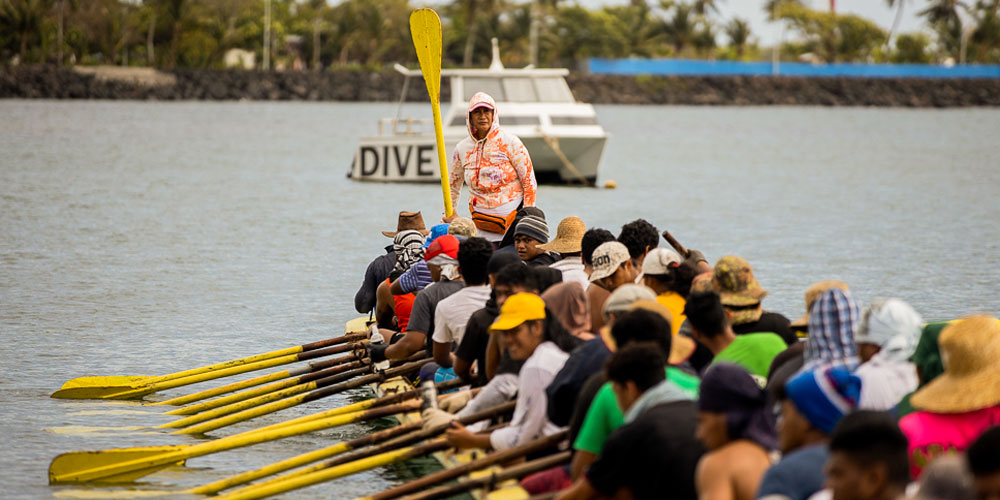 Rowers listen to their skipper's instructions.
Vailoa Fito Fareni can't wait for the grand race and feels honured to have even be asked to participate in the tryouts. ""I had the mentality that this was only a sport for men and while training some others were also shocked because of the strength required in the race" she said. "I will treasure the experience because these are once in a lifetime sort of things."
At only 19 years old, Vailoa has aleready achieved a lot by being one of the first female students at the Technical College. Her outlook on life has helped her thus far and sets her in great stead for the future. "In life nothing worth having comes easily, I also hope I can encourage other girls to take up this hard challenge."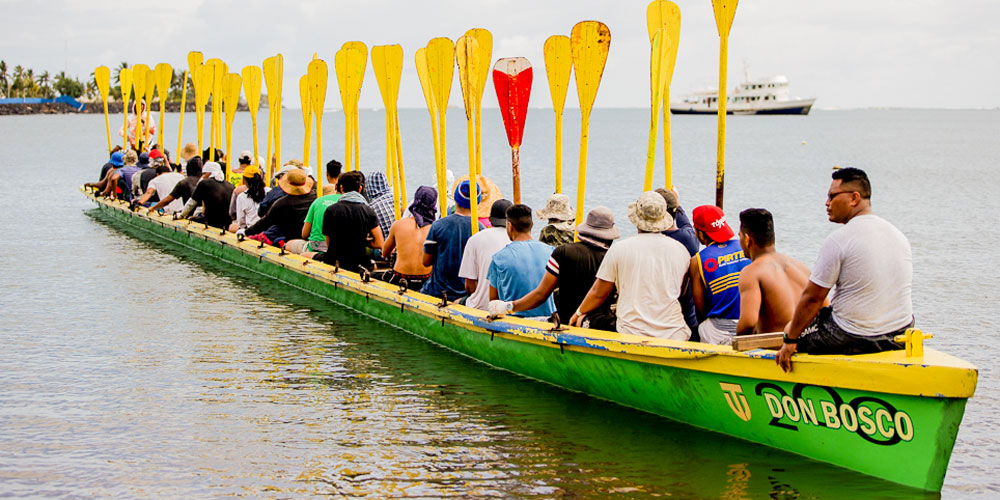 Rowers enjoy a well earned break!
Another rower, Miracle Avaia, explained further how daunting the task actually is. "I feel mixed emotions because it is both an honour to represent our school but we can feel the pressure and not only there is limited time given to us but we are all new and unfamiliar".
"But I believe that if we all work together and uphold our motto 'one beat' we can do it. I admit that we are not used to it physically from the arms to the legs but we are used to the sun."
When the Don Bosco Technical College enrolled female students for the first time earlier this year, it was precisely so that further doors would then open for them. Principal Mane Su'a reported that the driving factor behind female enrolment was to encourage them to take up the opportunities that boys have access to, empowering them to be protagonists of their own future.
For more information or to support the incredible work the Salesians do in Samoa, click here!
---
This article originally appeared in the Samoa Observer