Sulata Naomi Urima and Elisapeta Manaia are two young women who are breaking personal and cultural expectations of themselves at the Don Bosco Technical Centre in Samoa. They are both studying male dominated trades, which they have both found to be as rewarding as it is challenging.
Sulata elected to study a carpentry and joinery course, which seemed to best suit her creative flair and fantastic work ethic. "Every time in this department I am required to work, but I can also have time to relax if I know I am unwell. We are never forced beyond our limits (and) I think that has motivated me to be in this course.
The Technical Centre is dedicated to sustainable practices and the development of young people who are also passionate about this cause. Left over materials from woodworking projects are rescued and stored, to be made into something else at a latter date.
"I can also apply my creativity and experience, I am able to use the waste materials from what we're making to do something else, instead of throwing it away" she explains. "When we use timber, there is waste such as wood dust, and there are timbers that are unused after we measure (and cut) the exact size of the timber that we want. I can use those wasted materials to build a fence for my family's garden and the wood dust is really useful for planting trees."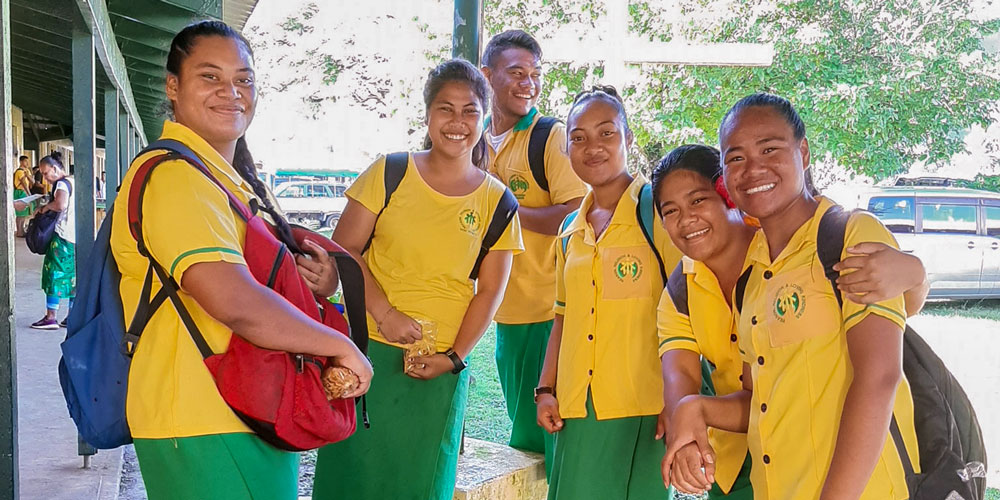 Sulata (third from right) shares a smile with some of the other girls from the first batch of female students to be studying at Don Bosco Technical Centre.
While she is thoroughly enjoying herself, Sulata is mindful of how tough competition may well become once she attempts to find a carpentry jobs in the workforce – it is a real possibility that employers will prioritize places to her male colleagues with matching experience.
Nevertheless, every day comes with its challenges as well as opportunities, which she wouldn't mind sharing with peers."I want to challenge the ladies that they can become carpenters, if there's a will there's a way," she says.
"If ever they choose this course, I just hope they selected it because it's what they're passionate about and what they want to pursue, and not because someone told them that it is a great course, or not because they're following someone. You have to be yourself and know yourself in order to be in the right place."
Sulata has two more years to go before she completes her carpentry and joinery course at the Don Bosco Technical School.
Meanwhile, Elisapeta Manaia is studying an automotive engineering class but before the Centre offered it as an option, she was enrolled in a sewing course, but didn't find the fulfillment there that she was truly after and lept at the chance for an early career change when it arose!
"For the past two years, I was in sewing lessons but I learned that it wasn't for me so I had to find where my passion is which was here in engineering.
This passion for engineering is what drives Elisapeta to succeed in what is otherwise an extremely male-dominated field and she is confident that the Centre is where her dreams will come true.
"I have chosen this school to improve my skills and knowledge and now I am in automotive engineering as a career path where dealing with cars can be challenging but I rely on God to help me with my course," she said.
"In my family, I am the only person interested in mechanics, but we have people who are plumbers, carpenters, and others. I have chosen this so that I can help my family in the mechanical area. I will strive to become a great mechanic person so I will be able to help not only my family but my church community and also my village."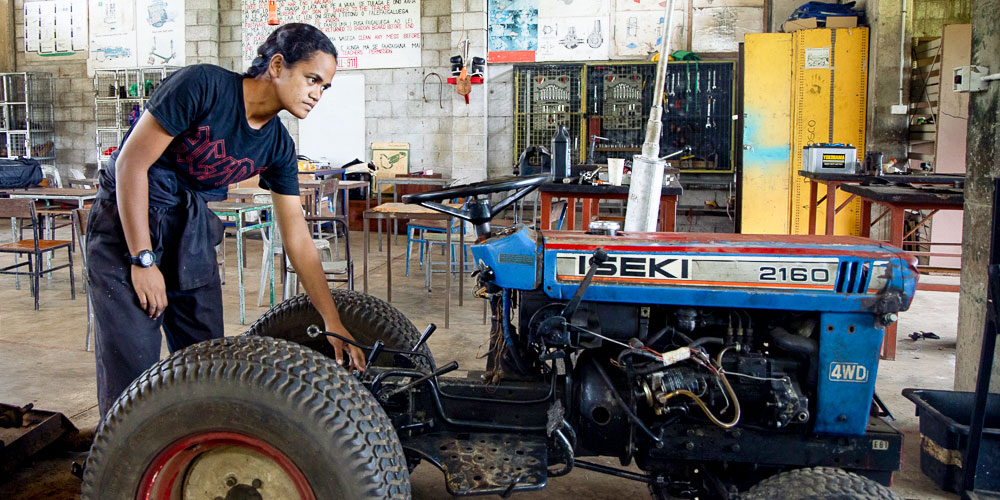 Elisapeta works on a tractor that has been left for repair.
As the only girl in her class, the lopsided ratio has not stopped her from striving to do her best and she is always grateful for her classmates who are shaping out to be the great study companions.
"As the only girl in the class, it can be a struggle. But I am grateful to the brothers as they are very respectful and very helpful whenever I needed a hand. This is not just a class but a family. It is just like me and my brothers at home. It is a family-oriented kind of environment."
Elisapeta has throughly enjoyed her time so far in the course and is eager to graduate as a fully qualified mechanic and says it is a field that other girls should also consider.
"To all the ladies out there, engineering is great and if I can do it then you can too,it is not for boys only, ignore the comments of the people who are pulling you down and you just go with what your heart is telling you to do.
"Being a mechanic is really important to me, it is my specialty and I know one day this is what I can offer to help my family in the future."


If you are interested in seeing some of the ways in which you can further the progress of this great work and others like it, give us a visit!
These stories originally appeared in the Samoa Observer here andhere.