On March 24th the Salesian Missions team ran a professional development day for employees of Salesian works from around Australia.
Co-led by the Salesian Missions Team and Fr. Peter Hoang from the Social Communications department, the day was a wonderful opportunity for teachers and staff from different works to get together and workshop ideas.
Tina and Lauren, from the Salesian Missions team, placed special emphasis on a session aimed at connecting the schools to Salesian Missions, in order to engage the young people of Australia in the overseas efforts of the Salesian mission office, particularly those missions places that are a part of the Australia-Pacific Province.
Already, there has been great uptake on this from the schools. Adam Lapolla, a teacher from Dominic College in Tasmania integrated a focus on the Pacific for the year 8 retreats.
Students on the retreat came face to face with some of the hardships that young people in Fiji face and were particularly startled by some of the things that they take for granted, those in Fiji simply do without.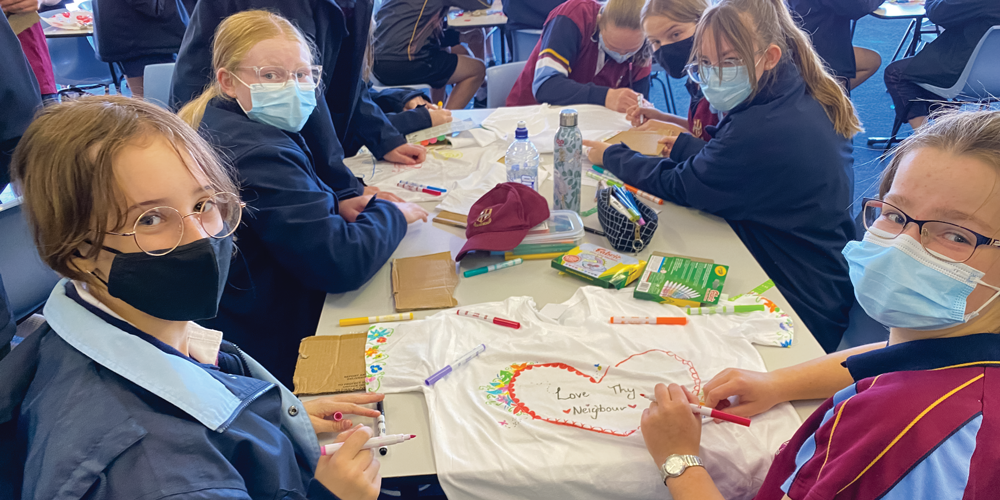 The Dominic students came up with some fantatsic designs!
One such issue is the lack of access to good-quality clothing, something that is easily accessible and purchasable in Australia! So, the students got together to make t-shirts to help support some of the young people who attend the Salesian Youth Centre in Fiji. This was a great moment of creating a link between the two areas!


This story originally appeared in the Winter 2022 edition of the Salesian Bulletin, which is available here!