To coincide with NAIDOC Week 2022, St John Bosco College launched its first Reconciliation Action Plan (RAP).This RAP is a formal statement of commitment made by St John Bosco College towards reconciliation in and around the school and within its local community. It outlines the College's vision towards reconciliation and what actions it will take to work towards reconciliation. Reconciliation is everyone's business and is needed to make positive changes in society to help strengthen relationships and support better prospects for our First Nations peoples.
Actions the College is taking to integrate more cultural perspectives include consulting with Aboriginal elders and local Aboriginal community members. A physical acknowledgement is proudly displayed in the school's entrance foyer in the form of a painting. This beautiful artwork titled 'Journey' by Nyumbar, Bundjalung, was completed by Deslyn Marsh, a Bundjalung woman from Tweed Heads and Isaac Bamblett, a young Bundjalung and Wiradjuri man. This artwork has also been used as part of the design for a new College representative sports uniform.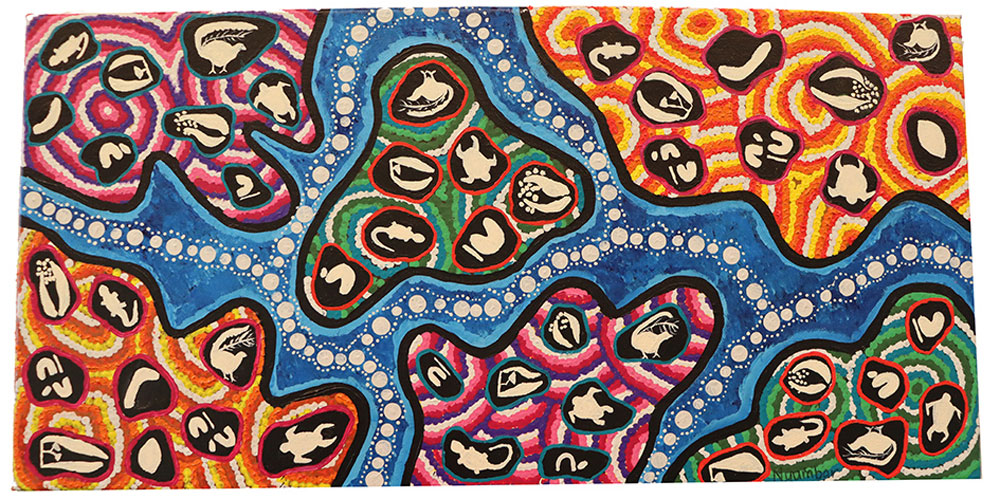 'Journey' was designed to tell the story of the College and its connections to the land it is constructed upon.
Recognised by Reconciliation Australia, St John Bosco's RAP is also listed with Narragunnawali, an organisation that supports all schools and early learning services in Australia to develop environments that foster a high level of knowledge and pride in Aboriginal and Torres Strait Islander histories, cultures and contributions.
College Principal Jenny Fowler, gave special mention to the College's Indigenous Coordinator, Mrs Dalton, who has been actively involved in leading many events and initiatives for the College and within the community.
"Both the 'Bosco' College and Primary schools have connected to create a culturally safe environment through promoting strong relationships between the College and Primary School's Aboriginal and Torres Strait Islander students. Aboriginal and Torres Strait Islander flags are raised alongside the Australian flag at assemblies and gatherings which we have been doing for some time" Mrs Dalton said.
St John Bosco College's RAP has established actions in three categories: Relationships, Respect and Opportunities, which take place in the classrooms, around the school and in the community. Parents, students, staff and community members have already met several times this year as they consult and share ideas on progressing initiatives.
Jenny said that "Reconciliation is an opportunity for us all to make positive changes so that everyone feels a sense of belonging and an opportunity to grow as individuals and together."
The College acknowledges that the Dharawal People have their own living culture and heritage, and are the Traditional Custodians of the Land where St John Bosco College resides. Their wisdom and ongoing connection to Country has continued for thousands of years and is what inspires the College in making positive actions towards reconciliation.
John Bosco College is now committed to learn more about First Nations histories, cultures, languages and customs. By working closely with the community and respectfully integrating Aboriginal and Torres Strait Islander cultures across the curriculum and College, they hope to raise awareness, understanding and further educate staff and students alike. Their Reconciliation aim at the College is to have a focus on empathy as this is gained from a deeper understanding of Australia's true histories and recognition of the relationship between past, present and future.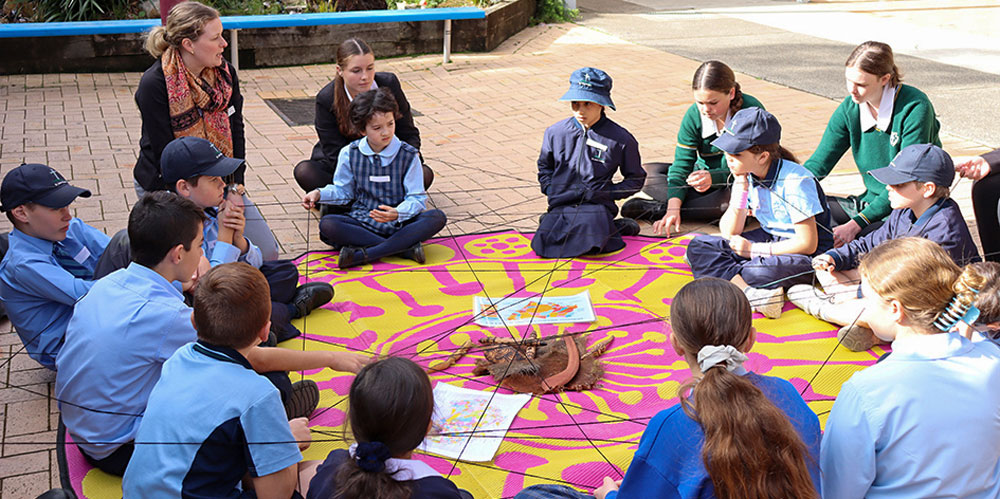 Education at St John Bosco College is driven by the heart, reinforced by our Salesian values. These values strengthen their vision and motivation towards reconciliation by providing a community of belonging and acceptance, preparing all students for life beyond school.
Embedding a foundation of respect and harmony among different cultures is a priority in the College. They aim to work with the local Aboriginal and Torres Strait Islander community to build cultural awareness with staff and students, eliminate racism and strengthen the relationships between wider members of our College community and First Nations staff, students, and families.
The College's vision is for Aboriginal and Torres Strait Islander staff and students to feel culturally safe and appreciated within our College, and for all staff and students to feel pride in learning about and celebrating First Peoples' histories, cultures, languages and customs during their time at St John Bosco College. Their shared pride in First Nations cultures and heritage, and continuing contributions is a legacy that will continue to strengthen throughout the College over time and be passed on to each new generation of students that are welcomed into the school community.

With thanks to John Bosco College for this story.