On Wednesday 27 July 2022, Year 7 to 10 students from secondary schools across Australia participated in a day of creative, fun and hands-on activities to immerse themselves in AI. For students it is an opportunity to think creatively and be curious about new, growing fields that are AI and Computer Science, allowing for the development of skills that are increasingly critical for the future.
The Day of AI Australia 2022 was a great experience for the 8-10 Digital Technologies classes. The day was an interactive information session where students took a deep dive into Artificial Intelligence.
We started the day talking about what AI is, where it was defined as 'A program made by people that makes computers do things that seem intelligent (or smart) in the same way that humans are intelligent', which helped us pick out AI in our modern world. We then moved on to finding out how machines gain intelligence, and learned that AI uses algorithms, coded by humans, that read through datasets and are able to make predictions based on the information it stores. Students tried Google Quickdraw which uses AI to recognise doodles drawn by millions of people around the world.
Finally, we learned about deepfakes. We were shown examples of deepfake used on famous people like Obama and the Rock, and learned how powerful AI is and how it can be used for both good and bad in our world.
At the end, we got the opportunity to come up with our own idea of how AI can be used to benefit our community. Harry Johnston and I came up with a plan to develop a rubbish-sorting robot that would distinguish between different types of waste to make sure recycling happened more thoroughly. This pitch won the competition and we both received $250 and a week's work experience at one of Australia's leading Tech companies.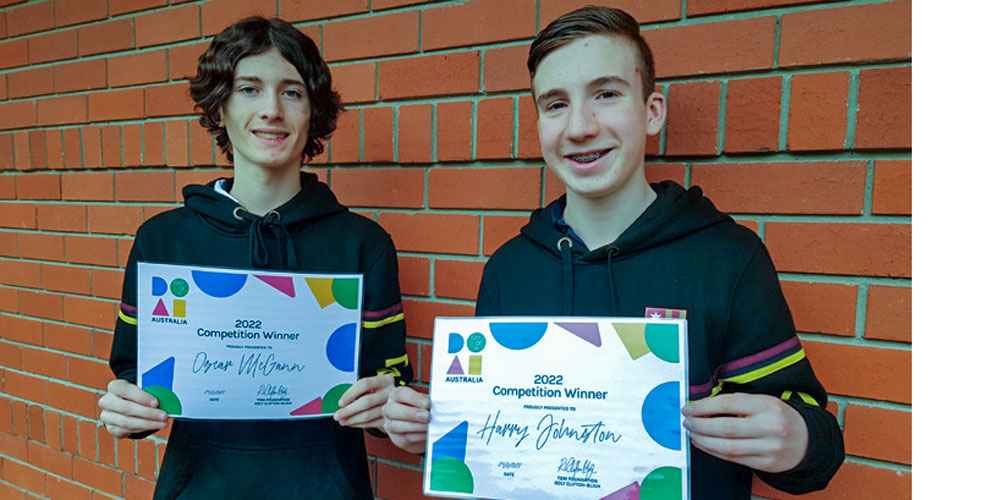 Oscar and Harry were deemed winners fo their genius idea!
Year 8 students, Lucas Krasnicki and Josh Vautin and Brooke Ackerly and Lucy Russell were commended for their ideas submitted to the competition, with each pair winning a $50 JB HiFi voucher.

With thanks to Dominic College for this story