The rekmarable fruits of a truly great visionary
2019 marks the 80th Anniversary of the establishment of Boys' Town Engadine, now known as the Dunlea Centre ‒ named for its founder, Fr Thomas Dunlea. There are numerous similarities between Fr Dunlea's story and Don Bosco's, particularly reminiscent is how they were both forced to bounce around between locations, due to the blindness of authorities to the great work being done.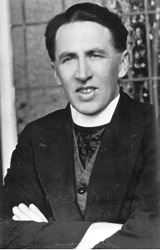 It is clear, however, that Fr Dunlea's work in establishing the institution of Boys' Town Engadine was made possible by his absolute trust in providence; forging ahead without any real "professional advice" from economic rationalists ‒ those unfortunate people who insist upon the existence of a sound and viable business plan before a step is taken, or a brick laid, for any new venture.
Originally from Ireland as just one of eleven children, Thomas Dunlea emigrated to Australia soon after he was ordained. The dangerous situation that many young boys found themselves in quickly became his chief concern and, coincidentally, it was about this time that he saw the film "Boys Town" based upon the work of Fr Edward J. Flanagan in the USA. It seems clear that Fr Dunlea was greatly impressed and moved by Fr Flanagan's work, and he set about establishing a similar institution in Australia.
As it happened, soon after, in 1939, Fr Dunlea was forced to relocate from the Sutherland Presbytery to the nearby "Boyles Cottage" due to the Presbytery becoming 'overcrowded' with young boys under the care of Fr Dunlea. But rather inconveniently and with extraordinarily bad timing, the Sutherland Council decided to condemn the run-down dwelling and set about issuing the relevant order of eviction upon Fr Tom Dunlea. Not to be discouraged, and displaying an astonishing blindness to all hindrances, Fr Dunlea set about "advertising" his predicament and, on 17 July 1940, famously led a march, protesting against the eviction along with 20 or so boys and one goat!!
But, nonetheless, evicted he was. Fr Dunlea bravely continued his work moving/wandering between a few sites, one being described as a "Tent City" near Engadine. Eventually, in the latter part of 1940, Fr Dunlea was able to purchase a site at Waratah Street, Engadine (the current site), utilizing what was then a very significant grant of 7,000 pounds from the Australian Meat Industry and its Allied Trades.
Boys' Town Engadine was established after a long period of tireless work, effort and begging by the humble priest, and it grew into the fantastic institution that it is today. It wasn't a solitary path that Fr Dunlea trod, however; he had help and support from many people and organizations. His Archbishop (Cardinal Gilroy) regularly offered support and encouragement. Organisations and businesses such as The Australian Meat Industry and many lay volunteers assisted Fr Dunlea.
With the approval of his Archbishop, the De La Salle Brothers also provided a presence for a few years at Boys' Town. However, the enormity of the task began to take its toll on the founder of Boys' Town, both physically and mentally. Nonetheless, with the approval and help of Cardinal Gilroy, Fr Dunlea made a trip to the U.S.A in 1946-7 to visit Boys' Town Omaha and discuss with Fr Edward Flanagan issues that could benefit the workings of Boys' Town Engadine. But by 1951 Cardinal Gilroy could see that Fr Dunlea was worn out and he approached the Salesians to take over the running of Boys' Town.
It was in 1952 then, that Fr Joseph Ciantar was sent to become the helm of Boys' Town as the first Salesian Director. He commenced a renovation program to improve old and sub-standard buildings on the site, which was soon followed by a significant construction program. A Chapel was constructed, as a part of these works, which then became the first Parish Church of Engadine, and was dedicated on Sunday 19 June 1955. Fundraising endeavours, such as Gala Days and Button Days, became regular fixtures in the Boys' Town's calendar and for good reason; the population of boys at Boys' Town and the size of the Parish of Engadine continued to increase dramatically.
By 1964 Fr Ciantar's full attention was required in the ever-growing Parish at Engadine, and yet he still took on more tasks, most notably the construction of the Australian shrine of St John Bosco. The foundation stone was blessed on 6 March 1966 and was completed and blessed just over a year later, on Sunday 8 October 1967, in what was a grand occasion. Then, just three months later, Fr Ciantar died (28 December 1967) – the first Salesian Director of Boys' Town and Parish Priest of Engadine.
As for Fr Dunlea, his health had improved since leaving Boys' Town and, in 1955, he was made Parish Priest of Hurstville, another southern suburb of Sydney – a role he held until 1970. On 12 June 1965 Fr Dunlea was made an Officer of the British Empire "In recognition of service to social welfare". In June of 1970, Fr Dunlea celebrated his golden jubilee of his ordination as a priest and, just a couple of months later, passed away on the morning of 22 August 1970, aged 76 years old.
No local church was large enough to accommodate the anticipated number of mourners at his funeral and so, Archbishop Gilroy recommended that the Requiem Mass for Fr Dunlea be conducted at St Mary's Cathedral, Sydney.
The legacy of two great visionaries in Fr Thomas Dunlea and Fr Joseph Ciantar still runs deep into the core of what the Dunlea Centre is today. Their greatness was demonstrated in their trust in providence and a vision for the needs of the under privileged youth.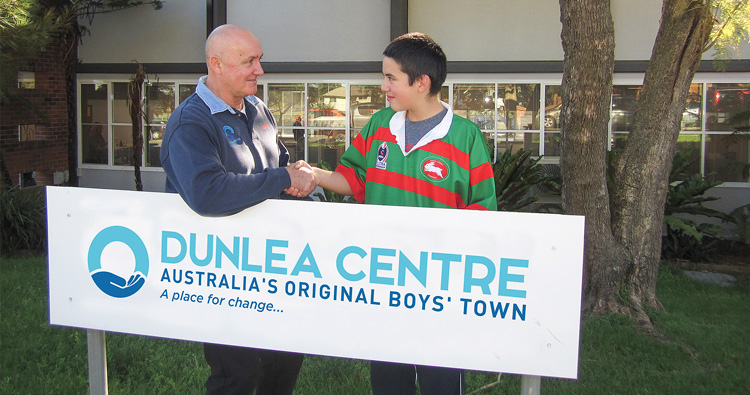 With the 80th anniversary fast approaching, it is safe to say that the Dunlea centre has changed in many considerable ways – the name the most obvious among these! The Salesian presence still runs strong throughout the place even though it is now under the guardianship of a lay Board of Directors. The Dunlea Centre prioritizes families that are in crisis, affording the special attention so that they can remain together and combat the issues they face together.
As an agency, the Dunlea Centre incorporates therapy, education and family support with an end goal of Family Preservation and Restoration wherever possible. The Salesian "Preventive System" lies at the heart of Dunlea Centre, influencing, animating and directing all interactions with the boys and girls.
Boys' Town school is also registered as a Year 7-10 school so that children whose experience of mainstream schooling has been unsatisfactory get a chance to enjoy a fresh start and enjoy the process of learning in a supportive atmosphere.
The Salesian model of Behaviour Management Intervention is inspired by the work of Don Bosco with Italian street kids and was given a local focus by Fr Tom Dunlea with Australian children. It is built upon a platform of eight planks – presence, preventive, plan, professional, positive, personal, parental involvement and play. It is based on a fundamental belief and hope in the ability of all young people to change
Each student who comes to this program works with professional councillors to come up with a plan that is tailored to the student's individual needs. There is one aspect that links all student's plans to one another; the goal of the student transitioning back into the mainstream school society.

Republished from the Australian Salesian Bulletin - Winter 2019
Read or Download the Salesian Bulletin
Subscribe for FREE to the Salesian Bulletin
---