On Wednesday the 27th the Salesian Formation house in Clifton Hill, Victoria held a bittersweet barbeque to celebrate Br Kitichai Saisawang, known most commonly in his adopted home by his 'Aussie' name, Jack. Approximately 40 people gathered to share a great meal together and to pass on their best wishes to a friend that has become quite close to their hearts.
Br Jack has been in Australia for the past five years, completing his theological studies and practical training. He returns home to Thailand at the end of the year, where he will then be ordained a priest.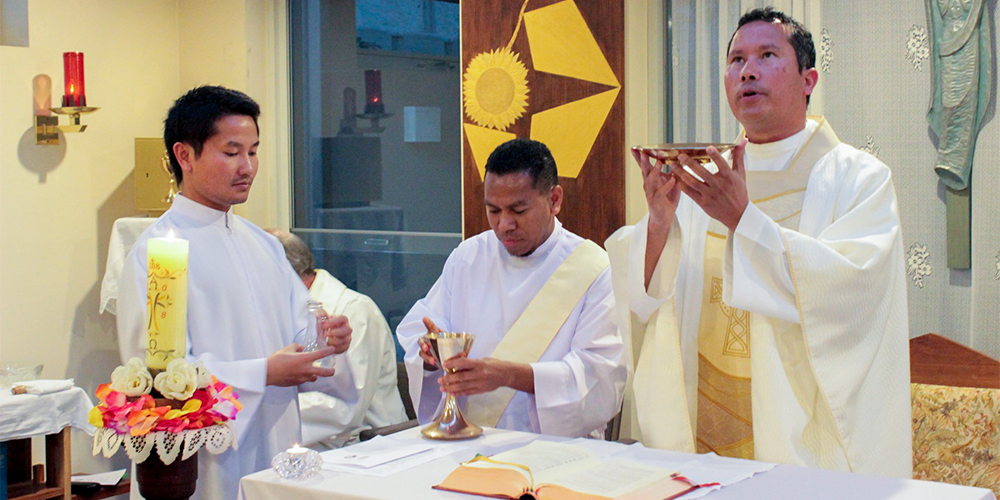 Jack (far left) serves during mass in his capcity as a deacon at Clifton Hill
During the speeches at the BBQ, Fr Phil Gleeson (rector of the formation community) mentioned that Jack leaves behind a great impression on the Australia province. He has become well known for his dedication to his studies, vocation and young people, as well as perhaps just the slightest flair for the mischievous! There can be no doubt that Jack is a young Salesian fully dedicated to his faith and his God, however there is also a lot more to him on top of that!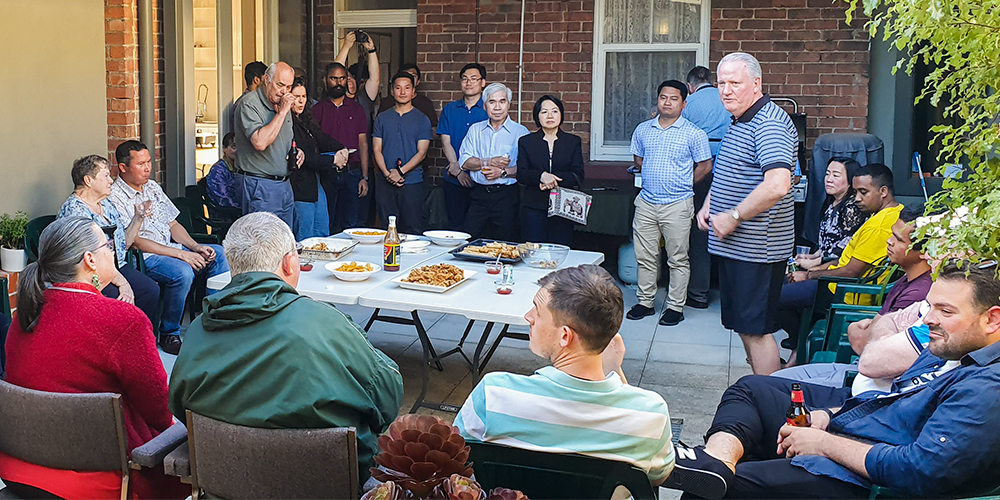 Fr Phil (far right, standing) addresses those gathered about the gift that Jack has been
Fr Phil also added that whilst all the brothers pick up very strong English skills during their time at Clifton Hill, Jack in particular has excelled in his usage of 'Aussie' slang, not just in understanding strange words and idioms, but using them aptly – a great indicator of Jack's determination to speak with the young people as they speak. Indeed, at youth events like camps and OzBosco, if you wanted to find Jack you had to go to wherever the most activity was!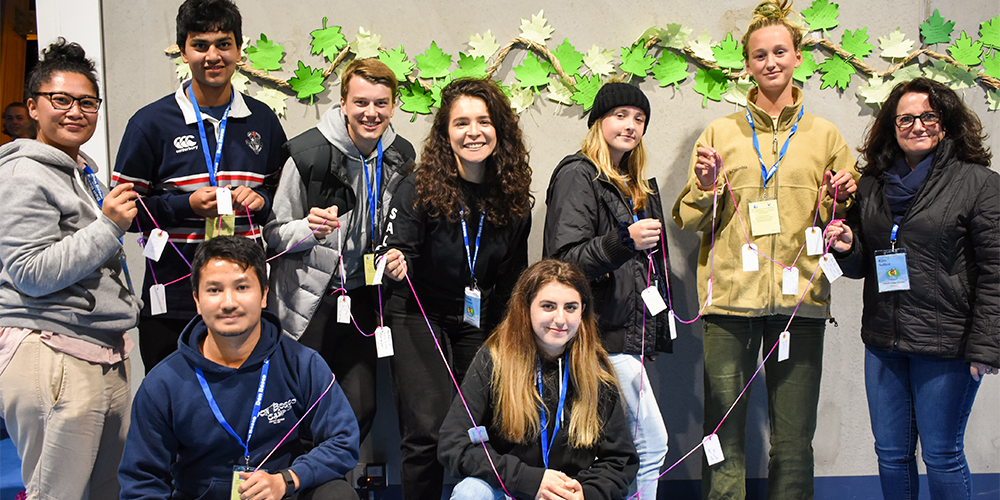 Jack (bottom left) is pictured with his oratory group at OzBosco2019
Fr Phil depicted Jack as a charismatic traveller, a young man who loves to see the beauty of the world and knows people all around it. In his rare time off, Jack has travelled to many parts of Australia, witnessing some of the most beautifully iconic locations this country has to offer. In each of these places, he would meet up with friends and family who remember the kind spirit that he is.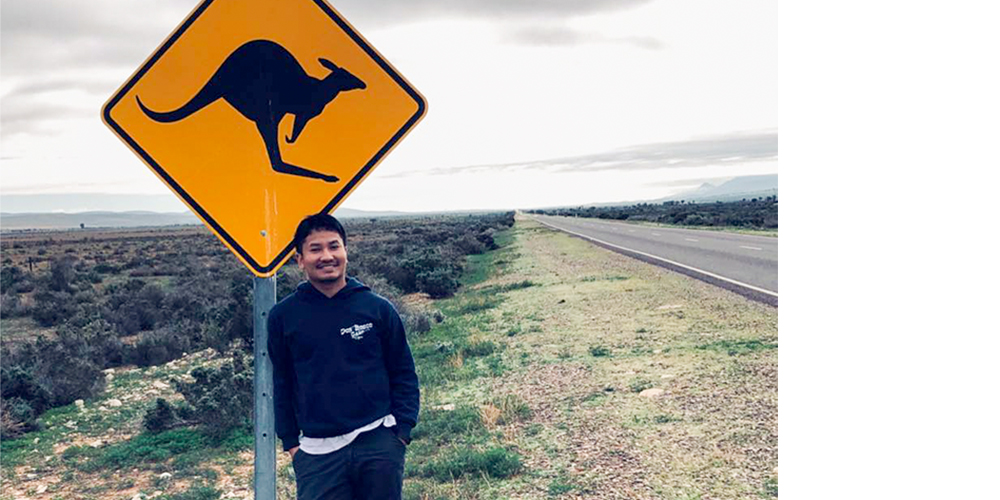 Kangaroo Jack takes a quick break from one of his many trips!
Outside of the classroom, Jack also became known for his prowess on the football field, serving as a rock-solid defender, the anchor in several championship winning teams! Jack has never been one for personal glory or centre-stage attention however; his focus is always team orientated first, the other team second and himself third.
This was most notably on display at the recent brotherhood cup when a player from the opposing team went down with an injury and rather than playing on, Jack immediately stopped to check on that player.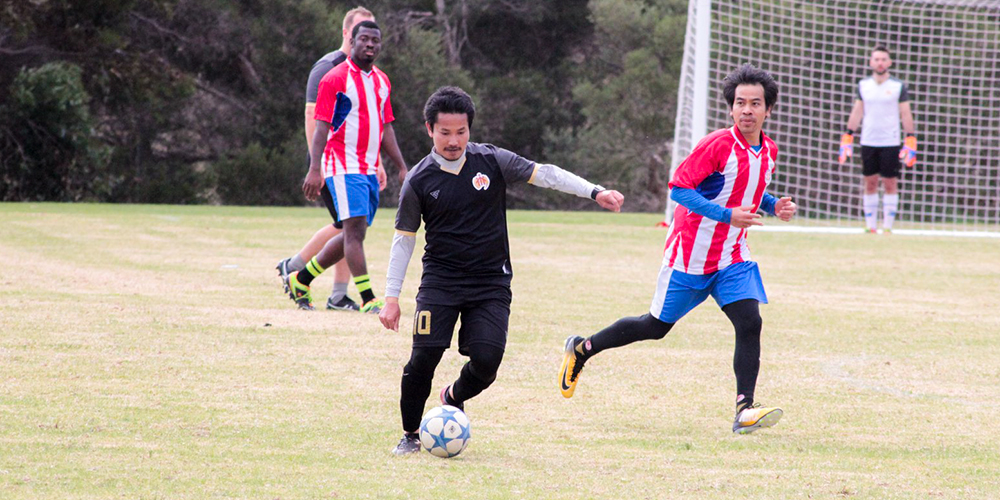 Jack clears the ball from defence as the opposition players can only watch on
Jack's comforting smile and easy laugh will be sorely missed in Australia, however he will be a great gift to Thailand and the young people he will serve there. Don Bosco's spirit is fully alive within Jack and this is perhaps Jack's greatest gift; his ability to bring Don Bosco to all that he meets.
In Jack's own words: " Be assured of my prayers; I won't say goodbye, instead, I say 'see you soon!' And for those of you who I won't see soon, 'see you later'!" Thanks for everything you've done for us Jack, across communities, parishes and youth events! We'll miss you, we'll pray for you and we look forward to seeing you soon, if not later!