On Saturday 22 February 2020, three young men - Sinapati Ioane (SDB), Aminiasi Ravuwai (Society of St. Columban) and Iosefu Wailoa (Archdiocese of Suva) - were ordained to the Diaconate by Archbishop Peter Loy Chong, Archbishop of Suva, Fiji, at the Cathedral of the Sacred Heart in Suva, Fiji.
Deacon Ioane Sinapati, known affectionately as Pati, is a member of the Don Bosco community in Nakasi. Now entering the deaconate, he will spend 2020 studying the final year of his theology at the Pacific Regional Seminary in Suva.
It was a wonderful and joyous celebration with many people present who came from many different congregations and parishes around Fiji to support and pray for the new deacons. For Deacon Ioane Sinapati, SDB the presence of all the members of the community, his friends and especially his family - parents and sisters from Samoa - at the celebration, made him very happy.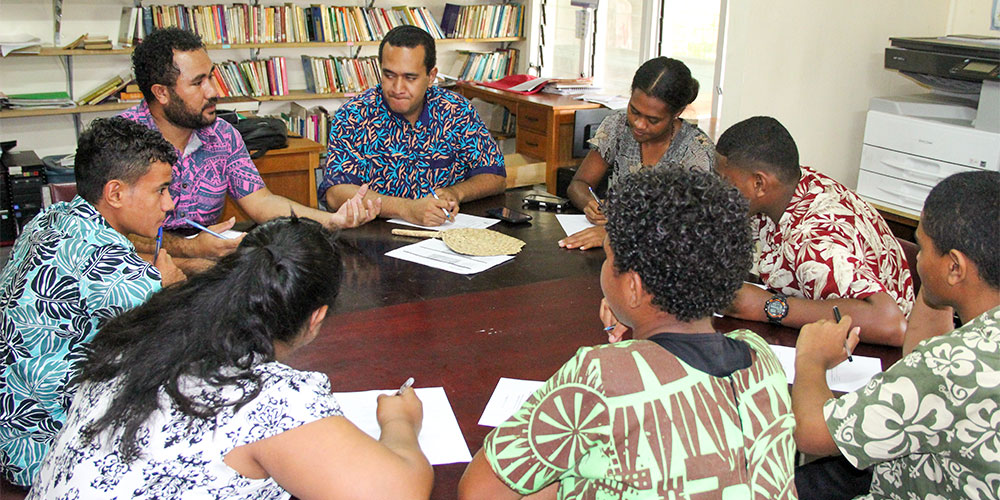 Pati (top left) takes the lead in tutoring a study group.
The Mass was very impressive at the Offertory, which was performed according to Samoan tradition. In the homily, Archbishop Peter Loy Chong addressed three responsibilities of deacons in the Church. He said a deacon had duties to proclaim the Gospel, especially by the homily, to assist the priest at the altar and to do charity work for justice and truth, for the common good.
The celebration was ended by the Sevusevu ceremony, the Fijian traditional celebration to welcome visitors, especially for the three new deacons.
Pati joined the Salesians in 2004, having been exposed to their mission in his homeland of Samoa. This meant that in 2008, he had to leave family and home behind, as he followed God's calling in his life. The journey took him on to Australia for 3 years of formation and education and then returning him back at the seminary in Fiji.
---
"It was quite a long process; we faced so many challenges too as we were far away from our families" he recalled, making note of the great emphasis Samoan culture places on family. "At times we felt like it was becoming harder each day but it was my faith in God that kept me moving. There were many ups and downs during my formation process but I always believed that with God, everything is possible. We were pushed hard to be where we are today; ordained deacons of the Catholic Church".
With this new stage of their journey, we pray for all three deacons, with one extra special thought for our Salesian brethren Pati who has become well known for his passionate approach to his vocation and enthusiastic engagement with young people.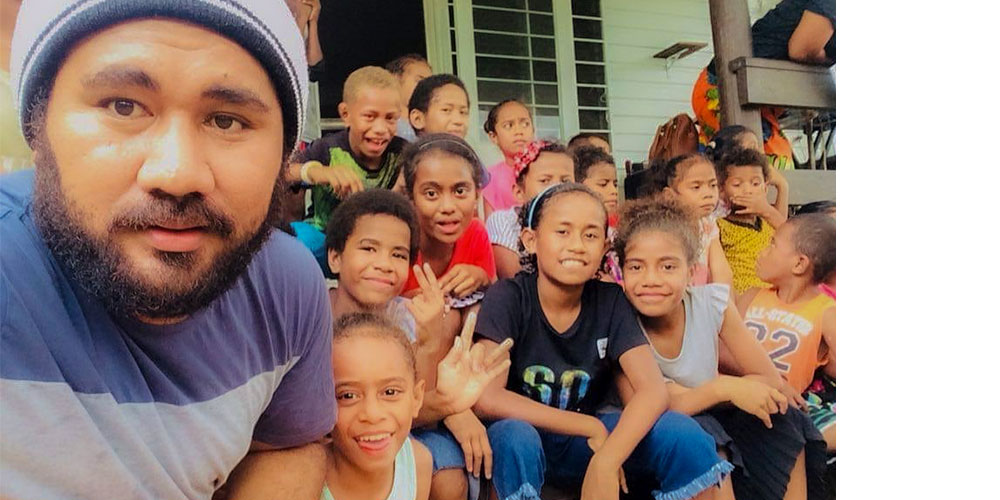 Pati pictured with many young people during Sunday School.
Don Bosco will surely be happy that another has taken up the call to make the betterment of young people the core of his life's work!


The Salesian Australian Missions Office is helping equip the people of Fiji for the future, find out more!