On Sunday the 10th of May 2020, the Don Bosco community of Suva, Fiji celebrated the 40th anniversary of priesthood of Fr James Kyaw Hoe SDB. The celebration was quite simple but very warm in the family spirit.
Due to the ongoing influence of Covid-19, the celebration was attended only by community members and a few guests. During the Mass, Fr James expressed his gratitude to those who have accompanied his journey of vocation, especially to his dear mother.
Afterwards, a great meal was organized, eaten in the presence of all confreres of the community and a few guests, Fr Mika Leilua the vice-Rector, spoke as the representative of the community, conveying his best wishes to Fr James.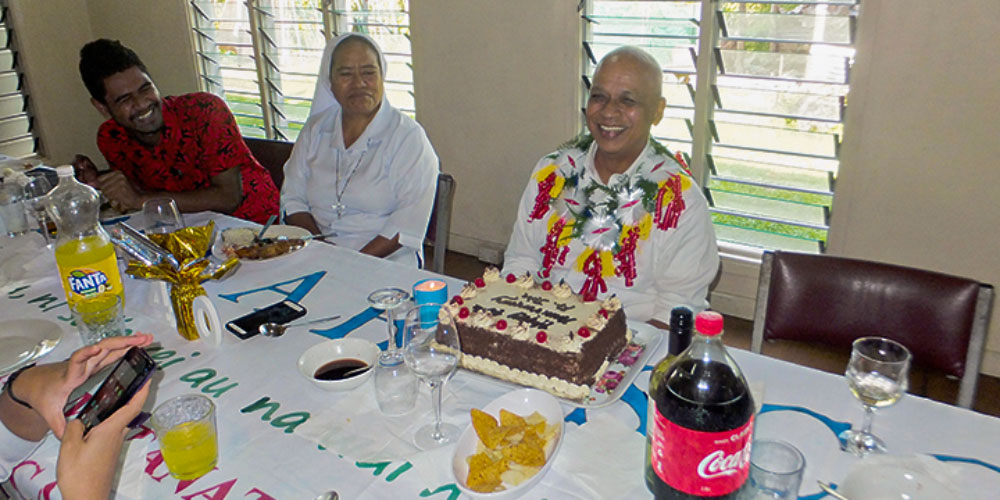 Fr James prepares to cut the celebratory cake!
He also expressed a heartfelt gratitude for all the contributions that Fr James has made to the mission in the Pacific. He first spent 12 years, from 1984 to 1996 dedicating his youth and enthusiasm to the Salesian mission in Samoa.
From 2009 until now, with the same enthusiasm, he works as an educator at the community house and a Biblical professor at the Pacific Regional Seminary which is located here in Suva.
Fr James is known for sharing the words that he always inscribes in his heart; the memorable words that Mama Margaret's had for Don Bosco when he became a priest: "You are now a priest, and you celebrate Mass. You are, therefore, closer to Jesus Christ. But remember that to begin to say Mass is to begin to suffer."
Forty years as a priest is a long time and Fr. James has certainly faced his share of trials on this journey. So, we must say congratulations and offer our sincere thanks to him for everything he has done for the Salesian mission in the Pacific and everything he is yet to do!
May Mary Help of Christians and Don Bosco always accompany him in his consecrated life!