Marçal Amaral Lopes is a Salesian Brother who was born in the town of Lospalos, in Timor-Leste, on 31 March 1962. He is the second son in a family of five sons and two daughters and his life has taken him in turns that he could never have imagined!
In May 1977 he began attending the Don Bosco Technical Institute in Fatumaca, for two key reasons. The first was that attendance at that school was offered for free. Secondly, since it was a Technical Institute, he would be able to learn a profession and then have a much better chance of finding a job to help his family. Becoming a Salesian was not on the cards yet!
Large segments of the population of Timor-Leste can be characterised as 'subsistence farmers' – this means that their farms have enough produce to feed the family, but not enough to make any profit. This means that large portions of the population are at the mercy of the seasons – one bad harvest can have devastating effects.
At the end of the three-year course, after the final exams, the Principal of the Technical Institution Br. Carlo Gamba came to talk to Marçal. Brother Carlo Gamba, SDB was a Salesian missionary from Italy, who founded that school in 1973.
That day, while they were walking around the school, Carlo asked Marçal "Have you ever thought about becoming a Salesian? Somewhat surprised, Marçal answered 'No'! Br. Gamba persisted, asking again "Could you think about it?" Marçal told Carlo that he had enrolled in the school to learn a profession, and the plan was to then return to help out the family. Brother Gamba, seeing something special in the young Marçal continued: "Why don't you try to see if that's your way?"
"I left the school with this invitation in mind. I prayed and then said to Br. Carlo: 'Yes, I'll try'" recalls Marçal. "Br. Gamba helped me write the letter of application to the rector of the house to begin my path as a postulant. I was admitted and followed the path of the novitiate, in Fatumaca. I made my first profession on 8 December 1982 and my perpetual profession on 19 March 1990."
From that moment onwards, Marçal has been fully dedicated to helping not just his family, but all young people that are fortunate to cross his path. He is currently working in a co-education Technical Institute (Escola Secundária Técnica Vocacional Dom Bosco) in Maumali. It is located in Maliana, Bobonaro district of Timor Leste, on the border with Indonesia.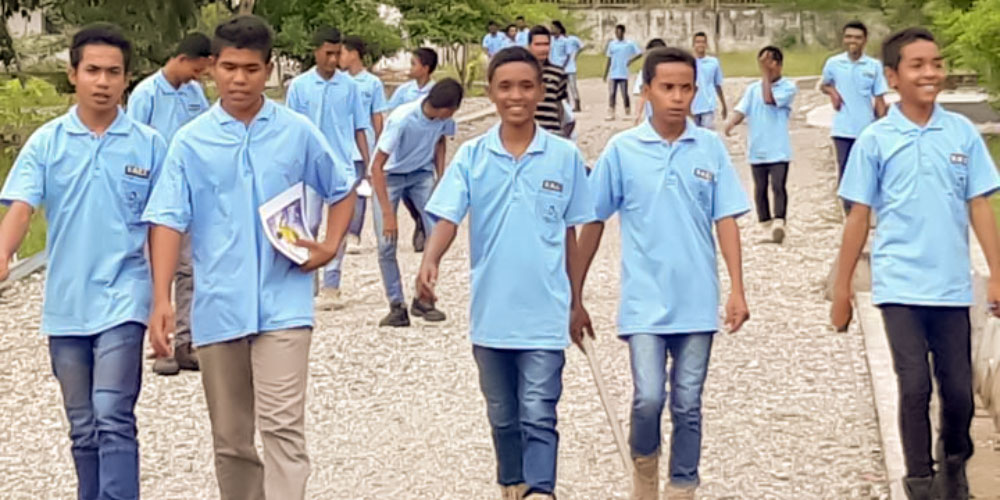 Of Timor-Leste's 1.3 million population, 60% are less than 24 years old. Whilst this certainly brings some troubles, for the Salesians, it is the perfect place to sow hope!
It is a government boarding school, but the management was entrusted to the Salesians of Don Bosco for a period of 50 years, according to a memorandum of understanding signed between the Salesian Congregation and the Timor Leste Government on 10 March 2010. The courses offered by the school are free of charge and are eagerly studied by the 112 students who are enrolled, all of which are boarders.
In order to reduce the costs of running the school, students and Salesians carry out various extracurricular activities: plant vegetables, take care of livestock and other similar jobs. This is also a way to educate young people to acquire some skills for sustainable living. The aim of the school is to help students become good Christians and upright citizens and, at the same time, also follow some emerging vocation signs.
"There is great hope for our country if young people receive the right attention from all figures in society - parents, government, educational institutions, civil society" says Marçal.
"They dream of opportunities to live better, to have a voice in society, to contribute to the development of their country. They need models that can influence their lives. We can help them in this regard by being with them, accompanying them and offering them different opportunities for life."
The first Salesian missionaries arrived in Timor-Leste in 1927. A young Salesian, future Saint Callisto Caravario was a part of this preliminary expedition. A second expedition arrived in 1946 and ever since, the hard work and activities carried out by the Salesians in the field of education and social works has earned a great relationship between the people of Timor-Leste and the religious institution.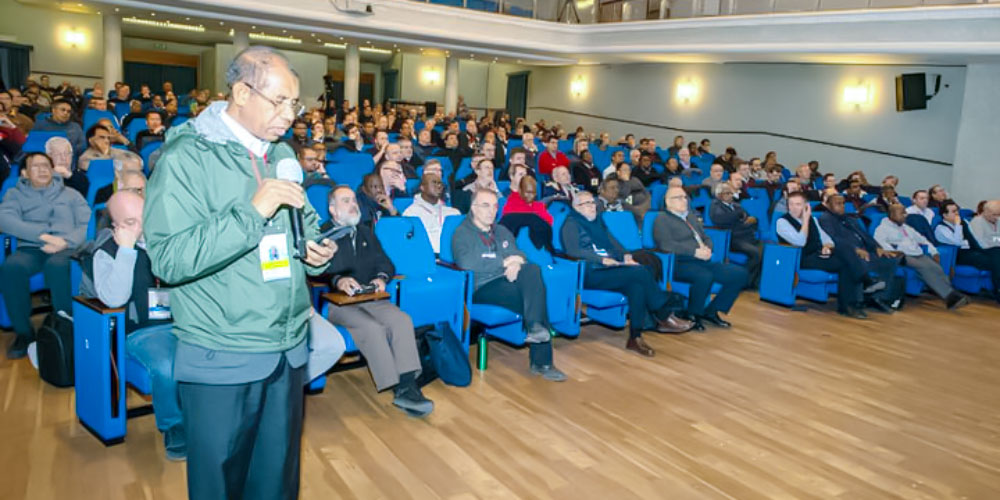 Br Marçal address the congregation during the General Chapter 28 earlier this year.
Marçal believes that the Salesian charism, makes the Salesains truly unique among the other religious congregations working in Timor-Leste. This is particulary applicable to the great emphasis on young people, while also being very open to people of all ages, which goes hand-in-hand with a preferential option for the poor.
It is not all smooth sailing for the Salesians in Timor-Leste however. Like most of the country, the economic situations is fragile. The SDB Province depends largely on the Congregation at large and other foreign benefactors to manage apostolic works. Support comes from various parties (government of Timor-Leste, Salesians and benefactors from Australia, South Korea, Japan, Europe and so on.)
Furthermore, the Salesians in Timor-Leste have little capability to carry out the full formative training process. They depend almost completely on the Congregation for the formation of the future Salesians. Regardless, those who do work in the country work with the mentality of a community in all they do, a local community, provincial community and within the Congregation world community.
There are currently a total of 172 Salesians in Timor-Leste, including 15 novices, living in 13 different communities. The Salesians will play an important role in Timor-Leste's future, offering quality education and formative experiences to thousands of young people.
"This situation pushes us to offer young people an adequate Christian and human education that enables them to acquire autonomy. Moreover, the poverty of the country requires our constant attention" says Marçal. "I give great thanks to the burgeoning vocations we have (about 15 novices a year) and also for the Salesian missionary generosity: several Salesians are on mission ad gentes from various parts of the world - in Ecuador, Argentina, Mongolia, Portugal, Mozambique, Italy, Japan and Belgium.


If you would like to help support the work of the Salesians in Timor-Leste, please visit the Salesian Missions Australian Website