On Saturday 5th of December, Br Michael Gaikwad was ordained to the diaconate in a ceremony that was presided over by Auxiliary Bishop of Melbourne Terrence Curtain. Three days later, on Tuesday the 8th of December, Brothers Euclidio Maria Marquês, Filipe Cardoso Sarmento, Joseph Vu Viet Huong and Peter Tran Ngoc Duc made their final professions, overseen by provincial of the Australia-Pacific province, Fr William Matthews.
The paths that each of the brothers had taken so far to arrive to their respective celebrations at St John The Baptist church in Clifton Hill, Melbourne all have their own unique twist and turns, yet the celebrations also showed that they shared some very strong themes with one another.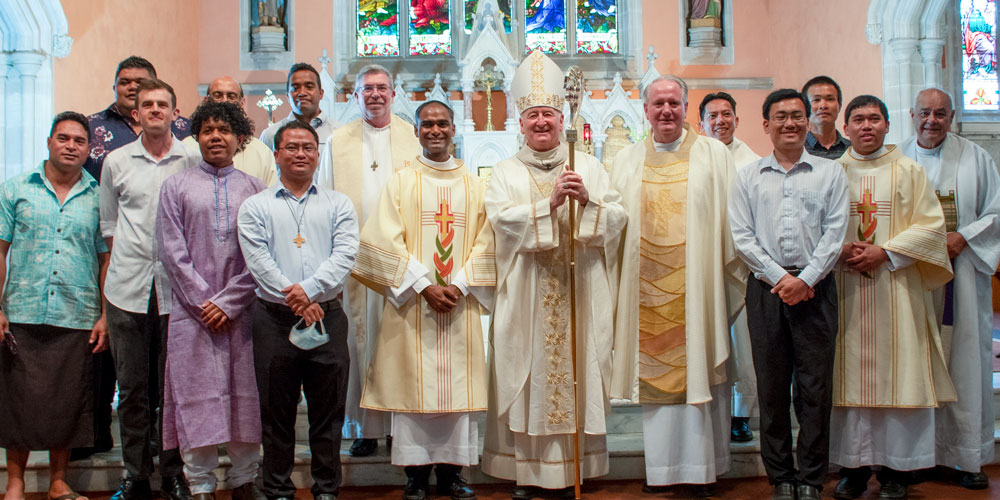 The Clifton Hill Salesian community, with Bishop Curtain.
Due to continual restrictions in relation to COVID-19 protocols, each of the masses looked very different to what one would normally expect. Face masks, bottles of sanitizer were aplenty, there were enough cameras set up to rival a professional sports match!
Of course, these were a crucial fixture, highlighting just how long a road these 5 men have walked on so far, and how big an impact they have had on countless people – friends, family and communities from around the Australia-Pacific province and especially back home to India, Vietnam and Timor-Leste were all eager to be able to take part in these beautiful ceremonies.
Deacon Michael's ceremony is available to be viewed online!
Originally from India, Deacon Michael is a missionary to Cambodia, and so his ceremony was also live-streamed into the country, where many thankful people were able to join in the ceremony. He spoke beautifully during his thank-you speech, expressing his sincerest gratitude to every single person involved in his journey so far, including rectors, provincials, family and friends.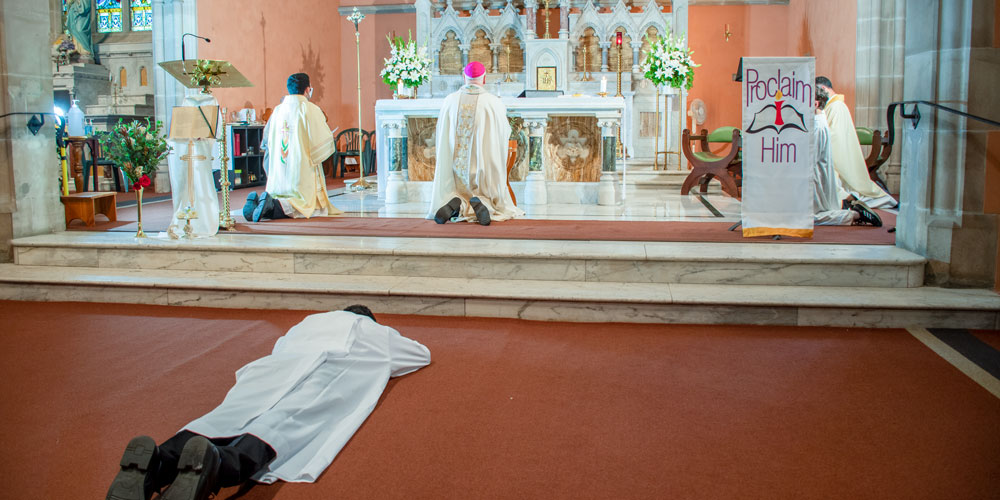 Deacon Michael prostrates himself during the Litany of the Saints, sung beautifully by Br Euclidio
He put out a special effort to explain just how much the people of Cambodia meant to him and just how happy he is to be a part of God's plan for the young people of Cambodia. Michael ended his speech with what Bishop Terrence rightly noted was a very particular piece of "Aussie slang" – a tongue-in-cheek reference to his other great love, the yellow and black of the mighty Richmond Tigers!!
Michael's reverence for the ceremony and his clear devotion with our mother Mary was also echoed very closely just a few days later by all four brothers who made their final professions. All four spoke of their dedication to the teachings of Don Bosco, and how he has made such a big impact in their lives so far. All brothers took time to speak in English and their mother tongues – a beautiful symbol of just how worldwide the Salesian family is, knowing no boundaries between people.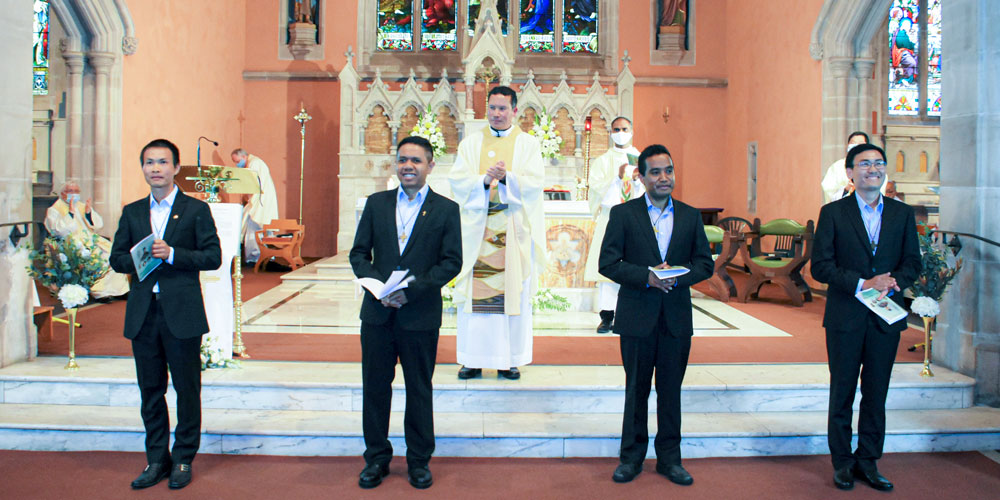 Br Joseph, Br Euclidio, Bre Filipe and Br Duc are presented to the Salesian Family by Provincial Will Fr Matthews having made their final vows.
Br Filipe, (who just days earlier at Michael's diaconate mass had sung a beautiful rendition of the Litany of the Saints) spoke of his especial thanks to the "fatherly leadership" of Father Phil Gleeson, Rector of the Clifton Hill community. "Living legends" was the way he described the many varied people who have been apart of his road so far.
Br Duc also spoke along this sentiment, making a point of thanking the Australian-Pacific provincials of his time (Fr Greg Chambers & Fr Will Matthews) for trusting in the brothers, making the brave decision to bring them here – after all he said, "it is always a risk bringing new people into a home".
"Thank you especially to the young people from our respective homelands" added Duc, "for being a part of our journey of Salesian Vocation. Our Consecrated Life is meaningless without being in the presence of God and living with and for others. It is you who have transmitted the call of God to us, and we have done is to simply say "Yes!"
In return, we all say a massive thank-you to Michael, 'Lidi', 'Lipi', Joseph and Duc for all they have offered the Australian-Salesian province. Their time as a part of the Salesian mission has been a gift to all they have come across, and each of them are especially well known for their incredible warm, fun and friendly presences at youth gatherings such as OzBosco and Don Bosco camp.
We wish them all the best for the rest of their journey, knowing full well that they journey with us, alongside Don Bosco, Mary Mazzarello and all the other saints, side by side with Jesus & God!
Would you like to find out more about what is involved with the many different types of Salesian Vocation? Read on here!