After 22 years serving as the Director of Salesian Missions, Br Michael Lynch passed on the reins as he moved onto new ministries. Working alongside him during that time has been a great blessing.
Br Michael, Tina Newton and I have worked closely together during the past years and I can truly say he is a most amiable, thoughtful, helpful, kind, accommodating and dedicated man; a true Salesian in the spirt of St John Bosco. Both Tina and I are so very honoured to have worked alongside such a devoted, selfless and obliging person. No matter who he deals with, his work was always carried out in a very respectful, calm and caring way for the people around him, particularly if they have been ill or needed encouragement. We have seen Br Michael's caring compassion for family, fellow Salesians, friends and donors as they request his support through some crisis or another. I know that Salesians and staff at the Province Office will certainly miss his presence and contribution in assisting the community and staff with their day-to-day needs! Br Michael's Salesian life story is an extremely varied one. He originally took up the call to become a Salesian in 1965, inspired and impressed by Don Bosco's hard work in aiding the underprivileged youth of Turin. From that moment on he certainly did his best to live out the life he was inspired to, taking on roles as both teacher and headmaster at Salesian schools all around Australia. It was in 1997 that Br Michael joined what would be his career-defining role; Australian Salesian missions department. He immeaditely set to work in the only way he knew how - building friendships and relationships with various community groups and stakeholders. In doing this and responding quickly to disasters with a passion for helping people in their direst need, Michael was constantly adding contacts to our donor database; people who offered their help to Michael once were often so impressed with him, they wished to keep helping him further down the track.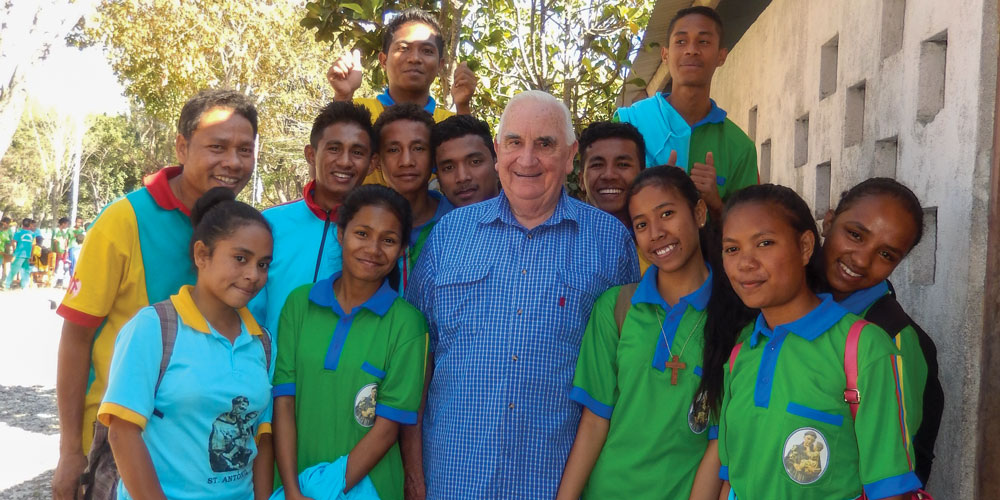 Br Michael with some Salesian Students in Timor-Leste.
Indeed, since 1998 the Missions Offices has been able to raise a staggering $46,553,000! It is truly mind-boggling to think of all the lives saved and improved for the better thanks to such a tireless zeal for the job. Br Michael has always carried himself with an true sense of humility and awareness for his surroundings, being very personable and able to talk to people from all walks of life. He ensured that he was always able to adjust and fit in comfortably in some of the lowest socio- economic environments in the world, to some of the most well-to-do political and public scenarios. In his role as Salesian Missions Director, Michael has dined with Government officials in Timor Leste, met important people in his travels to Myanmar, Guatemala, Italy (met Pope John Paul 11 in Rome) and addressed Monash University personnel and dignitaries on a number of occasions. Something of a legend at Monash University, he was selected by ballot to be the first ever graduate of the University in 1964, where he obtained a Bachelor of Economics. He has had many roles in his life; as a teacher, a student at Harvard University and the only Brother to ever be appointed by the Jesuits as Principal of John Fisher College at the University of Tasmania, Adelaide.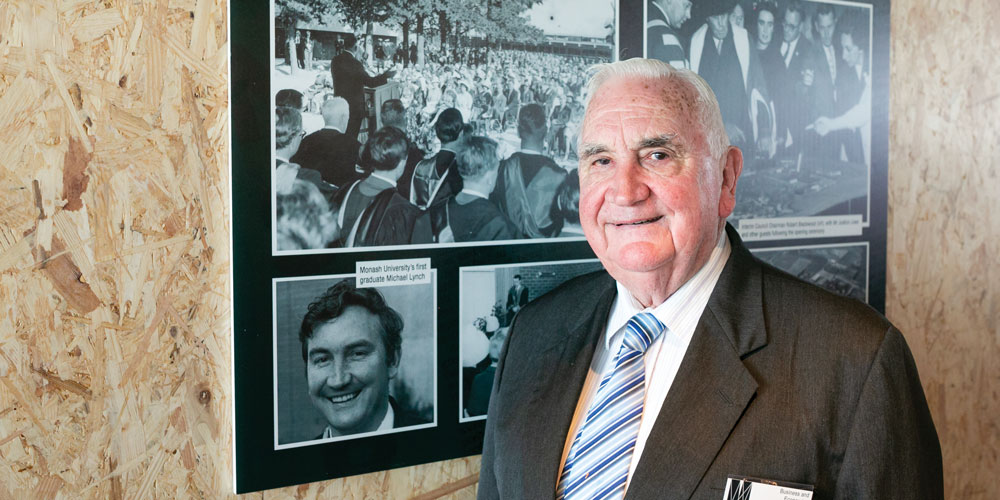 Br Michael is on the honour roll at Monash Uni!
In 2008 Brother Michael was awarded the City of Moreland Senior Citizen of the Year and in 2012 he was inducted into St Bede's College Hall of Fame for his fundraising efforts in developing countries. We have often seen him go above and beyond his role as Director which is a testament to his care and dedication to helping others. Br Michael is not one to draw great attention to himself (although certainly his achievements deserve such attention!) Rather he prefers to quietly go about chatting to donors, visiting the Don Bosco Op Shop volunteers in Brunswick, dialoguing with schools which recycle their uniforms and furniture, and maintaining strong relationships with hotels and hospitals which have bedding and other medical supplies for donations.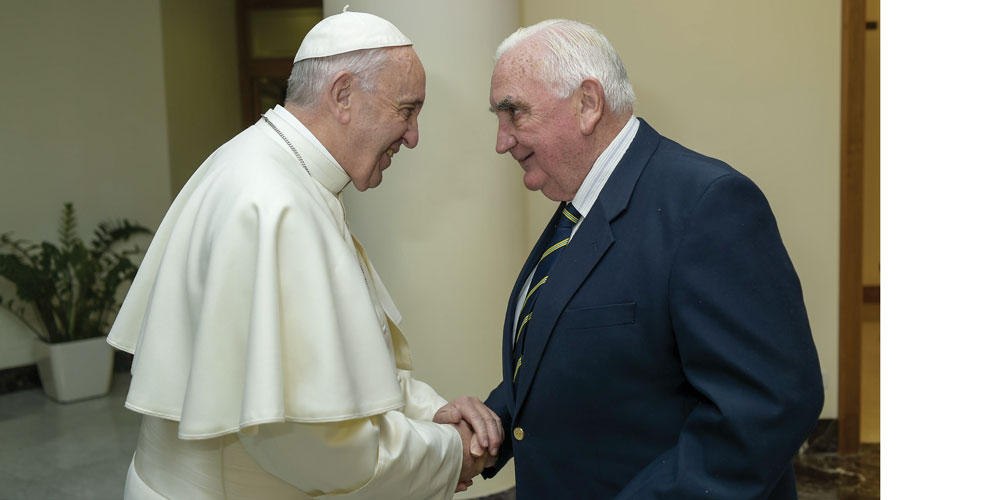 Two powerhouses of the Catholic Church share greetings and no doubt, many words of wisdom!
Off the back of Michael's hard work, and with the collaboration of Fr Oreste Cantamessa and Bro Joe Ellul at least four containers a year are sent to Timor-Leste packed with donated goods and supplies to assist the health clinics, schools and orphanages of one of our poorest neighbours. He has assisted doctors who volunteer their time to visit these places to offer medical help that would normally not be available to the poor and disadvantaged. Teachers and students from a number of schools have, with his help, been able to visit and experience first hand the beauty and hardship of Salesian works in some of these poorest regions. Br Michael has dedicated his life to assist disadvantaged youth in so many ways. We will miss his presence in the office next door to ours, but we are happy to know that, with his move to Brunswick, he is still just around the corner from us at the provincial office. We wish him well on this next stage of his journey as a Salesian, as he turns his energies to concentrate fully on a ministry that is so typically 'him' - taking full care of the sick and elderly of our great Salesian family.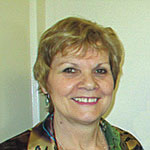 Olga has been involved with the Salesian family for many years, working tirelessly with ASMOAF, where she is easily one of the most dedicated people in the entire Salesian family! She wrote this wonderful tribute to her dear colleague of many years Br Michael for the Salesian Bulletin which is available now!