After a marathon 31-hour transit, Rector Major Don Ángel Fernández Artime touched down to find a sunny morning at Sydney airport, Australia where the Salesians are celebrated 100 years of presence in 2023.
Greeting him at the airport was Provincial Fr Will Matthews, Regional Councillor Fr Joseph Nguyen Thinh Phuoc and rector of the Engadine host community, Fr Frank Bertagnolli. After a short rest, the Engadine community (located 31 km to Sydney's south) came together to celebrate Eucharist. Thanks to the generosity of one of the parishioners, the mass was celebrated with a brand-new Chalice and Paten that had been commissioned to celebrate the 100 year anniversary of the Salesians in Australia.
Lunch came next and afterwards a visit to St Mary's Cathedral in Sydney's CBD. St Mary's is the oldest continuing place of Catholic worship in Australia and an extremely important figure in the life and mission of the Catholic Church in Australia. Don Ángel met with Auxiliary Bishop Richard Umbers and the two shared a lively discussion. Afterwards, the Bishop led a guided tour through the Cathedral, grounds and into the crypt.
The next stop on the itinerary was Mary MacKillop place, an oasis of peace hidden amongst the hustle and bustle of the modern metropolis. A place of spirituality, education and hospitality, Mary MacKillop Place has a unique place in Australia's history. At the centre of the place is the sacred resting place of St Mary MacKillop, Australia's first saint canonized in 2010. She was a contemporary of Don Bosco and her focus on education for under-privileged young people gives her story many parallels to Don Bosco's.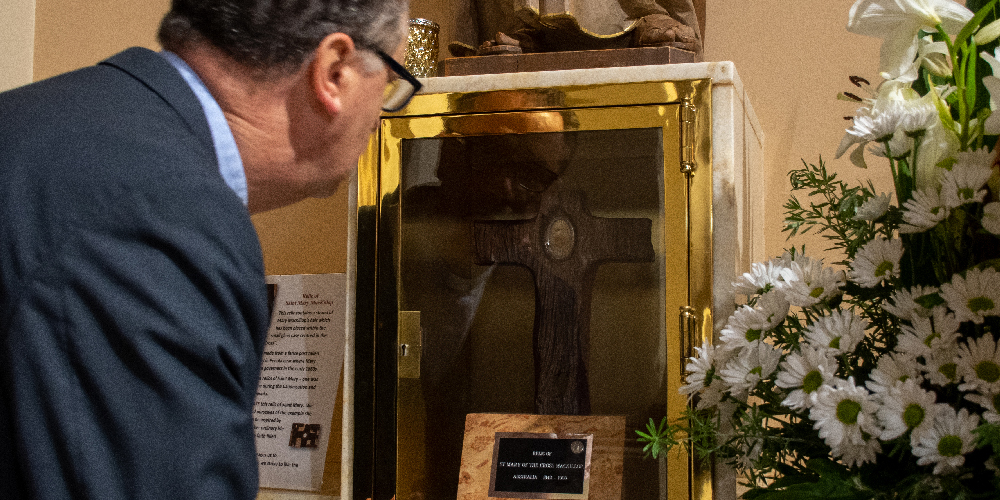 The Rector Major examines the relic of St Mary McKillop 
Of course, no trip to downtown Sydney is complete without a visit to two of Australia's most internationally recognized icons; The Sydney Harbour Bridge and Opera House. This was the site of an extremely scenic dinner, joined by more of the Sydney-based Salesians. Some time was spent to take the perfect 'tourist snap' and with that complete, it was time to return home after a very busy, very fulfilling first day of the Rector Major's visit down under!