Engadine, a suburb in southern Sydeney is home to what is perhaps the most comprehensive Salesian presence in Australia; there are three very successful schools (Primary, Secondary and Special Residential & Day), a retirement village, lively parish and flourishing youth ministry.
Lay collaborators from each of these came together with the Salesians and FMAs for a Meze-styled banquet, with Don Ángel as the guest of honour.
The atmosphere was lively and full of friendly chatter as all of these people so dedicated to Don Bosco's charism came together to celebrate it's 100th year in Australia and 70th year in Engadine.
After a few quick speeches of acknowledgement and thanks, it was time to cut the celebratory cake and Don Ángel was called upon to do the honours. As stood he called for table 10 to join with him to share the duty and so, cut the cake with 9 youth leaders from the St John Bosco Parish.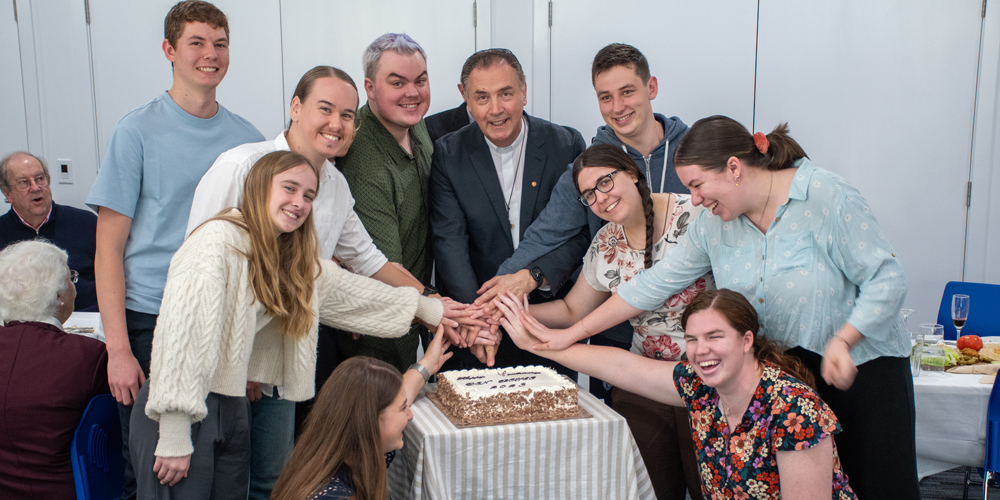 The Rector-Major cuts the cake with the youth leaders
Once everyone was well-fed, Don Ángel then took it upon himself to entertain the crowd, calling for a guitar. This brought great enthusiasm from the crowd were suitably impressed with the performance, and even joined in on the singing despite it being in a foreign language!
As the lunch gathering was drawing to a close, each group of collaborators stopped to have their photo taken with the Rector-Major and with that, the afternoon was complete.
After a few hours break, many of those that had gathered for lunch returned to join in the regular Mass service at the parish church. Of course, this was no regular mass; concelebrating was Don Ángel, Regional Councillor Fr Joseph Nguyen Thinh Phuoc, provincial Fr Will Matthews and the members of the Engadine Salesian community.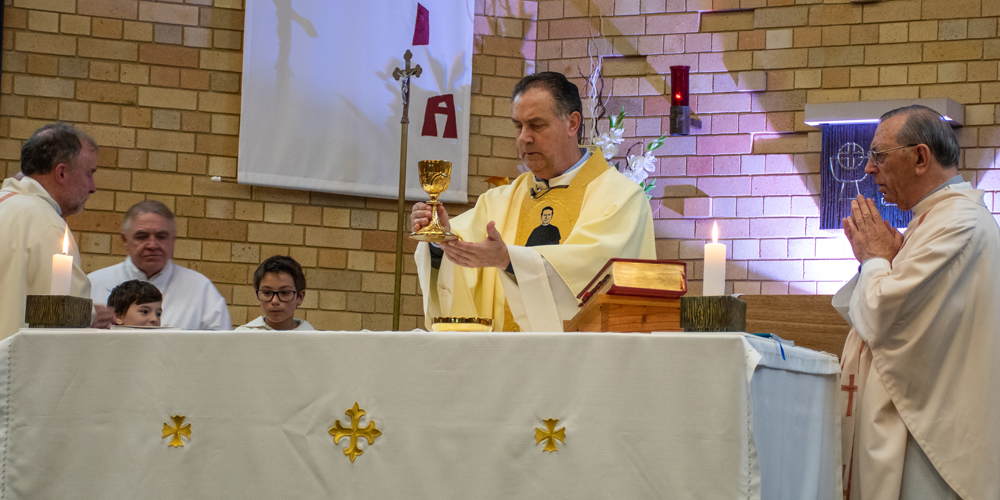 The Rector-Major during mass
During his homily, Don Ángel thanked the parishioners for their great support and presence within the life and mission of the Church, and specifically, the Salesian way of doing things. In the light of the Emmaus story, he also spoke about the importance of walking together on a faith journey, and all throughout, his wonderful, playful sense of humour came to the fore; more than once did the congregation erupt in laughter!
With the completion of Mass, it was another round of photos for the Rector-Major, as parishioners, students, teachers, and young people were all eager to have their photos taken with him. As the gathered crowd dwindled, day two of Don Ángel's joyful presence also came to an end, with the promise of plenty more in the coming days!