On Saturday 5th of October, 20 young people gathered at the Don Bosco Retreat Centre in Lysterfield for the Holiness is Happiness: Salesian Youth Retreat.
Attendees were drawn from across the Salesian Family; camps, retreat teams, schools and religious were all represented. The day was another opportunity to continue growing as participants deepened their understanding of the 2019 Strenna through learning, reflection and prayer.
After some icebreakers activities that allowed everyone to become familiar with one another, Romina Martiniello led the first session by beginning to unpack the theme "Holiness is Happiness" at face value. Participants were asked to brainstorm what things in their life made them happy and then to brainstorm some ideas of what they thought holiness entailed. They then had to compare their two lists and see what links or crossovers could be made, and what those connections meant.
The next two sessions were led by Fr. Chris Ford who used the examples of Dominic Savio, Michael Magone and Francis Besucco to explore what Don Bosco viewed as holiness. After some time of input, the group was split into smaller groups to allow for periods of applied learning as everyone brainstormed, drew and about Don Bosco's four pillars of holiness: Happiness, Duty, Christian Service and Active Spirituality.
For John Gartland, a past Cagliero project volunteer in Cambodia, this learning even came with an added surprise. "It was really cool" he said, "to learn more about Francis, I had never heard of him before but at the Don Bosco Tech School where I was, the boarder house for the boys from rural areas was called the 'Besucco house' and a lot of them have similar stories to Francis!"
The group also made the walk up the hill on the farmland property, that gives breathtaking views of the surrounding area. On top of the rocks, Sia, Julie and Kamilla took turns to speak about their lives and the inspiring journey that they have taken so far as FMA sisters. Even a herd of kangaroos dropped by to listen in!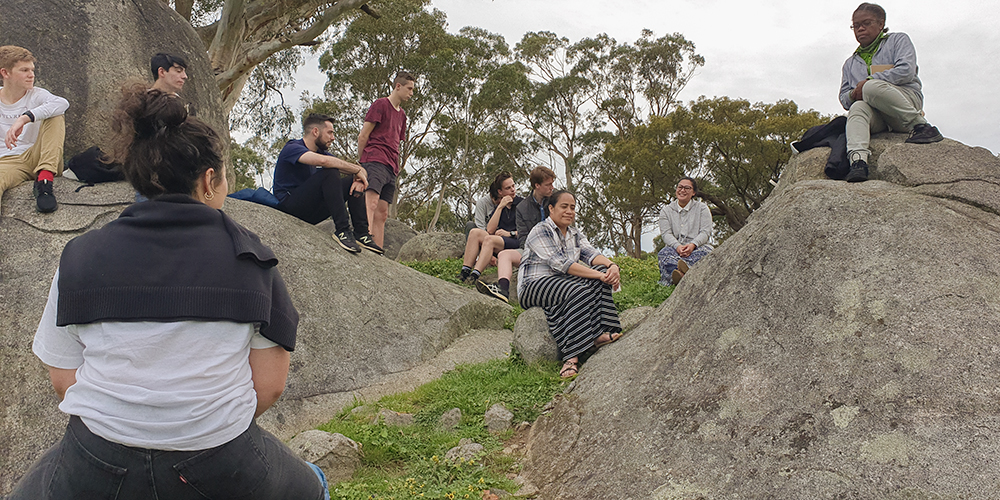 Members of the retreat listen to Sia (second from right) as she tells her story
This was followed by an extended quiet time, where everyone was encouraged to take time to reflect on their own stories and how and where holiness tied into their lives. A time was set to meet back in the chapel, where everyone gathered around the altar for mass led by Fr. Chris.
After mass, everyone met together one last time in the kitchen to share a meal and enjoy each other's company. Days like this are a fantastic and extremely worthwhile opportunity for participants to not only deepen their own understanding of Salesian spirituality but to find and engage new companions in which they can share that journey with, from across the Salesian Family. Thank-you to all involved in the planning and running of such a fantastic program!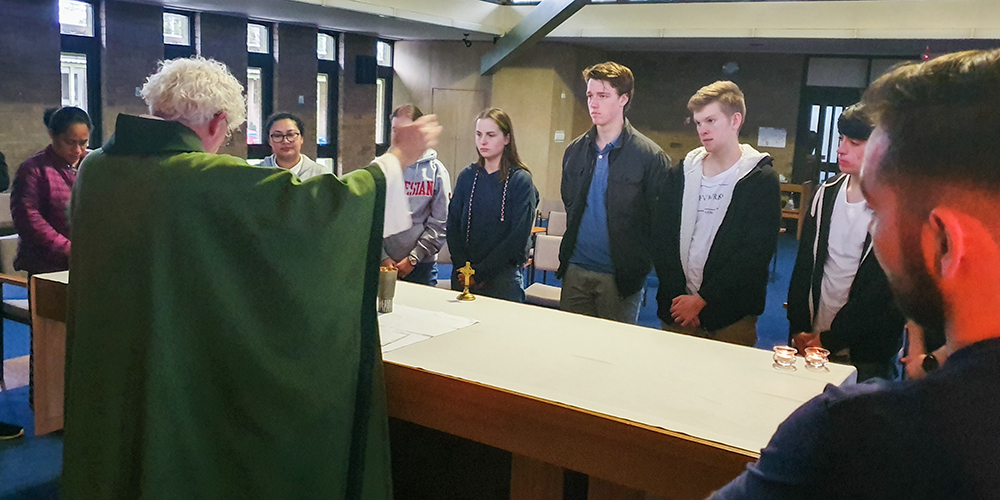 The group gathered around the Altar for a beautifully personal experience of the Eucharist.