45 campers aged between nine and twelve arrived at St John Bosco Primary School's Hanley field, on Wednesday January 15th marking the beginning of Summer Camp at the Bosco Parish in Engadine, NSW. As the eager campers begun to pitch their tents or, at least, supervise their parents doing so, almost twenty volunteer youth leaders, led by Parish Youth Minister, Raqael Lisboa, were preparing for the excitement that the next two and a half days would bring.
Since 2011, the Salesian Leadership team in Engadine have been running a summer camp in January and a winter camp in July, raising money for ongoing youth-based projects in the Parish, as well as contributing to the Vinnie's Winter Appeal.
3:30 saw the official kick-off of camp, with classic crowd favourite games such as Bang and Camouflage) as well as some fresh, content recently picked up by the leadership team during their recent trip to the Salesian Leadership Camp in Safety Beach, Victoria.
During that night's dinner every camper and leader received a secret mission that they were challenged to complete over the course of camp. Some were as simple as high-fiving each person on camp whilst some were a bit whacky; like telling 26 separate people that your favourite letter is 'K'.
Each camper embraced their task to varying degrees of success and enthusiasm, and spirits were high as the brand new, Princess Fiona Rescue Party activity was premiered, controversially replacing the yearly game of Spotlight (due to poor air quality).Any controversy was quickly forgotten however, as this d trivia extravaganza saw brave campers dancing to distract dragons, using toilet paper armour to defend against flames, and proving their skills at manoeuvring Oreos from their foreheads into their mouths – what more could a damsel in distress ask for?!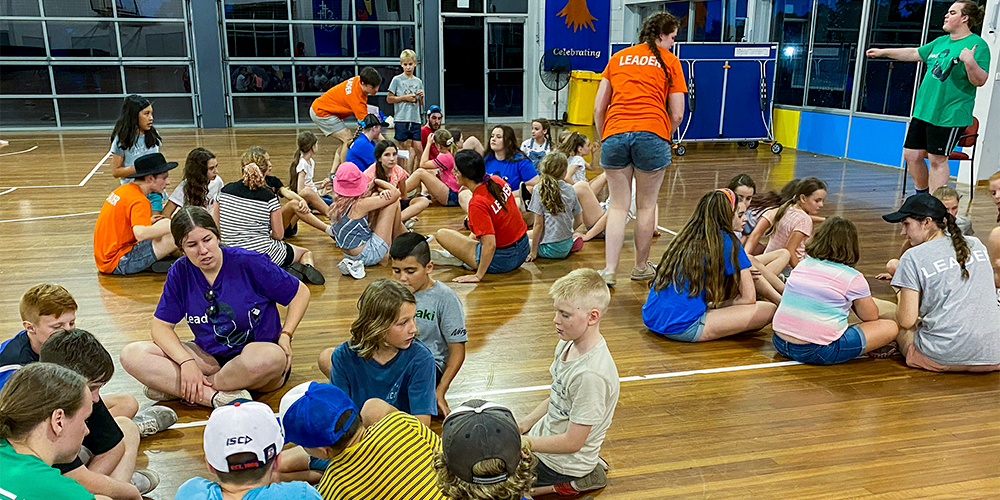 Campers listen attentively as the next game's rules are explained.
As the first day of camp began to wind down, the group gathered once more before bed to settle in for a Salesian goodnight, where one of the leaders, Fletcher, encouraged the campers to always embrace new opportunities they come across and to never stop searching for their favourite things.
A thunderstorm on Thursday presented a challenge, however, as the planned activity after breakfast was for the 60 camp-goers to walk to the nearby Engadine pool for a swim. Rain is so desperately needed that no-one complained; instead, our cunning leaders were both prepared and skilled enough to run four hours of back up activities, including our new favourite game, which we have lovingly been called 'get all your stuff out of your flooded/ant-infested tent ASAP!!'
That afternoon, the campers were tasked with preparing different elements for the camp mass, which was to be celebrated by Parish Priest, Fr Mick. While some performed a skit acting out the readings, participated in a procession of the Word, or penned their own prayers of the faithful, the highlight for many were the two original songs, Have You Ever Read the Bible and We Can Pray which continued to be sung at high volumes for the remainder of the camp.
After plenty of pizza was consumed for dinner, the campers welcomed their parents to the school hall, which had been transformed into the stage of the annual talent show in which every camper participated in at least one act. Between great feats of volleyball prowess, expertly choreographed dance routines, magic shows and more, many parents were left extremely impressed with their child's willingness to be a part of a performance, let alone their great burgeoning talents!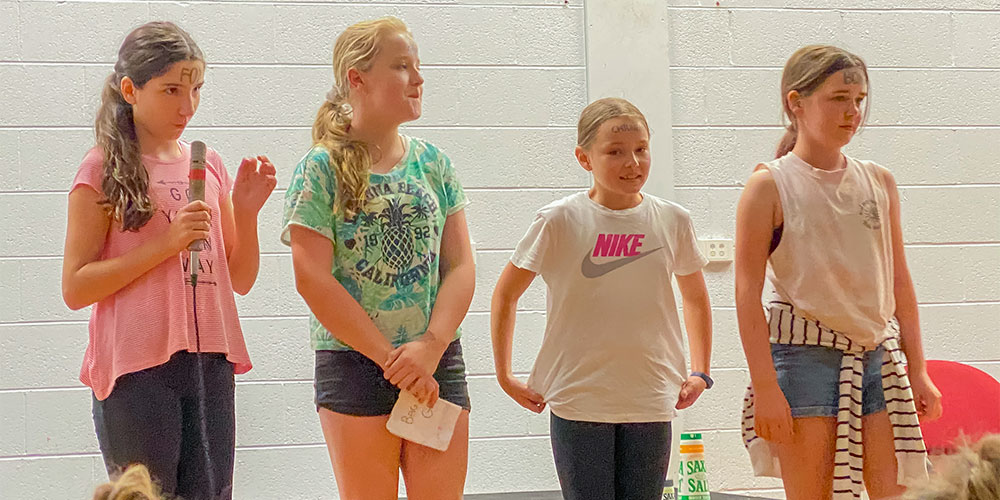 Young people perform there carefully prepared talent show act
After a heartfelt goodbye to their parents, a screening of the classic film Shrek and another Salesian goodnight, the campers went to bed, eagerly awaiting the final day of camp. However, things did not go quite as planned that night as, yet another (still welcome) thunderstorm battered against the tents! Unfortunately, many campers discovered that their tents were perhaps not quite as waterproof as they first seemed, leading them to abandon their shelters and seek refuge in the hall.
Despite the harrowing experience of the night before, the campers remained in high spirits, chanting just as loud, and playing just as hard all day long. As they threw themselves into craft activities before lunch, more and more chant requests were made, each camper desperate to hear their favourite song ring out just one more before they went home.
After a game of Leader's Favours that saw all sorts of hijinks take place such as leader Kiera's shoes got stolen and many leaders serenaded, it came time for the final closing ceremony of camp, which as always, felt like it arrived all too soon! Each camper shared their favourite moment from camp, as well as their secret mission. When it was Pat's turn to reveal that his secret mission was to tell as make up a story and convince that he loves the letter "K", it led to great laughter and many cries of "I thought you meant it!"
As the year sixes who were attending their last camp were bid farewell(through the traditional camp salute, a rousing rendition of Happy Birthday (sung for the fourth time in three days!), camp officially came to a close. Many heartfelt goodbyes were offered to leaders, while many thanks for camp were uttered by everyone!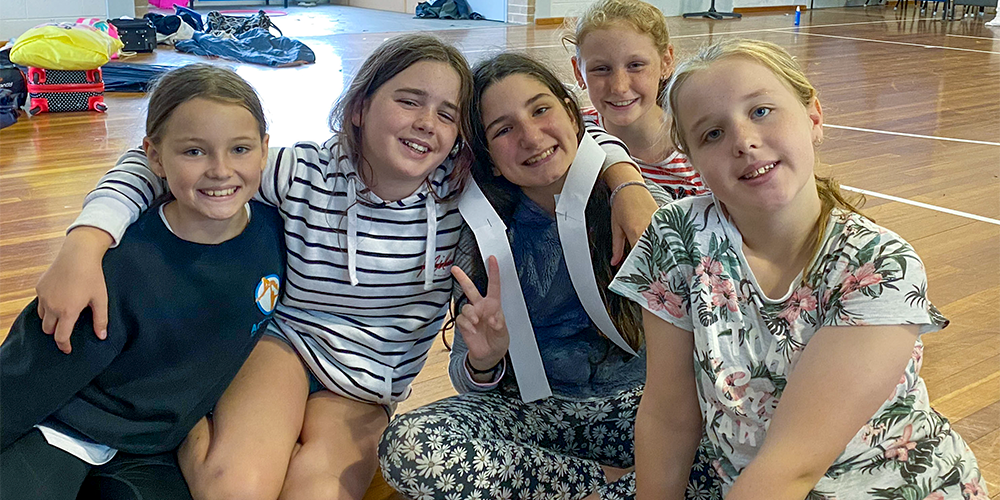 The friends and memories that you make on camp are the ones that you keep forever!
Though by now they were exhausted and overheating, our fearless leaders continued to smile. It is always so inspiring to see how every 6 months a new batch of challenges present themselves (such as smoky air and torrential rains in this case), they still manage to do everything with complete joy. Even after the final camper had gone home, whilst spending another few hours cleaning up and collecting wet lost property, it was clear that they couldn't wait to do it all again in just six months time!

For more photos, visit us on flickr!


---