From Melbourne to Panama via LA and Costa Rica - this truly was a pilgramage for the ages!
A 16 hour plane ride that leaves at 7:40am but then also lands at 6:10am on the same day albeit in a foreign land is enough to take the wind out of anyone's sails. However, for our group of 22 pilgrims, fearlessly led by Romina Martiniello and Lauren Hichaaba on our way to Panama for World Youth Day, this simply wasn't an option! As the group filed into the St Joseph Salesian Retreat Centre in Los Angeles, USA, the scent of a freshly cooked breakfast feast filled their nostrils – and the whirlwind adventures began for real!
As it turns out, a powerful remedy for jetlag is Salesian spirit; it keeps you awake, alert and enthusiastic! You wouldn't have known that this group had received minimal sleep for an extended period of time as they bounced around the different Salesian works in LA – parishes dedicated to ethnic minority cultures, primary schools, secondary schools, technical schools and youth centres. The joy and energy that was buzzing through these works created a loop, sustaining the group's energy!
Our magnificent hosts, guides and paparazzi – Gina Robles, Br Al and Andres Neria – did an incredible job of making us feel welcome in Los Angeles, as well as explaining just how meaningful the work being undertaken there is, within the current social, economic and political climates. There was also a little bit of time to explore the famed city and indulge a little in North American culture. We had a tour of Hollywood, did some shopping (although mostly at Salesian school uniform shops!), participated in cultural eating (i.e. fast food!), as well as we had free time to explore on our own – some went to a basketball game, some explored the Venice Beach boardwalk, some visited the futuristic-looking city Cathedral, while others still visited Harry Potter at the Universal Studios.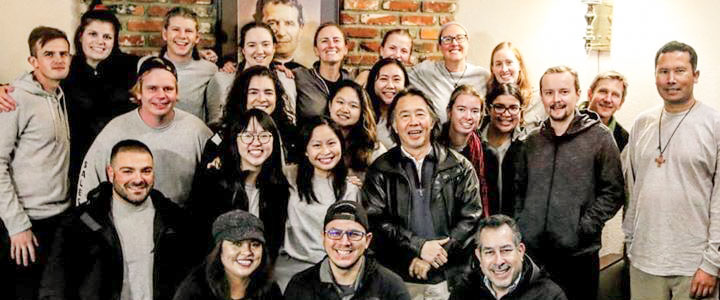 In what felt like a blink of an eye, we hit our last night in Los Angles, which was also the most beautiful. Having united with the pilgrims from the USA West Salesian province for a commissioning Mass said by our very own Fr Will Matthews, we then participated in a round table discussion, introducing ourselves, explaining what we were looking forward to at WYD and, of course, sharing a meal together!
After a very early wakeup, it was none other than Pope Francis who welcomed us at Panama City airport; giant posters of him were all around the terminal. For those who had experienced a World Youth Day before, this was a little unusual; normally the host city didn't get quite that on board with hundreds of thousands of people pouring in and clogging the place, although it didn't stop there! Throughout the duration of WYD, from start to finish, it was almost impossible to walk anywhere in the city without any of the incredibly friendly locals saying hi, waving their hands, honking their horns or stopping their cars in the middle of the road to let you cross. Indeed, even some opened up their homes to the pilgrims walking by, allowing them to refill drink bottles and to even use the 'restrooms'! Whilst this WYD certainly wasn't as big as it had been in the past in terms of pure numbers, it's safe to say it was the biggest in terms of welcome and joy, given and received by the pilgrims and the residents of the city!
Typically, one of the highlights of World Youth Day has always been the "Salesian Day" in which just a handful of members of the group would be invited to a global conference on Salesianity in the morning. Then, in the afternoon, the rest of the group would arrive for the commencement of the Salesian party – a massive celebration of Salesianity transcending culture and language. Dancing, music, making friends, food, joy, games, laughter, conversation, adoration of the Blessed Sacrament and a goodnight from the Rector Major and Mother General are always features. This year, it was just as incredible as it always is; in some ways, this entire World Youth Day was a celebration of Salesianity!
For many people in Central America, Don Bosco is an incredibly powerful figure – it's no surprise that he was selected to be one of the patrons of the event. In everything we did, across catechesis sessions, impromptu dance parties, welcome ceremonies, stations of the cross or merely just walking through the streets of Panama City, we would bump into Salesian groups or people with connections to the Salesians in one form or another. Indeed, Pope Francis mentioned Don Bosco numerous times throughout his speeches and homilies, most notably in his main address to youth of the world, during the Saturday night Vigil.
"We know well that to feel acknowledged or loved it is not enough to be connected all day long. To feel respected and asked to get involved is greater than simply being "on-line". It means finding spaces where, with your hands, your heart and your head, you can feel part of a larger community that needs you and that you yourselves, young people, need.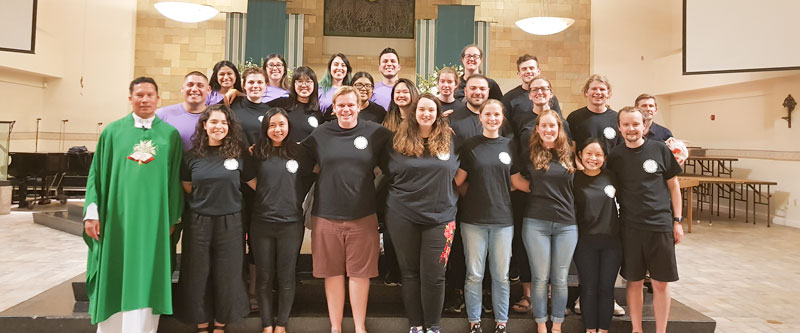 The saints understood this very well. I think, for example, of Saint John Bosco". (Just as at the mention of that name there was thunderous applause!) "Don Bosco did not go off to seek young people in far-off or special places; he simply learned to see with God's eyes everything that was going on around him in his city. Thus he was deeply affected by the hundreds of children and young people left to themselves, without education, without work and without the helping hand of a community. Many other people were living in the same city, and many criticized those young people, but they were unable to see them with God's eyes. We need to see young people with God's eyes. Don Bosco did… He gave them roots from which they could reach up to heaven".
World Youth Day is a truly global melting pot of immense crowds, culture, language and Catholicism that at times can be too intense to comprehend, or even cope with. So, to begin unpacking what we had collectively experienced, and to share what we had individually undergone, the group travelled to a remote part of Panama, the island paradise of Boccas Del. With the Pope's words still ringing in our ears, we gathered on the shores of the Caribbean Sea for small group discussions followed by one of the highlights of the entire trip. In such a magical setting, as the sun was sinking into the ocean, Fr Brian Ahern led us in a Mass that was beautiful in its simplicity and powerful in its authenticity. Days later, we were in San Jose for Don Bosco's feast day and so we discussed the gift of Don Bosco, and what that meant – and we weren't just discussing our patron, but continuing the World Youth Day experience and further exploring the Pope's message.
It can be hard to point to tangible things you get out of a World Youth Day experience. It isn't as simple as a moment of sudden conversion, an instant of clarity or a couple of days of warm feelings towards other people. Rather, what comes from the World Youth Day experience will grow in our pilgrims, and will manifest itself in all sorts of unexpected, wondrous ways. As Pope Francis is continually telling young people, their responsibility then, isn't to have this experience, or to allow something to grow within them for a little while; no, the World Youth Day challenge is to make the experience manifest in words, thoughts and actions for the rest of the pilgrims' lives, in all facets of their lives.


Some Reflections from the Priglrims


Eight months ago, my caring, beautiful, healthy mother was diagnosed with breast cancer and it shook me to the core seeing my mums physically and spirit health begin to wane.

I was not angry at God for bringing this hardship into my life – I just felt confused by what He was intending me to learn. Thus, when I could not control what He was teaching me, I took control of ignoring Him. My prayer life stopped. Faith never left my heart, but it felt too painful and confusing to talk about what I was experiencing.

WYD came at just the right time: I was forced to focus on the remaining ounce of faith that I felt pulsating in my heart. Everything I was avoiding was put in front of me, including the vital realisation; I cannot survive without Jesus' guidance, love and mercy nor can I live without the Salesian Community. Sometimes, our communities become just like our families; and without them we cannot extend ourselves, or our passions and enthusiasm into the world. With them, we have a mutual support system that carries us through hard times. Community sustains us; we don't ever have to stand alone. This is why SYM is my most beloved community.

I will forever be grateful for the work and patience that group leaders Lauren & Romina gave to the Salesian Australia group – travelling with 22 people is a challenge within itself, but Lauren and Romina did so with such grace, accompanying each pilgrim through their individual struggles over the journey.



Bridie Keilly
---
The most enriching past of the WYD experience was being able to listen to Pope Francis at each of the major events and the simple ways he challenges us beyond WYD. Additionally, being able to spend time with the Salesians in LA was a really good opportunity to understand how other people are sharing and working towards the same mission that we share in Australia.



Teaghan Dolan
---
Hearing the cheers when Pope Francis would mention Don Bosco reaffirmed for me that I'm a part of a global network and by being able to take part in a pilgrimage with religious people, I was able to humanise those individuals, and feel more comfortable approaching them for any issues I may have. There was also a real feeling of familiarity at every Salesian establishment we visited that was extremely reaffirming.



Declan Crowe
---
"You, dear young people, are not the future, but the now of God".These words spoken by Pope Francis resonates in my heart to this day. It was a great joy for me to represent my parish community from Sydney, to be in Panama City with hundreds of thousands of young people from all over the world to immerse and celebrate our Catholic faith, kneeling in prayer and adoring Christ as He is present amongst us. I also have had the pleasure to experience WYD with the Salesians from Melbourne and Adelaide, and to learn about its spirituality was something new yet uplifting for me. As someone who is new to the community, I felt very welcomed and blessed to be journeying with such a friendly, jolly, humorous young bunch of Salesians whom I can share my reflections with every day and be myself. One of my favourite things that I experienced was the daily morning and night prayers. The next WYD will be in Portugal in the year 2022. If God is calling you, do not be afraid to respond to His call.



Teresa Winata
---
"World Youth Day Panama for me was an inspiring experience of a culture of openness joy and acceptance, it makes me wonder if maybe that's the culture we are called to create in our own community and neighbourhoods."



Fr Brian Ahern
---

Republished from the Australian Salesian Bulletin - Autumn 2019
Read or Download the Salesian Bulletin
Subscribe for FREE to the Salesian Bulletin
---