Holiness is Happiness!!!
By now, OzBosco has well and truly established itself as the premier youth event on the Salesian calendar in Australia, and for very good reason. The latest rendition, held from 3 to 5 May at the Don Bosco Camp and Centre in Safety Beach was another roaring success; a weekend full of friends, fun and formation for more than 120 young people gathered there from all around Australia.
Proceedings began with icebreaker games, held just as the last light of the day gave way to night. Following this, Bunurong Elder Uncle Shane Clarke welcomed the participants to country, as he extolled the significance of so many different people from around the country gathering together. After dinner, the theme for the weekend was introduced "Holiness is Happiness" – inspired by the strenna of the Rector Major.
The participants were then separated into their preassigned 'oratory groups' for the opening activity. These oratory groups are a feature of OzBosco; they are the groups in which discussions are shared, and as each group is organized to consist of a few people from each of the schools and parishes present at the event, it becomes a great way for the young people to meet new people and build connections around the country.
The inaugural activity these oratory groups undertook was for everyone to write on a tag where they came from and what they had come to OzBosco for. Then, all the members of the oratory group tied their answers together forming a tangible bond within the group; these were then connected to the rest of OzBosco as they were draped around a model Earth.
Day two of OzBosco was similar to the previous night; after breakfast games and activities were run. Then came one of the highlights of the entire weekend, as the group gathered in the gym for the keynote address of Gen Bryant and her band. Gen is an exceptionally talented musician who quickly displayed her talent for getting the whole room up and dancing, singing along to songs of praise and worship. As a part of Gen's time with us, she also put her guitar away and spoke about some of her own struggles, touching on many of the experiences that young people go through. It was an incredibly touching and powerful testimony, as the extremely fruitful oratory-group discussions afterwards can attest.
The afternoon's activities involved an excursion off-site, as the group was bussed to the nearby Enchanted Adventure Garden at Arthur's Seat. This was a great opportunity for all participants to mingle, as they solved all manner of mazes and puzzles together. It was especially touching to see the young people choosing to spend time socializing with their teachers, brothers, sisters and priests, building bonds that transcended age gaps or living conditions.
After the 'Al Fresco' pizza and pasta themed dinner came the much-anticipated Saturday night activity, 'Holiness for You Too'. In it, each of the oratory groups first designed their ideal saint, and then had to power up their saint with the assistance of the traditional saints such as Don Bosco or Francis d'Assisi through a series of challenges and activities. Then, with the assistance of modern saints (that is, people affiliated with the Salesian Youth Movement who had pre-recorded videos explaining who they are, what they do and how they bring goodness into the world) the oratory groups set about bringing goodness into the world, building up the level of holiness in the world, and learning that holiness is indeed a call for all people, not just a select few.
As is usually the way with these sorts of events, day three came far too soon; although there was no time to feel sad about it, as there was plenty still to do! The OzBosco workshops took place that morning, a great opportunity for the young people to choose which content they were most interested in. There is always a great variety in the workshops on offer, such as exploring masculinity, femininity, what it means to be a young Salesian (co-run by Julia, who had come all the way from Austria to be involved with OzBosco!), as well as guided Q&A panel discussions.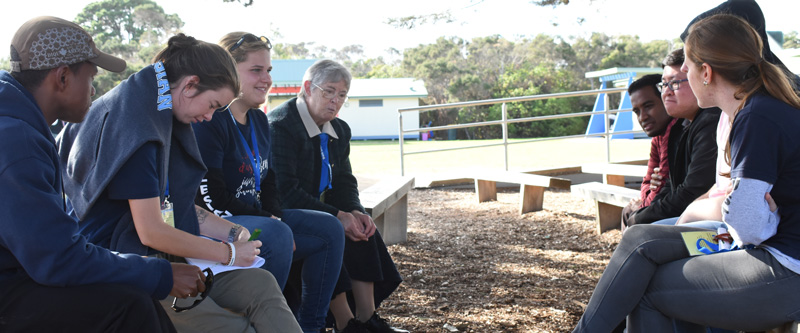 After lunch it came time for Mass, as all participants gathered to celebrate the Eucharist in what is the perfect way to cap off a weekend of friends, fun and formation. After Mass the last thank-yous and announcements were made and with that, OzBosco was done for another year. As tears of farewell were stifled in many an eye, resolutions were made amongst the young people; in a year's time, they would catch up once again at the next OzBosco, wherever that may be!
Truly, OzBosco has established itself as one of the most important opportunities for young people in this province. It is hard to imagine a more Salesian event as faith-based formation from goodnights, good mornings, prayer mingled with fun, joy and happiness, as all participants are made to feel at home for a couple of days. Already, we count down the days until OzBosco 2020!
---

Republished from the Australian Salesian Bulletin - Winter 2019, Courtesy of the ASMOAF Missionary Magazine
Read or Download the Salesian Bulletin
Subscribe for FREE to the Salesian Bulletin
---