Xavier Quinn is a current Cagliero Volunteer in Timor-Leste. His Salesian journey started much earlier however, having grown up with close connections to the Salesian family all his life.
At Salesian College in Sunbury (North-West of Melbourne), he was introduced to the teachings and life of Don Bosco. Many lessons were taught about the importance of being present with young people.
Xavier was able to apply these lessons to his school life, but also bought them to the fore as a youth leader at the Don Bosco Camp in Safety Beach. These and other similar contexts served to boost his insight and knowledge into what it means to be a Salesian.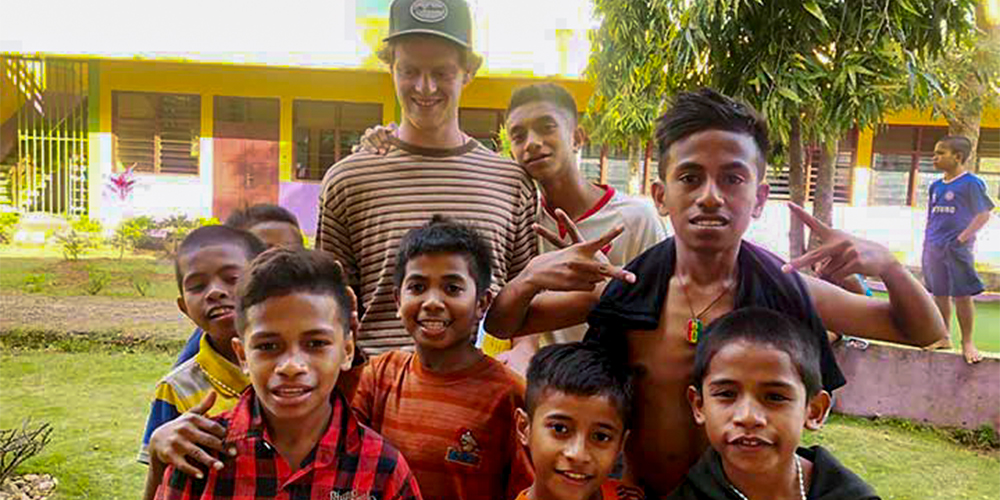 Xavier and the boys of Los Palos always have a great time together
"It has always been a goal of mine to do something of this nature" (volunteer overseas) says Xavier. "I was just waiting for the right time."
Xavier was first introduced to the Cagliero Project when his older sister took up the challenge many years ago and volunteered in Samoa. A few years later, Xavier's brother also took up the chance to volunteer in an overseas placement with the Cagliero project.
Undeniably, watching them and the amazing things they accomplished, gave him the desire to follow in their footsteps. The fire had been lit and for Xavier, too young to participate at the time, the question became more of a 'when?' than an 'if?'
The Cagliero project ensures that its volunteers undergo thorough a formation program. This includes insights into what it means to be a volunteer in a Salesian context. Xavier completed the formation program with Natanya De Silva, who is currently volunteering in Cambodia but it was the personal growth aspects of the program he went through that surprised him most.
The insights taught him more about himself and how he deals with certain situations; concepts he may never have come across or been able to verbalize otherwise. Additionally, Xavier gained a clear understanding of what was expected from him as a representative of the Salesians in Australia during his time in Timor-Leste. Perhaps one of the most important aspects that the formation goes through is an introduction to the countries culture, so that volunteers can settle in a bit quicker.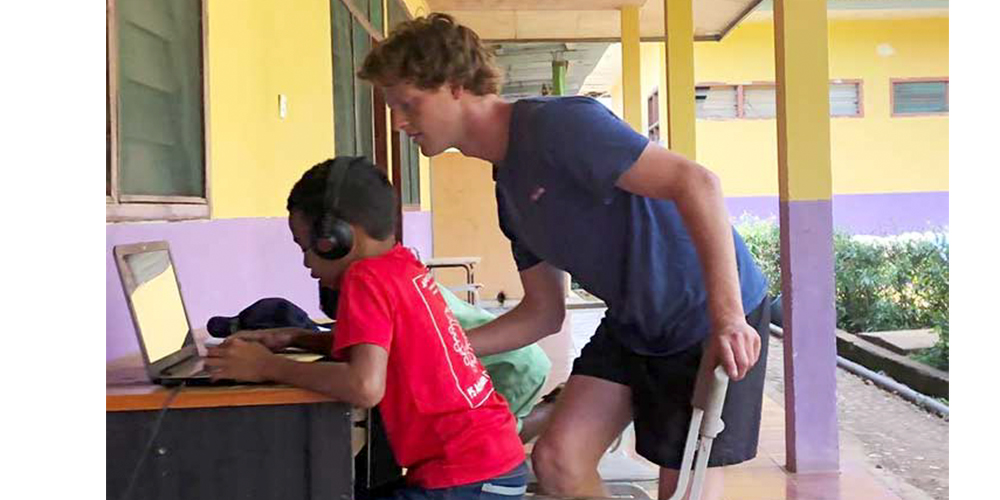 Xavier assists a young boy with a computer lesson
Xavier arrived in Los Palos and quickly settled in, partly due to the formation and partly due to the incredibly warm welcome of the people in the community. He was immediately made to feel at home, enabling him to get straight into teaching during his first week in Timor-Leste!
Xavier quickly realised that he was going to be fine living in this new land; the food was great, the weather was lovely, there was sport everyday and most importantly the people of Don Bosco and Lospalos showered him in kindness.
Xavier's daily life is a very busy one! The day starts with a mass, followed by breakfast and then a little bit of work in the garden. He then takes one of the younger children off to the local pre-school and then returns to enjoy some time with some of the young people from the orphanage or spends some time helping the Pre-Novices with any work they might have.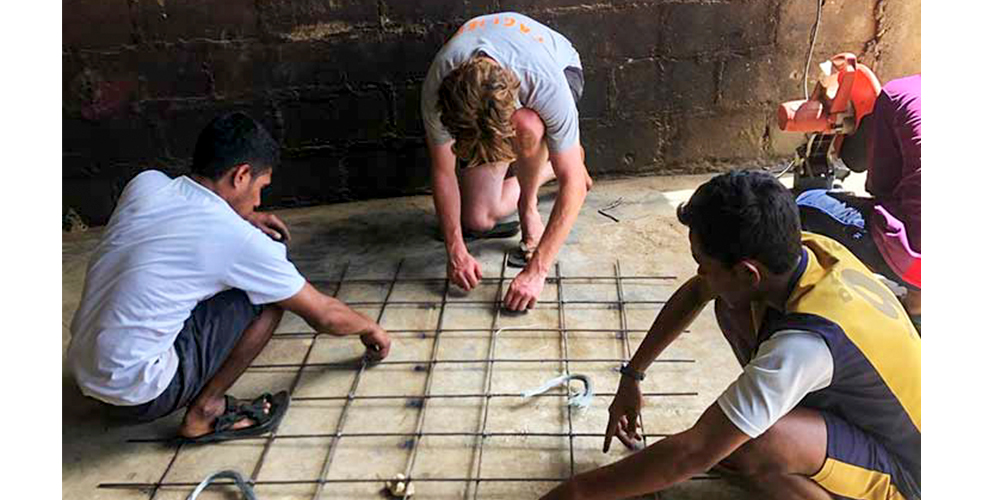 Xavier and some of the other boys work at improving the community enviroment
Just before lunch Xavier helps prepare the meal for everyone, as well as setting the table. After lunch on Tuesdays and Thursdays he runs a class for some of the young people from the orphanage, otherwise he has some free time to himself.
Immediately after dinner he usually goes for a walk with the pre-novices in formation to become Salesians, chatting about anything that comes up so that they may practice their conversational English – a vital skill. This continues until the goodnight which is the last activity before bed.
Xavier reports that he is having an amazing time, learning a lot of life lessons from the boys he spends so much time with, boys who have so very little. "As young people we do not get caught up in problems of the world but rather focus on ourselves and what is important to us and the people around us. As an adult, now I am seeing that my mindset has shifted. These boys have helped ground me and remind me of the things which truly make us happy."