The Rector Major has chosen "Good Christians and Honest Citizens" to be the theme for the 2020 Salesian Strenna. To celebrate this, throughout 2020, The Salesian Bulletin will be interviewing members of the Salesian Family who exhibit these qualities.
My life until I was 12 or 13 was like, what seemed to me to be the perfect life", recalls Steph, now in her early twenties, a pensive look on her face. "I had heaps of friends; my family was awesome; I loved being at school, I loved being at home. And then, yeah, once I hit 13, my parents split up and I learnt more about the world and realized my little bubble wasn't everything."
When her parents separated, Steph, the youngest of three children from Melbourne's leafy eastern suburbs, experienced the life-changing event that one in five Australian children can directly relate to. Luckily, she had come across the Don Bosco Camp just a few years earlier, thanks to a fortuitous turn of events that led to her best friend, Eliza, inviting her along.
"My early experience of camp, I don't really remember anything of 'Salesianity', she says, brow furrowed. Then, as a warm smile breaks out on her face, Steph continues "I just remember it was so much fun and there was so much spirit and love and liveliness." Of course, there could be no better introduction to Salesianity than experiencing these qualities as a young person; who Don Bosco was, what the preventive system is – these were lessons for a later time.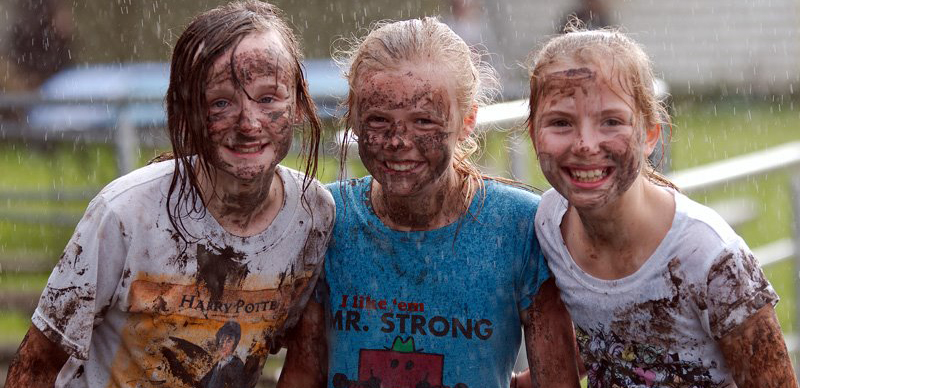 Eliza (left) and Steph (right) could usually be found up to some sort of innocent mischeif on camp!
When the issues at home did hit, they hit hard and with a far-reaching impact. It became hard for Steph to enjoy the camps properly; they were just too joyful and the big, loving family vibe served as a painful reminder of what was now missing at home. Despite this angst and confusing dissonance, Steph managed to keep up attendance at the camp, buoyed by close friends who were also going.
After a year or two, with the assistance of these friends, Steph was able to reach the point where the Don Bosco community became another family that could co-exist, not compete, with her home life. When she turned 15, it was time to take the next big plunge; leadership camp. This hit another snag, however, when Eliza informed Steph that she was unable to make it to that camp. Without her vital safety net of many years, Steph had a decision to make.
"As a camper, I met all these leaders and I was like 'Oh my God, these people are amazing and inspiring'", explains Steph. "I probably didn't realize it at the time, but these were just people whom I wanted to be around and learn from. So, in the end, I just realized that when my chance came, I couldn't miss it."
The personalities, that had inspired Steph so much, quickly became her peers. At first, it was as weird as it was cool to join the leaders that had led her for so many years. A new-found appreciation for the unconditional welcome and inclusion of the camp was her reward for jumping without the safety net, as she learnt to see the camp from a totally different perspective. Steph had never had any significant trouble socializing as a camper, so she made it her goal to always be there for the ones on the sidelines, who don't have anyone to talk to or may be sad about things going on outside of just the camp.
Six years later and Steph's involvement with the Salesians has increased a thousandfold. She still hasn't missed a leadership camp, worked at the camp on school programs, has participated in and ran Salesian retreats, was an emcee at OzBosco, represented the Salesians at the Australian Catholic Youth Festival and in Panama for World Youth Day.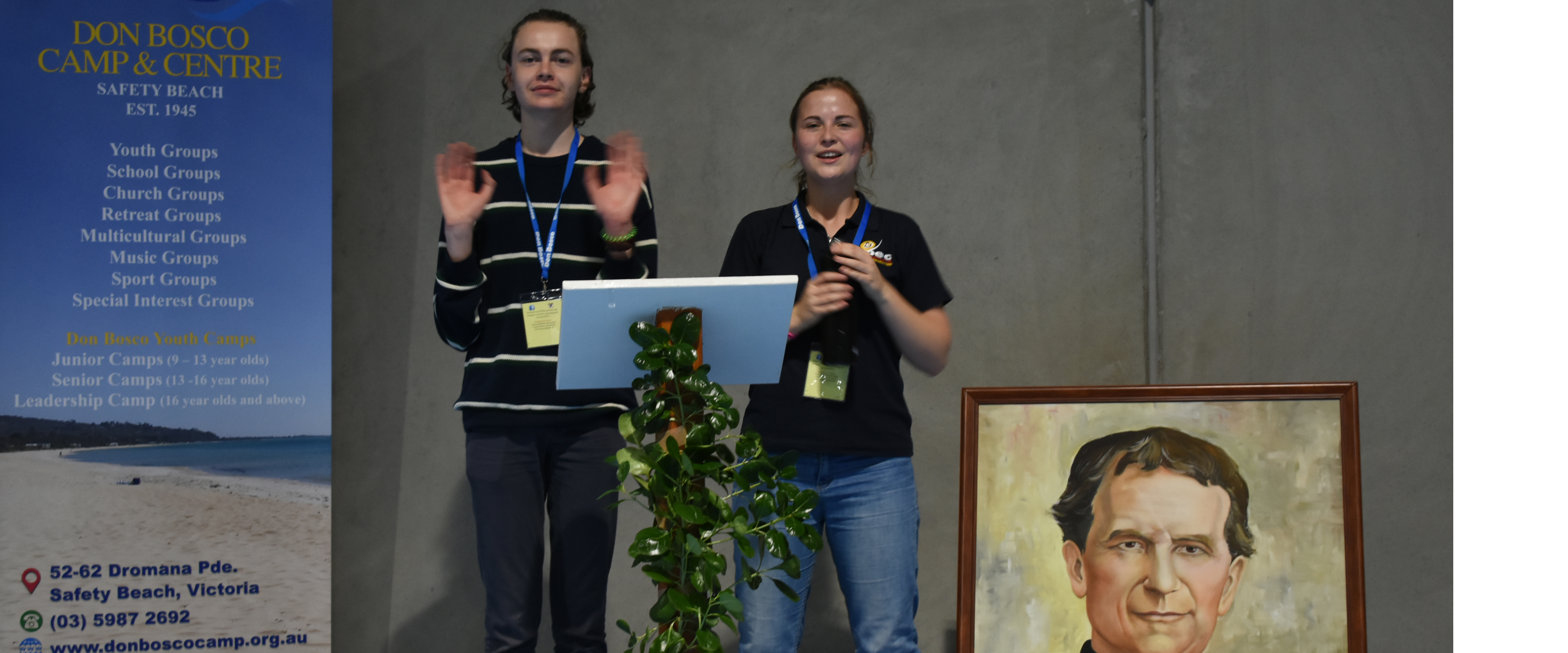 Steph is pictured with Ben as the MC for night activities at OzBosco 2019
"As soon as something is mentioned or classed as Salesian I'm automatically interested; it's going to be filled with love, joy, happiness and excitement and that's what you get every time!"
Impressively, all this participation has come at the same time as she was studying at university and working for the Cerebral Palsy Education Centre (CPEC). It is a non-profit early intervention centre that specializes in offering young children up to five years of age group therapy programs that include occupational therapy, physiotherapy and speech pathology.
Cerebral palsy is a physical disability that affects the way the brain communicates to the rest of the body, making it difficult to move different parts of the body as intended, which can have big ramifications for day to day activities such as walking, talking or eating. CPEC equips people who have cerebral palsy with the skills and support they require to achieve their own goals and actively participate in life, on their terms. This work is crucial in ensuring that people with cerebral palsy are given the opportunity to participate fully in their communities, rather than being left behind or excluded at the peripheries of society, subject to the whims of others.
Steph's mum was the co-founder of CPEC and, as a young child, Steph ended up at work with her a lot of the time, participating in all the activities going on in the centre. "I remember so vividly, when I was 5 or 6, whenever I was playing with my dolls, I'd pretend that one of them had cerebral palsy and I'd take it to therapy and everything!"
Growing up in such an environment clearly had a huge impact on Steph, ensuring that she had a fairly unique take on people with different abilities. "I was lucky enough to grow up with any preconceived kind of judgements, but it's not even a judgment a lot of the time, I think there's just this fear people have of doing the wrong thing, or saying the wrong thing and not knowing how to interact with different people that holds them back from being inclusive".
From the age of 8, Steph volunteered at CPEC's after school-programs. In the past year she has transitioned into working as an aid during the programs and has found a lot of similarities between her time as a camp leader and working for CPEC. "Working with kids is universal, regardless of their ability. Hyping, putting a smile on your face, being happy to get dirty, messy, covered in paint." Steph manages to supress a fit of laughter just long enough to add: "After all, that's all any young people wanna do, and I'm fine with it!"
Steph doesn't view her time as a leader, her time doing Salesian things or her time at CPEC as being separate parts of her life, different hats that she puts on and off. Having become more and more immersed in the theories and lore of Don Bosco, Steph sees a man that was well and truly ahead of his time. The preventive system, walking beside young people in love and pursuit of their dreams is something CPEC has at its very core in everything they do – indeed, their motto is "Learning for life".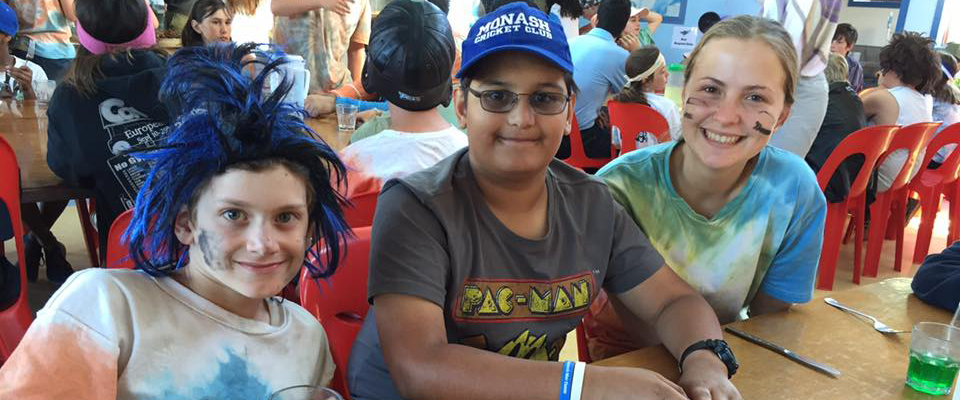 Steph always jumps at any opportunity she sees to bring a smile to the face of young people!
At the recent Melbourne Marathon (which CPEC are heavily involved in), one young person trained so that she could walk the last 100m of the track by herself. Another rode a modified bike for the last 3 km of the track, and another was able to complete the last 10m by herself. As each of these young people crossed the finish line at the MCG, their accomplishments were celebrated equally by all involved. "I think some individuals look at people with complex disabilities as not always having much to contribute, but it's about everyone else enabling them to use their voice and learning to actively listen".
Steph is very happy to call herself a Catholic; she can very often be spotted wearing some sort of Salesian gear and will always have her cross and Don Bosco medallion around her neck. "I'm just so proud of these values I have that are at the core of who I am, and they came from God and from Don Bosco; why would I try to hide that?"
In Year 11, a tragedy struck that at first shook Steph to her very core, but then soon after reinforced these ideals. When her aunty passed away, Steph was so angry that she outright refused to engage with Mass anymore. This storm broke soon after, when she realized that a church was exactly where she wanted to be. "I wanted to pray for her, and I wanted to pray to her. I feel close to her when I'm at church", explains Steph. "My faith and that closeness to God have been such a crucial support during all those hard times I've had".
Steph considers herself extremely blessed to be surrounded by good Christians and honest citizens everywhere she looks; in her friendship groups, workplace and Salesian circles. Just seeing the work that all these people do, in their own way, inspires her to do more and be more like them. "That's what I think of when I hear 'good Christians and honest citizen'; someone who is willing to give up their time or dedicate their life to working with children who are less privileged. What could be more wholesome or wonderful than that?"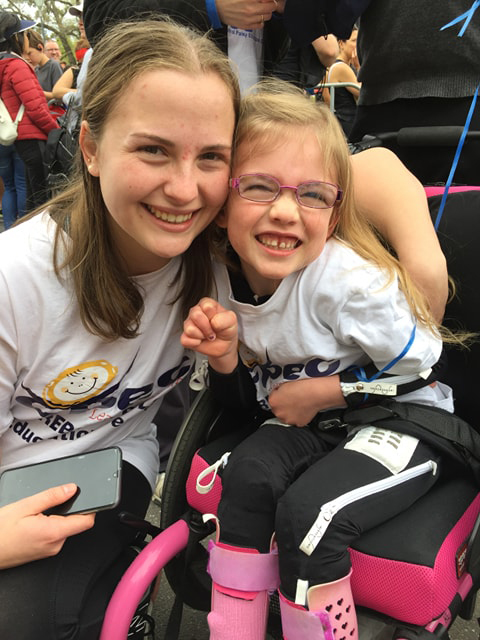 Steph and Annabelle met through the Cerebral Palsy Education Centre and have become very good friends, never failing to light up each other's day!
---

Republished from the Australian Salesian Bulletin - Summer 2019
Read or Download the Salesian Bulletin
Subscribe for FREE to the Salesian Bulletin
---