The Rector Major has chosen "Good Christians and Honest Citizens" to be the theme for the 2020 Salesian Strenna. To celebrate this, throughout 2020, The Salesian Bulletin will be interviewing members of the Salesian Family who exhibit these qualities.
The path that has led Fr Chadi Ibrahaim from Syrian roots to Australia has been a long and winding one, full of side tracks, detours and speed bumps. In just his mid-40s, Chadi has already seen more of the world than most will see in their entire lifetime, speaks five different languages with confidence and yet remains humbly appreciative of all the twists and turns his touching story has seen so far.
Growing up, regular attendance at Mass was a staple for the Ibrahaim family. Their particularly devoted mother ensured that her three children were given all the tools they would need to become the best they could be. Chadi's eldest brother now lives with his wife in Switzerland, where he works as a pharmacist, having gained German citizenship 20 years ago. Tragically, the story of Chadi's sister was cut short 10 years ago, when she succumbed to pancreatic cancer, leaving behind a son and a daughter, who remain in Syria. Then, five years later Chadi's father passed away, followed shortly after by his mother.
"Providential" isn't the word that would typically jump to someone's mind when describing these events, but it is the one that Chadi uses. "I was rector in Aleppo (a city in Syria) when my sister fell sick and I was able to follow her in this illness. Sure, it hurt me a little bit but I understand and I feel death is a part of our life; it's not the end but a continuous journey into heaven".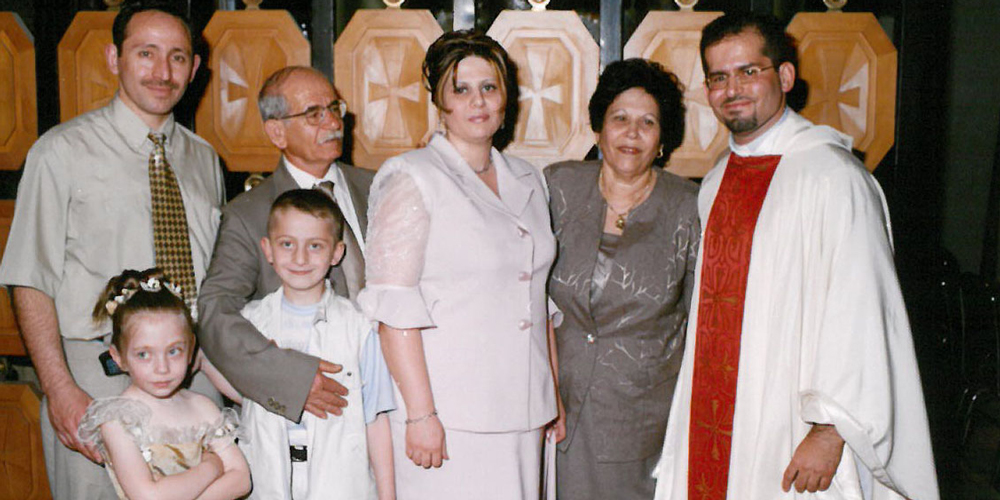 Chadi and his family during his ordination.From right to left: Chadi, his mother, sister, father, sister's husband and neice and nephew in the front.
Working in Egypt at the time when his father became sick, Chadi was able to gain permission to return to Syria to be at his side during the treatments. A few months later, an advanced form of cancer was discovered in their mother and the remaining family made the extremely tough decision to keep that discovery quiet.
Instead, Chadi made the decision to spend as much time as he could with her over the next two months. An earnest warm smile spreads over Chadi's face and illuminates his eyes as he relates these tender moments. It becomes clear that he has a profound understanding of the gift of life through his acceptance of the flip side. "To care for my parents as they cared for me, I think I was given a blessing, to follow my dad and my mum in the last days of life. I was really grateful to be able to help them."
As a young boy, Chadi had a special attachment to his mum. She had a natural ability to quell the young boy's anxiety and so he would follow her anywhere and everywhere she went! Chadi's mother had an attachment of her own - to the Virgin Mary. Every Saturday night, she would light a candle and adorn it the image with water and olive oil.
This dedication to Mary rubbed off on the boy as he matured. He was praying the rosary during his secondary school years, he joined a 'Legio Maria' group. "I learned my devotion from my mum," he says, as a cheeky grin spreads over his face, "and so did Don Bosco – so we have that in common!"
This devotion never ceased growing and post-high school Chadi became interested in the priesthood, inspired by his parish priest, a Franciscan full of humility and outreach. He was knocked back in his application and desperate to find another congregation, he followed a friend's tip to meet up with the Salesians who invited Chadi to visit the Oratory regularly, so that they could come to know each other.
Gradually, his commitments increased, to the point where he quit his job, left home very early in the morning and arrived home very late, even evoking disappointment in his family who saw him less and less as well as being uncertain about the priesthood as a career path.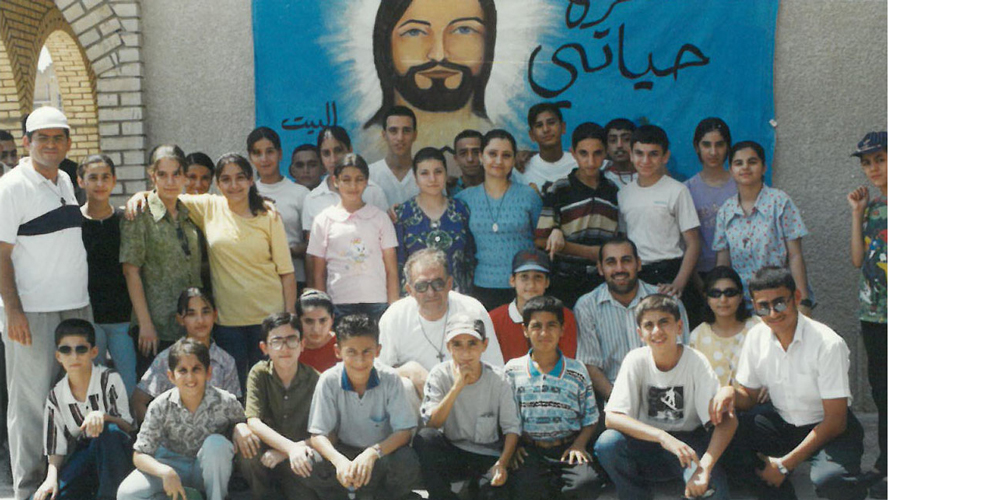 Chadi (far left) at a youth gathering in Iraq.
Eventually, Chadi was accepted as an aspirant and then progressed to doing pre-novitiate in Cairo, Egypt, meaning he would leave home for the first time. This was a difficult time, as the adaption to community life and different personalities was challenging and homesickness was never too far away. A flurry of activity soon followed; Chadi spent his novitiate in Italy studying philosophy, the first year of practical training in Alexandria, Egypt, the second year of practical training in Bethlehem and then the undertaking of theology in the Holy Land.
Now a deacon, Chadi was sent to Lebanon to become the bursar and director of the oratory and retreat house there. The airport soon beckoned once more as Chadi was sent off to Lyon to study French, so that he could then study education (a French language course) at a university while he was in Lebanon. This plan was changed when the rector in Syria died in a car crash and Chadi was sent to join that community instead.
All this time spent travelling to different countries, living in some areas were Christianity was the majority religion and sometimes where it was a minority, taught Chadi a valuable lesson. "To be an honest human is our goal, because before being Christian, we are human," he reflects. "It's true that we all belong to God but in reality, before you become a Christian, you are a human being. So I think if you are a good human being, you will be good in anything. Jesus can be working within you and you don't even know it. So, to be an honest citizen is very important, and love what you are working for."
After a journey full of twists and turns, Chadi was ordained a priest on the 10th of May 2003. In 2009 he returned to Aleppo to become rector and just two years later, problems of a much grander scale broke out in the form of foreign military intervention and the Syrian Civil War.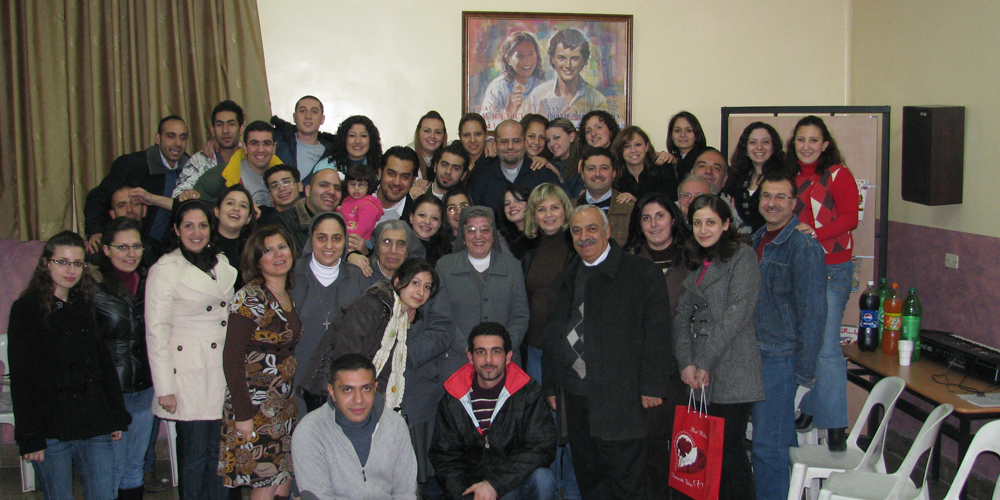 A Salesian Youth Movement meeting in Aleppo, Syria
In 2012, the provincial posed a choice to Chadi: become the rector in Damascus (which had already been devastated by the war) or as the bursar in Cairo. Chadi's preference was to remain close to his family in Damascus but was open to either; he ended up in Cairo, returning three years later when his father became ill.
All these movements and toils began to take their toll on Chadi, as he started to weigh up his options. After a period of careful discernment, Chadi came upon a renewed zest for the apostolate, with a radical new life-changing goal in mind - to become an overseas missionary in Australia.
When asked how many languages he speaks, he pauses at first, then answers. "I like languages, so I have studied five… but the language I speak is not so important. What is important is the language of our relationships with people. That is the more important language, the language that Jesus teaches: how to love people, how to accept people… Even across differences of religion, culture and origin. I am still learning this language, because it is not easy."
Chadi is currently a part of a 3-year agreement between the two provinces and has been working at the Youth Centre in Brunswick however, within just the first four months of his stay, his preference is to make Australia a permanent move. "I see that there is a lot to do and my purpose here is to work with refugees. This is an area of great need."
Indeed, he has already formed small youth groups of people now living in Melbourne, who fled various conflicts in the Middle East. When asked what he hopes for this work, he instantly answers "Just for them to feel that someone cares for them, takes an interest in them, because I really do. I want to follow them. Even though I'm the new one here."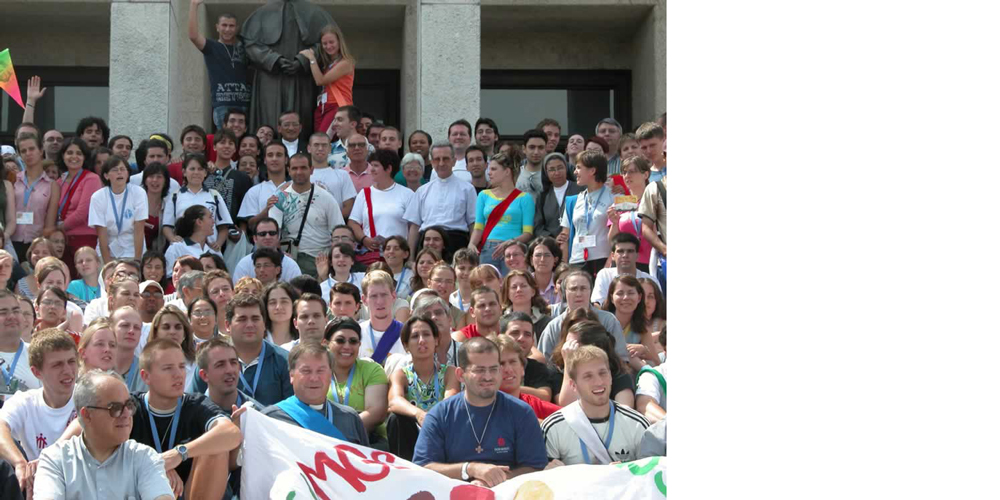 Chadi pictured at the front, at Colle Don Bosco during a World Youth Day pilgramage.
It is not surprising at all to hear that change in culture in this regard is stark. A pensive expression washes over Chadi's perceptive face as he speaks of what he has noticed so far as a newcomer to Australian society. "It's strange here. We say 'Hi' to so many people without properly talking to them. We have messages of welcome but not really faith, so it seems just like social work here."
In the past month, Chadi has found himself on the move once again, this time to St Mary's in Sydney. Overall, he says, he has had little trouble adapting to yet another new culture, except for one big thing. "The Australian accent is terrible" he says, breaking out into a hearty laugh. >
When my confreres speak I have to concentrate extra hard, or I am left confused! My ear is getting better though, that's for sure!" Through this disarming humor, it is clear that Chadi is a special kind of person who is full of lived wisdom but holds it back until asked - meaning that you better be prepared for the answer!>
"For me, the preventive system is the most important system I have experienced in my life. Young people need our presence, not our assistance. They need our relationship. We have our three pillars, Reason, Religion and Loving Kindness but if it were up to me, I would change the word religion. Christianity is not about religion; it is about our relationship with Jesus. So I would change this word to relationship and without a good relationship with Him, we cannot have a good relationship with other people."
"I have always found that when our relationship with other people is going badly, it is because we are also disregarding our relationship with Jesus. So we have to create this relationship with other people by being next to people. They don't need our books or articles, they need our presence in their lives."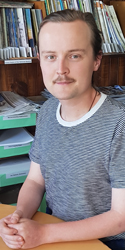 Michael is regular columinst for the Salesian Bulletin, as well as working in Salesian Social Coommunications. It was an absoulute pleasure for him to be able to sit down and chat with Fr Chadi, before Chadi was on the move once more!
---
Republished from the Australian Salesian Bulletin - Autumn 2020



Read or Download the Salesian Bulletin
Subscribe for FREE to the Salesian Bulletin
---