2020 was definitely not the year any of us had imagined it would be, especially so for the campers and leaders at the Don Bosco Camp and Centre down in Safety Beach, Victoria. The summer and winter camp programs were suddenly in limbo as lockdowns in Victoria were enforced; it felt like the rug was pulled from under all of our feet - running camps is the cornerstone of our holiday periods!
Don Bosco Camp and Centre and the Salesian family has been a huge part of my life growing up, experiencing my first camp in 2010 and then almost every summer and winter after that for years. Junior camps turned into senior camp but once I reached my mid-teens, life got busy as I immersed myself extra-curricular activities such as high school productions, the pure joy of winter and summer holidays had slowly slipped away, without me even realizing it.
Two years ago I decided it was time to give back to something that gave me so much joy growing up. I went to leadership camp accompanied by a close friend who had also consistently been on camps. I was nervous to say the least; the morning of camp I woke up stressed and anxious over the fact that I hadn't been to a camp in years, what if everything had changed?
What if absolutely no one recognised me or remembered who I was? What if that special camp feeling wasn't what I remembered? All those 'what ifs' were silenced the moment I entered camp and was greeted by an old friend. As it turned out, a lot of things had dramatically changed - new buildings and lots of new people; however there was a comfortable, familiar feeling that was the same spirit of 'true joy'.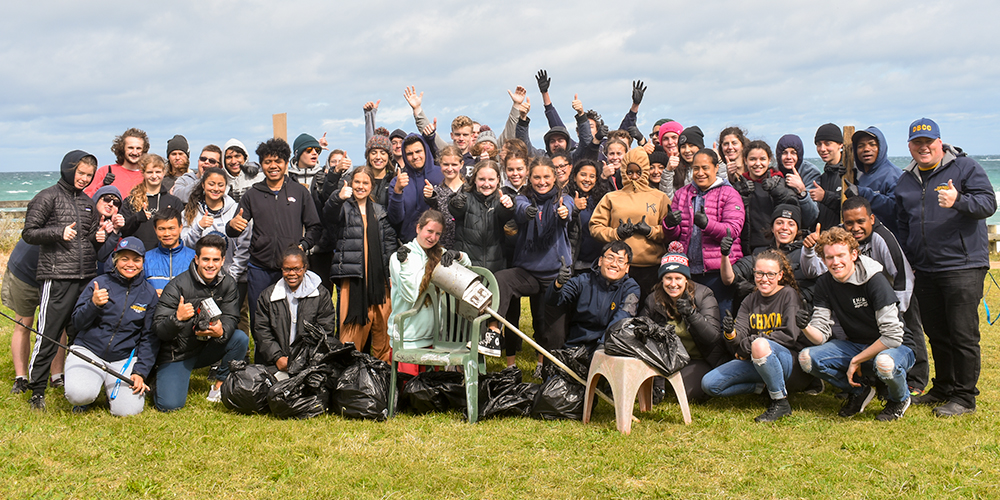 The Don Bosco Camp Leadership program is well known for forming young people into the best version of themselves, as seen in this tight-knit group after a beach cleanup in 2019!
After that leadership camp, I went on to be a leader on two of the summer camps the following month. I made a point of observing the way the experienced leaders were interacting with the campers and vice versa, with gave me a fresh understanding of why Don Bosco Camp is so special - the lifeblood of the camp is the vibrant spirit of joy and love in which each member of the camp contributes to and draws from.
It is that spirit which meant that whilst the winter holiday camps were not able to go ahead as per usual down in Safety Beach, the community pulled together and leaders and staff created resources and programs for the very first 'Virtual Winter Camp.' Campers were provided with online activities they could do in their houses, either on their own or with those in their households. Our camp community was still connected, even though it was the height of the isolating lockdown.
As summer approached, I had no idea what camp season would hold; whether they would be online, in person or cancelled. It was in that moment I got a spark of hope for 2020 – word reached me that camp would be running 'leaders' camps', a unique camp experience ran just for leaders in the style of a weekend away altogether.
As a Victorian, lockdown was extremely hard as I remained inside the house for just about the entire time. My workplace had shut in March due to the regulations and I was completing University classes online; I truly missed being able to be physically present with my friends and simply having human contact which was not through a screen. This was already enough of a reason to sign-up; that some of my friends were also going only sweetened the deal!
Four days prior to the camp starting I received a message from the camp manager Paul, asking if I would be able to help coordinate the camp alongside two other amazing leaders. Each of the camps were capped at 20 people each, (staying well within COVIDsafe guidelines at the time) which meant that this would be a brand-new experience for a group so used to the camp environment. Having only 20 people on camp meant we all built even stronger connections to one another than usual, it facilitated much more time with one another and flexibility in the program.
On camps we are act in the example of Don Bosco, caring for and being present with the young, indeed, this is the beating heart of the Don Bosco Camp. We strive to spread meaningful connections amongst the campers who come from far and wide just to be with us for a few days each summer and winter, however, while the leaders are in the background planning games and activities, or burning the candle at both ends to run games to the absolute best level possible, how much time do we have to build meaningful connections between ourselves? This question was posed at the start of our camp, allowing for reflection on the fact that there were many of us who barely knew much more than each other's last names!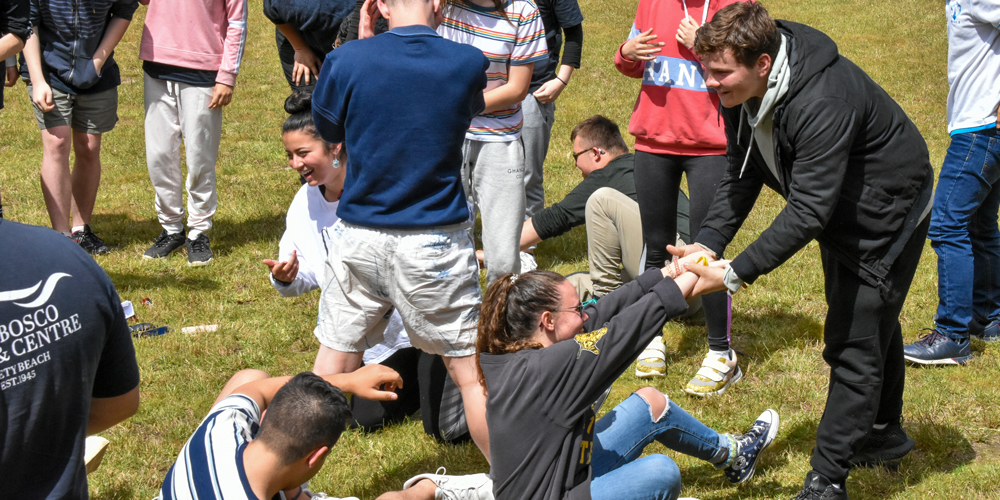 Looking after one another is an important part of leadership!
It is remarkable the bonds you can form with people in less than two whole days spent together. It truly hit me how important those two days spent together was when one of the younger leaders present whom I rarely spoke to on previous camps turned to me and said, 'you know Trish, you look and act exactly like I imagine a leader should, and I want to be able to be like that too.'
I was humbled and taken aback by this comment as I realised the effect I had on others, and the effect which others have on me. Without being there in person spending time together, I would potentially never have been able to meet the people I did in the setting I did.
COVID-19, lockdowns, being restricted to endless zoom calls and everything else that has been thrown our way has not been easy for anyone, however being able to come together for 2 days in what I can only describe to be the magical space that is the Don Bosco Camp and Centre, with people no less than wonderful- it renews and reminds you of the joy that is to be found in creating connections with others. Finally, it reminds us all of the nourishment which you can find in the spirit of Don Bosco and the people who surround it.


Taken from the 2021 Autumn edition of the Salesian bulletin, which is available now!