If a visitor were to walk through this camp it might seem like this is a normal Salesian youth camp just like any other in Germany or wider European area; young people enjoying each other's presence through games and activities played in a joyful manner.
However, on closer inspection, that visitor would surely realize that all the posters are written in a foreign language - Arabic! The reason involves many long stories but also one simple reason: it is the first camp for young people of the Middle East (mostly Syrians) who now live as refugees in the safety of Salesian environments from different countries around Europe!
The Middle East Province, with the support of the World Confederation of Past Pupils of Don Bosco and the German Province, organized the first "Meet" of young refugees in Benediktbeuern, Germany, from 21 to 26 August. The work, coordinated by Fr Munir El Rai, drew on the Salesian theme for the year "You too can be a saint".
Under the motto of sanctity, therefore, about 35 young people that are now living in Spain, Germany, Holland, Belgium, France, Sweden or Italy met again for the first time in three to five years since the war forced them to leave their homes in Aleppo, Damascus or Kafroun.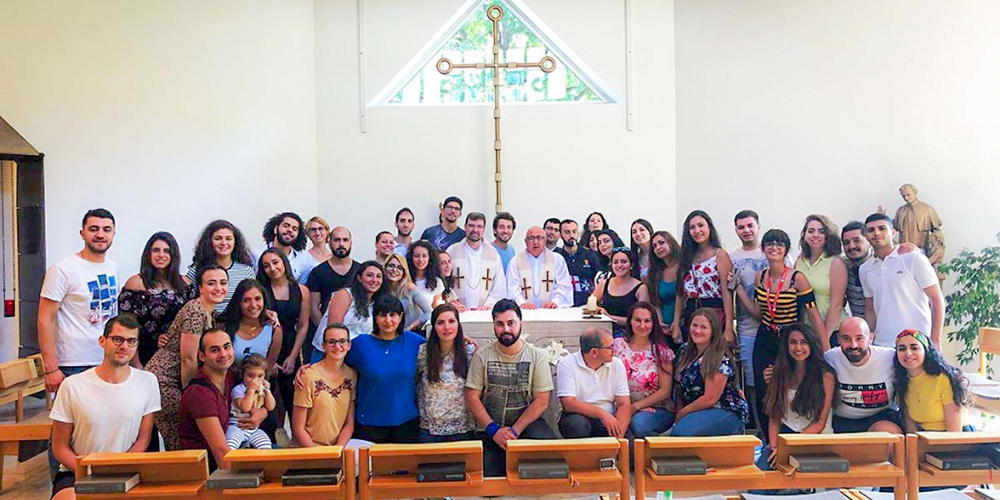 The group pauses for a photo after celebrating Mass together
The life and integration of the young people who have had to leave their homeland has not been easy and on many occasions European societies have not helped them, with some members of these countries openly displaying outright hostility.
In this sense, Fr El Rai pointed out that "this meeting is a reunion with oneself, a time to pray and set aside the difficulties, and give these children the opportunity to support their strong Salesian identity, that the war and the condition of refugees have put to the test."
Activities and sports, musical and spiritual animation, walks in the woods and a cultural trip to Munich were the main activities these young people experienced over six intense days. Furthermore, the Strenna of the Rector Major for 2019 was presented to them in detail, "Holiness for you, too" as was the specific identity of the Past Pupil of Don Bosco.
On the Saturday of the camp (August 24th) the young people of the Middle East had a dialogue with the Provincial of Germany, Fr Reinhard Gesing, and with the "Consultive Body of Young Past Pupils of Europe", which was preparing the activities of Don Bosco's young Past Pupils for the next two years.
During the "Meet" some of the young people shared very difficult personal stories, which emotionally moved the group. Now for the Salesians the most important thing is to accompany them and help them in the places where they live, so that they can find Salesian support in their daily life in Europe.
Full story here
Republished from ANS

---