Over the past few months, life in Ethiopia has grown even harder than normal as conflict has broken out in Tigray, the northern part of the country, between rebel groups and government forces. Coupled with the pandemic, shockwaves have been felt all over the nation and many young people are much worse off.
There are 14 Salesian presences in the country, four of which are within the conflict region. For these, and the thousands of young people that are supported, they now face the challenge of recovering from the worst combination imaginable: pandemic and war.
The lockdown measures to try to contain the spread of COVID-19 had already caused disastrous harm for those who already struggle to survive on a day-by-day basis, as missing work meant missing vital income. Now, the conflict has exacerbated problems severely, many have been physically harmed by the conflict and many have fled the violence either internally or across the border into Sudan, provoking a new round of stoppage to school activities.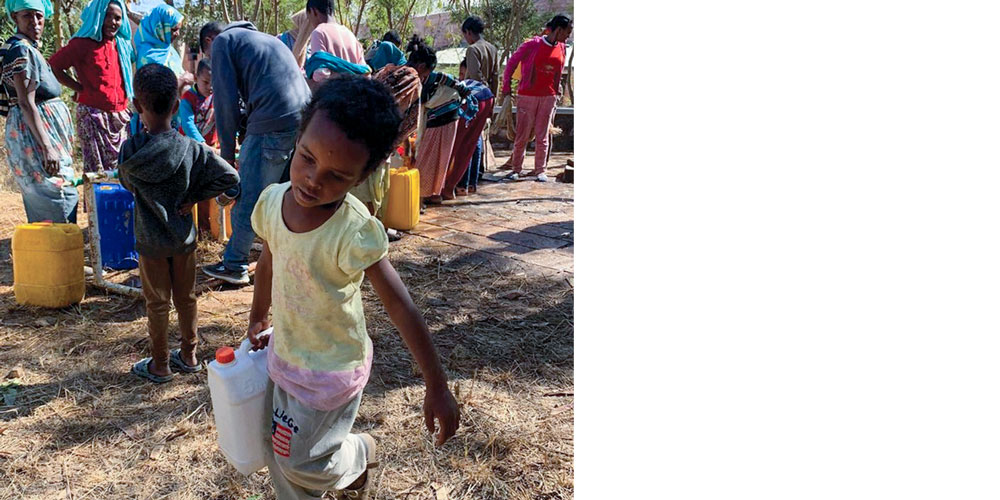 A very young person does all they can to help support friends and family in times of great distress
The Salesians present in Tigray are making every effort to bring aid, but what is needed is strong external support to activate urgent interventions in order to return the right to study to young people, especially the poorest ones.
For years the Salesian presences of Makallé, Adwa, Adigrat and Shire have guaranteed the right to schooling and vocational training in this area of the country, to offer Ethiopian children and young people the right to a better future. These include:
A Youth Center at Adigrat, in which the Salesians offer numerous formative activities to children and young people,
The Don Bosco Technical Institute of Adwa, which to date has trained 2,330 graduates in the manufacturing, construction and electrical installations sectors, and which also boasts several "non-formal" courses - tailoring, basic IT applications, crafts, metalworking, welding and furniture manufacturing ,
The "Don Bosco" Catholic School of Shire, which with primary and secondary schools guarantees education for many boys and girls,
The "Don Bosco" Technical Institute in Makallè: a spearhead that allows many young people to study and train as technicians in the mechanical, welding and automotive sectors.
These many pieces over the years have contributed to ensuring schooling paths for many young Ethiopians who, without this opportunity, would not have had the opportunity to access education.


The Salesian Mission offfice is doing all it can to support the young people of Ethopia. Please consider supporting them in their efforts today.

With thanks to ANS for this story