India's situation in the face of a new wave of COVID-19 infections is worrying from a global perspective: according to the Indian Ministry of Health, the country recorded another 3,645 deaths in a single day. This sorrowful record is an increase of more than 350 compared to the day before - and the total casualties in India since the start of the pandemic have risen to 204,832.
This reality has had an obviously massive impact on those affiliated with the Salesians in the country, where there are over 360 schools and 500 other precenses managed by the Salesian network in the country.
"The shortcomings in the country are beyond our normal competences: hospital beds, intensive care units, lung ventilators, oxygen, crematory ovens ...," testifies Fr George Menamparampil, Head of the Salesian Mission Offices.
For the past year, Fr. George has worked tirelessly as the coordinator of the "Don Bosco Solidarity COVID-19" project, the Salesian global coordination initiative, responding to the pandemic wherever it shows its face around the world.
Speaking of what they are currently prioritizing, Fr. George explains that they are looking for people who are healthy and brave enough to distribute groceries, cooked food, protective equipment and toiletries directly to the poor.
Another crucially needed resource is one normally readily available, Oxygen. Due to shockingly high demand, oxygen concentrators and/or mini oxygen-producing machines have become incredibly scarce in hospitals and other treatment centres. Fr George has also been pushing awareness campaigns in favour of the vaccination, so that people may be as best protected as possible.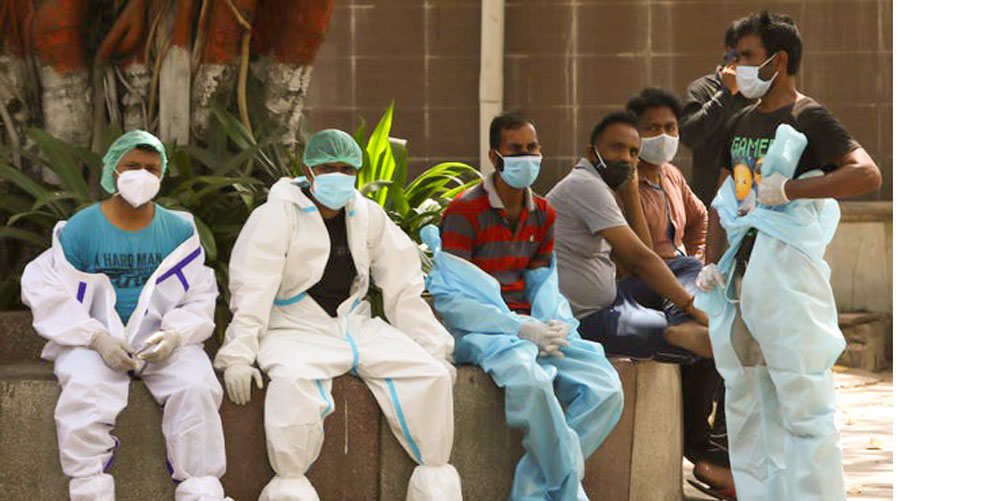 Exahusted healthcare workers take a rare break from their tragic work
Fr Noel Maddhichetty, director of the "Don Bosco Network - South Asia", fears the worst for this current wave of infections. "I expect a significant increase in the number of Covid-19 cases in the coming weeks. Public life has again come to a standstill."
Those who were still recovering from previous waves now face enormous problems. In many rural areas, most people have not been swabbed. Fr Noel offers on the ground insight into this issue:
"One priest from near Mumbai told me about villages in the region where many of the inhabitants had symptoms but where no test kits were available. Nor can the people here hope to receive any medical care or supplies."
As a result, it is very likely that coronavirus-related infections and deaths are much more higher than the already tragic official figures – and have no real sign of slowing soon.
To protect young people, all Salesian schools India have closed and students cannot take their school-leaving exams. There have also been cases of Covid-19 among teachers, staff and families of students and many are putting themselves in self-isolation as a precaution.
In recent months alone, according to Fr Maddhichetty, the Salesian intervention network has provided food and health products to more than seven million needy people in India, giving priority to people in street conditions and the most marginalized.
"Now Covid test kits, vaccines and medicines are urgently in need," concludes Fr Maddhichetty.


Salesian Missions is doing all it can to respond to the most pressing outbreaks of COVID-19 such as in India. Please consider joining in the fight for a healthier future.


This story originally appeared in ANS