It is the dream for every Salesian mission and work to become sustainable but this beautiful goal presents many challenges depending on the various contexts around the world. The dream and goal, however, can become a reality through hard work, patience, perseverance and a little bit of prayer!
Don Bosco Technical Centre (DBTC) in Alafua, Samoa have been taking the dream of sustainability and making it a reality. Last year the school commenced new courses in hospitality. Among those courses was a new sewing course. Sewing is now offered to all first-year students, young men and women, and then they can choose to specialise in sewing, or any other trade offered by the school for the second and third year of schooling. The students are loving engaging in this new skill and are very proud of their efforts to make garments. It has been a really positive step for the school and students.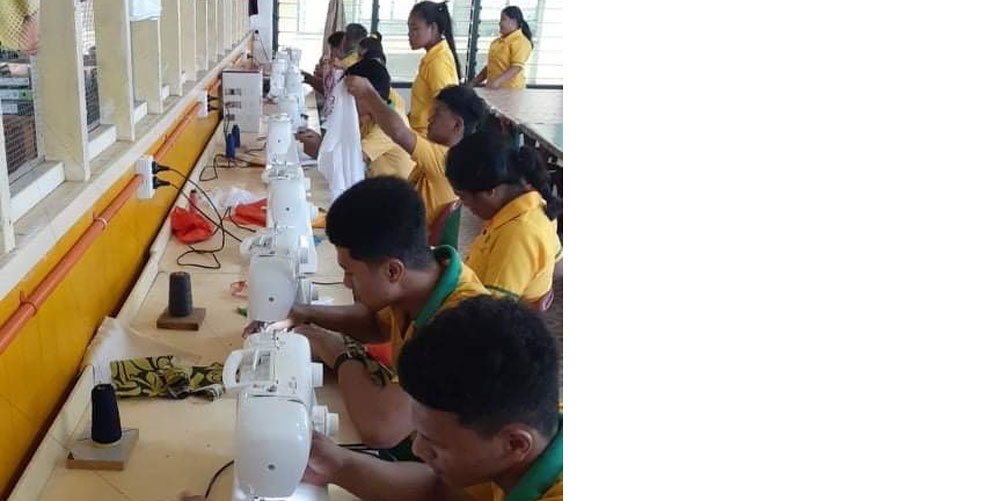 The students of DBTC have learnt alot in the new course.
DBTC, however, wanted to further their impact to reach far beyond the school. The leadership team of the school, with the collaboration of their incredible sewing teacher, Ms. Tasileta Tagiilima, decided to trial a community sewing course. The idea was for Tasileta to offer a course in sewing to members of the local community after school hours. The course would help to provide a small income to help with school running costs and most importantly would upskill locals, mostly women.
The first course commenced in the second half of 2020 and the response has been incredible! Tasileta reported this past week that they just completed another 10-week program of the course for two groups! Tasileta explains: "It shocked me when Mane (the school Principal) told me, there were over 40 ladies that had all been registered for another round. I told Mane, 'oh my Lord only 20 sewing machines'! How can I do that? I pray to ask God to show me what should I do. Yes, God is so good all the time. I know it's tough for me. But I said to the Lord, 'I WILL DO IT! On one condition, you can give me more strength to do it!'".
So Tasileta commenced teaching every single day of the week, with the exception of Sunday, to two different groups of women from the community. Group 1 learned on Monday, Wednesday and Friday and Group 2 on Tuesday, Thursday and Saturday.
Needless to say, after the graduation of these two groups last week Tasileta and the team at DBTC deserve a good rest!
The efforts of the leadership team, teachers and all staff at DBTC are to be commended. They continue to dream of sustainability and make this dream a reality through their creativity and hard work. The absolute best part of this all is that their efforts towards sustainability are having incredible impact within the community through empowering their participants! Malo Lava (well done) Don Bosco!


This article originally appeared in BoscoLink