"I want to do something nice for people, for children, for young people, just as the people of Poland and Slovakia did for me." These are the words of Kira, a young Ukrainian refugee in Slovakia, who today works with the Salesians in Bratislava as a volunteer and interpreter between the Slovakian and refugee populations.
Like so many of her fellow compatriots, Kira fled Ukraine at the outbreak of war, "because the situation was really horrible" she quickly says – it is clear that she does not wish to dwell on the horrors she has witnessed. In fact, her memory is focused on all those people who, first in Poland and then in Slovakia, "really touched her heart, her soul: they brought things to eat, to drink, everything for free...I was truly impressed."
Even in Bratislava, the experience remained the same: she attended school for several months, felt welcomed, understood, and filled with attention by those people who "even if you speak neither Russian, nor Ukrainian, nor Slovak, know how to speak to you from the heart". And that is why when she was asked to work as a volunteer with the children, despite some hesitation, she could not say no.
Today Kira says she wants to stay in Slovakia because she loves its people, and above all, "I do my work with my heart, to help people, children, even Ukrainians in need, and I am happy to see that they are happy when I help them, they hug me; now I know that true kindness exists!"
Kira's experience is matched by thousands and thousands of other refugee people who have benefited from the Salesian welcome in countries neighbouring Ukraine. Activities on their behalf continue across the board. From Poland, for example, Witek and Cezary - two courageous young men who are volunteers with the Salesian Mission Office in Warsaw - have made a journey eastward through war-torn Ukraine to deliver food to people in need.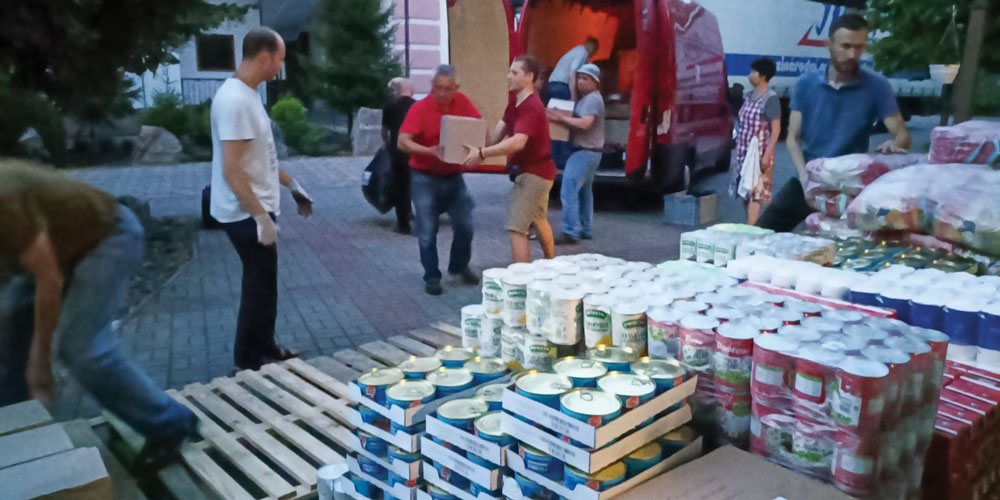 The efforts of strangers have provided countless live-saving gifts for people like Kira!
Their first stop was in Lviv, where they unloaded an initial portion of food at the Salesian center that shelters 35 infants and 30 children between the ages of 1 and 5. After spending the night in Niemirów, they made their way to Zaporizhzhia in eastern Ukraine, where despite the danger and military operations, they completed their mission.
Again, thanks to the financial support of the NGO "Jugend Eine Welt" from Prešov in eastern Slovakia, a load of more than 30 pallets of humanitarian aid left for Lviv, which will then be distributed as needed to various other locations as well.
This is the best testimony that good begets good and that even when the horror of war seems to prevail over everything, in truth nothing is lost of the humanitarian efforts made with love and for love.


Salesian Missions continues to provide support for people like Kira. To join the cause, visit here.


This article originally appeared in the Spring 2022 edition of the Salesian Bulletin, which is available now!