While Ethiopia was trying to recover from the effects of drought, covid and other issues, in November 2020 a full-scale war started between the Federal Government of Ethiopia and the Tigray Region. The prolonged war also reached parts of Amhara and Afar Regions.
The Salesians have fourteen houses in Ethiopia and three houses in Eritrea, of which four houses (Makalle, Adigrat, Adwa and Shire) are in the Region of Tigray. Tigray has about seven (7) million inhabitants – which needed aid because of war. From the time the Federal Government left Tigray (June 2021) there was no basic services: communication (Telephone or internet), transportation (through land or air), electricity, banks etc. Supplies were scarce and if found the price unaffordable because of unavailability of cash.
Humanitarian organizations made limited movements in order to reach the people in need but on the ground only about 15% of what was needed reached those desperate for survival. So, the Salesians have lept into action.
They approached the World Food Program and through their assistance it was possible to send food, drink and sanitary materials in five rounds. Once it arrived in Makalle the internal distribution has been a challenge (fuel, cash for unloading and loading, transportation), but thanks for the collaboration of good willing people and organizations on the ground (WFP, CRS, Catholic Diocesan Office, Sisters of Daughters of Charity, Mother Thresa Sisters, Ursoline Sisters … etc), the aid has reached the destinations for the people in need.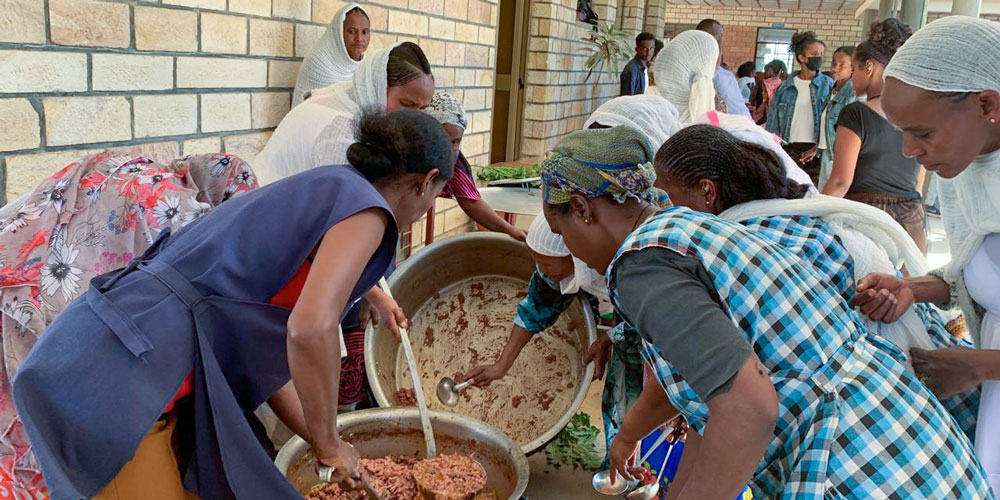 "We are grateful for all of you for your support, this would not be made reality if it was not for your support" wrote Fr. Hailemariam Medhin in a rare communication to the outside world. "All the funds are coming from your generosity. Up untill now we have reached over one hundred thousand people with aid."
Finally, peace has been negotiated, signed in Pretoria – South Africa. Electricity and Telephone communication is back, but above all there is no sound of guns, military planes, and drones as well as long distance shooting of artilleries.
Flights has resumed from Addis Abeba to Makalle and From Addis Abeba to Shire, even though there are some problems (people between 16-65 cannot travel from Tigray to Addis). Banks are said open but till now people does not have access to their accounts.
"Now the access to send humanitarian aid to Tigray has become easy, and as Salesians we are ready to continue to assist the people." Added Fr. Hailemariam. "The war has stopped but basic needs are still lacking. People are still in need of food and none-food items. People are still in need of basic necessities, especially food, sanitary materials). Psychological assistance for the affected and educational works are starting but first they need to have some food and they have to take care of their health."

For more information or to support the ongoing work for the neediest around the world, please visit Salesian Missions Australia