The Sacred Heart of Jesus Post-novitiate Community in Sunter, North Jakarta, Indonesia has been working hard to reduce it's environmental impact. This begun with the implementation of compost collection from leftover food waste from the kitchen.
In further developments, collecting used beverage bottles and water gallons such has begun. Considering that the community rarely consumes bottled water, the program was expanded into asking the local communities for help in bringing used bottles to the community.
This begun in August 2021 when the Salesian community became acquainted with Mr. Angga Rizyan, the coordinator for Plastic Bank Indonesia, a private organization that collaborates in promoting Laudato Si through collecting and recycling plastics before it gets into the ocean and turning them into social funds of the community.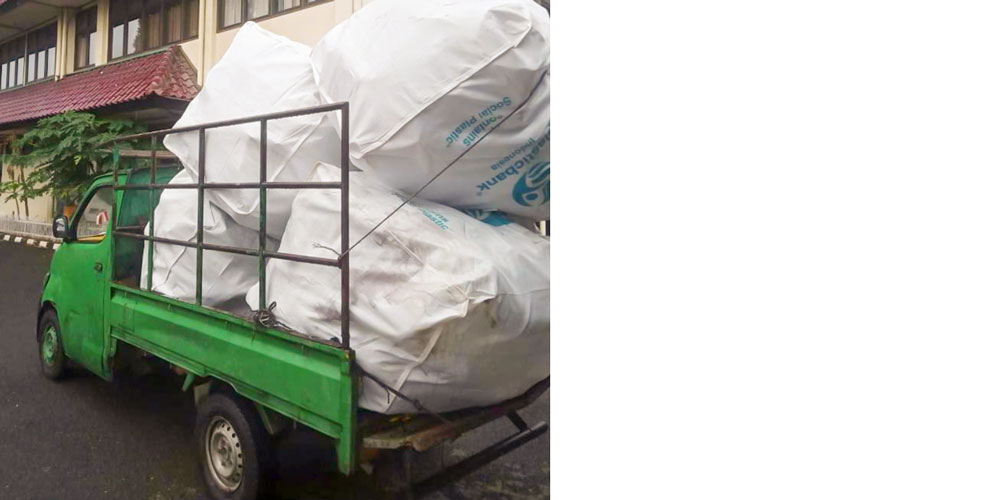 The amount of plastic rescued for recycling has been impressive!
In an online meeting via Google meet, wastes were being discussed especially plastic waste and the difficulties that prevent it from decomposing. After this meeting, the Salesians of Don Bosco community and Plastic Bank Indonesia simultaneously signed a cooperation agreement in dealing with plastic bottle waste. There has been great growth in the number of plastic bottles that were collected, to the point where it became necessary for a plastic bottle storage facility to be built.
One or two brothers were assigned to tidy up and prepare the bottles for recycling. The first step is to colelct and organize the existing plastic bottles so that the plastic bottles are arranged in the space provided. They remove the caps from the bottles, separate the plastic wrappings for the bottles, and flatten the bottles so that they could be put in large number of sacks. If there are a lot of bottles, the whole community work on it together. From this work, there have been two deliveries to the PlasticBank team; the first was a collection of 216 kilograms of plastic waste and the second (which also included gallons of water and jerry cans0 weighed as much as 385 kilograms!
Based on this experience Bro. Bernardinus Mei, SDB shares, "I can say that the positive thing is that there is an awareness to collect plastic bottles, thereby reducing plastic bottle waste anywhere. In this case, people who routinely collect plastic bottles also participate in protecting their yard and the environment from plastic bottle waste. If everyone has the same awareness, then gradually we will all be able to provide environmental protection that is clean the surroundings from plastic bottle waste and prevent plastic pollution in the oceans. Plastic bottle waste cannot be decomposed or decomposes if it is buried in the ground. Therefore, plastic bottles need to be collected and processed for new materials. So used plastic bottles are a blessing."

With thanks to ANS for this story